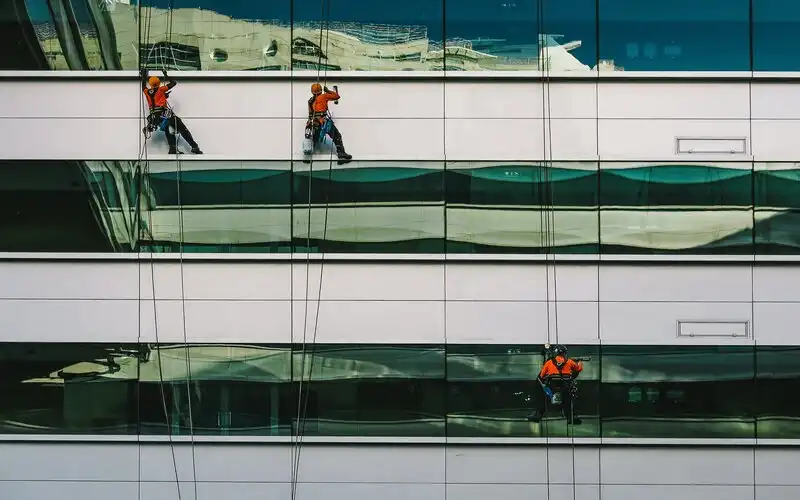 The Wage Price Index (WPI) rose 0.6% in the March quarter with the annual growth rate at 1.5%.
The figures from the Australian Bureau of Statistics (ABS) were better than expected, with economists penciling in a 0.4% quarterly rise.
Despite the rise, the public sector recorded its lowest annual rate of growth (1.5%) since the commencement of the ABS series.
Wage increase deferrals and smaller increases were the main factors behind the dismal growth.
Annual wage growth in the private sector was marginally lower at 1.4% for the second consecutive quarter.
Need somewhere to store cash and earn interest? The table below features savings accounts with some of the highest interest rates on the market.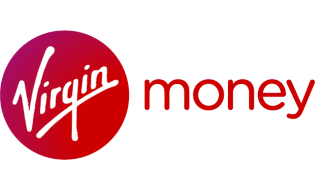 Advertisement
Boost Saver - Savings Account
Highest
variable rate
1.50%†
Base
variable rate p.a.
0.10%
BOOST YOUR SAVINGS with up to 1.5% for the first 3 months
Product Features
Red Hot Intro Rate of up to 1.5% for the first 3 months
Enjoy up to 1.2% thereafter
Bundled with the Virgin Money Go transaction account
Head of Prices Statistics at the ABS Michelle Marquardt said after two quarters of minimal growth, wages rose 0.6% for the second successive quarter.
"This quarter saw a return to regular patterns of wage growth for the time of the year, supplemented to some extent by pay rises for the final group of award workers scheduled in the Fair Work Commission's annual wage review (2019-2020)," Ms Marquardt said.
She noted the March quarter's moderate growth was driven mainly by regularly scheduled increases to wages.
"Improved business conditions saw employers revisit wage reviews postponed during the height of the pandemic.
"The phased approach to the delivery of award increases saw jobs in the accommodation and food services, retail trade, arts and recreation, aviation and tourism industries receive rises previously recorded in September quarters."
Annual wage growth by sector, seasonally adjusted, 1997 - 2021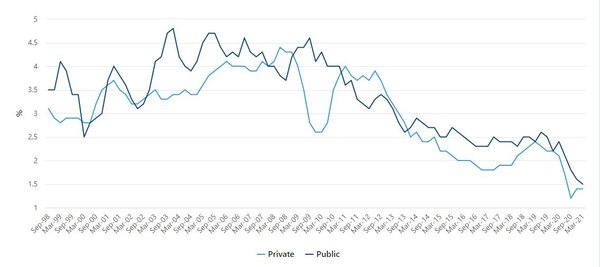 Source: ABS
Tasmania recorded the highest quarterly rise (0.8%) and annual rise (2.0%), while the Australian Capital Territory recorded the lowest annual growth (1.3%).
Acorss the sectors, the rental, hiring and real estate services industry saw the worst quarterly growth of 0.4%, while the education and training industry performed best (2.2%).
Westpac economist, Justin Smirk, said strong wage growth was driven by the public sector, which was unlikely to perform until the private sector did.
"Public sector wages, which provided significant support to the headline WPI during the crisis, increased a more modest 0.4%qtr," Mr Smirk said.
"Slower growth versus private wages can largely be attributed to wage freezes across the sector in 2020.
"Looking ahead, measures linking public wages to the private sector means any recovery in public sector wage inflation will depend on the sustainability of the recovery in private sector wages."
---
Photo by Nuno Silva on Unsplash