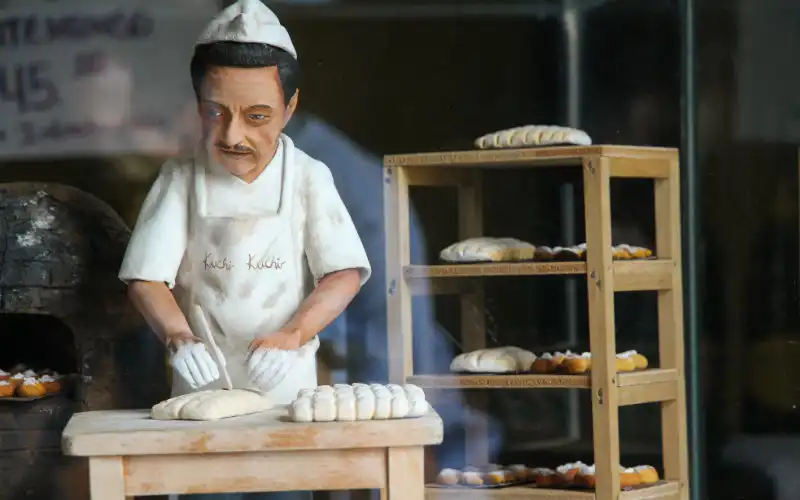 Photo by Scott Umstattd on Unsplash
The wait continues for an acceleration in wage growth in Australia, as latest figures show the annual growth rate remains below average at 2.3%.
According to the Australian Bureau of Statistics (ABS), wage growth (seasonally-adjusted) in the March 2019 quarter was 0.5%, undershooting economists' expectations of a 0.6% rise.
It's a case of deja vu, with the previous quarter, December 2018, also experiencing quarterly wage growth of 0.5% amid expectations of 0.6% growth.
ABS Chief Economist Bruce Hockman said it was the third quarter in a row that wages grew 2.3% annually in seasonally-adjusted terms.
"The main contributors to growth over the quarter were regularly scheduled wage rises in the Health care and social assistance and Education and training industries, as was the case in the previous March quarter," Mr Hockman said.
Westpac senior economist Justin Smirk described the new figures as "disappointing", saying that while annual wage inflation is above the record low of 1.9% it was in June 2017, "it can hardly be described as running at a breakneck pace".
"We expect wage inflation to drift higher from here – our forecasts have it peaking around 2.75% (annual rate) in 2020 – but given how well contained the wage inflation is across the nation, and between sectors, even this modest increase looks optimistic with the risks to this forecast more to the downside than upside," Mr Smirk said.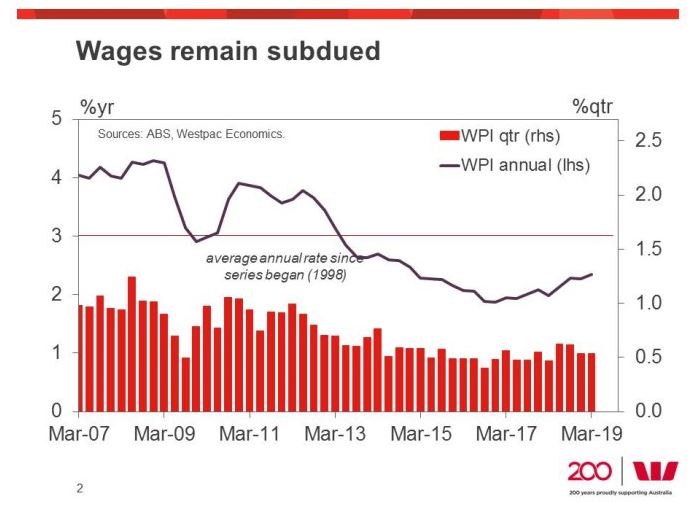 Private sector vs Public sector
Private sector wages maintained quarterly growth of 0.5%, while public sector wage growth over the quarter slumped to 0.4% – its lowest quarterly growth since March 2000.
Mr Smirk said the public sector slump suggests state governments are pushing back against rising wage costs as revenue comes under pressure from declining stamp duty collection.
But in some positive news, annual private sector wage growth rose to 2.4%, which is the highest it has been since the December 2014 quarter.
States & Territories
In original terms (not seasonally-adjusted), the state with the lowest quarterly wage growth was Western Australia with 0.3%.
The highest quarterly wage growth of 0.5% was experienced by Victoria, Tasmania, Northern Territory and the Australian Capital Territory.
Annual wage growth rates were highest in Victoria (2.7%) and lowest in Western Australia (1.6%).
These were the quarterly and annual wage growth rates for all of the states and territories:
NSW: 0.4%, 2.3%
VIC: 0.5%, 2.7%
QLD: 0.4%, 2.3%
WA: 0.3%, 1.6%
SA: 0.4%, 2.1%
TAS: 0.5%, 2.5%
ACT: 0.5%, 2.1%
NT: 0.5%, 2.4%
Industries
The private sector industry with the highest rise in wages over the March quarter was the 'electricity, gas, water and waste services' industry with 1.0% growth.
At the other end of the scale, the following industries recorded the lowest March quarter wage growth of 0.2%:
Construction
Retail trade
Accommodation and food services
Rental, hiring and real estate services
Administrative and support services
Public administration and safety industries
Through the year, the 'health care and social assistance' industry has experienced the highest annual wages growth of 3.3%, while the 'construction' and 'information and telecommunication services' industries have recorded the lowest at 1.8%.
---
Latest Articles