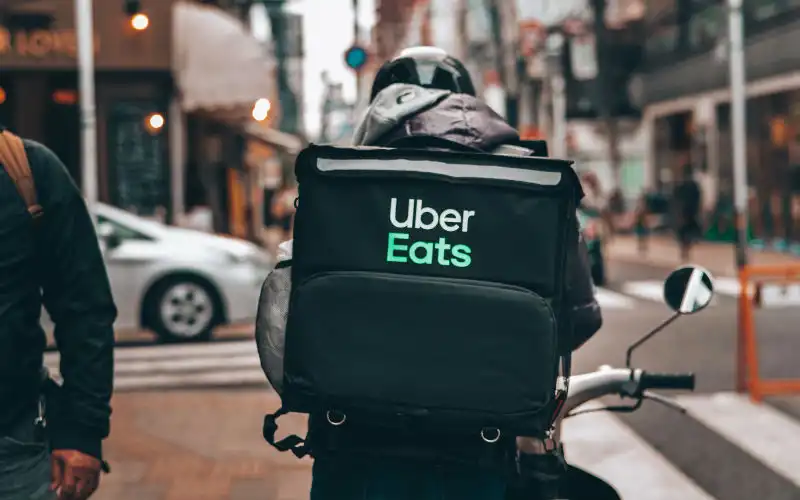 Millions of workers in Australia's booming gig economy are missing out on receiving an adequate retirement income and could be left to rely on the age pension.
Those are the findings from a research paper conducted by the Actuaries Institute which explores the long-term personal financial impacts of insecure employment.
The paper, 'The Rise of the Gig Economy and its Impact on the Australian Workforce' found that consumer spending on platforms like Uber, Deliveroo and Airtasker grew by $6.3 billion between 2015-2019.
During COVID, consumer spend in the meal delivery sector surged by more than 100%, and while this boom may have benefited gig workers in the short-term, the long-term implications of insecure work are far less certain.
Need somewhere to store cash and earn interest? The table below features savings accounts with some of the highest interest rates on the market.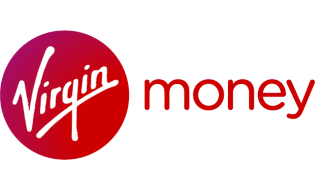 Advertisement
Boost Saver - Savings Account
Highest
variable rate
1.50%†
Base
variable rate p.a.
0.10%
BOOST YOUR SAVINGS with up to 1.5% for the first 3 months
Product Features
Red Hot Intro Rate of up to 1.5% for the first 3 months
Enjoy up to 1.2% thereafter
Bundled with the Virgin Money Go transaction account
"The rapid rise of the gig economy has brought both opportunities and risks for workers, raising some important policy issues, particularly with regard to long term financial security," Actuaries Institute Chief Executive Elayne Grace said.
"Most gig workers have only minimal superannuation contributions and lower insurance coverage, increasing the prospect of greater reliance on public safety nets, including the age pension.
"With the economy evolving rapidly, particularly under the influence of the COVID-19 pandemic, it is increasingly important that we better understand the risks to workers and how they might impact on future public policy."
The gig economy is defined as on-demand services (like meal delivery) mediated by digital platforms where workers are classified as independent contractors.
Many gig workers don't receive basic entitlements such as minimum wage, sick leave, annual paid leave, long service leave, workers compensation insurance or employer paid superannuation.
The research paper found that fewer than 1.5% of gig economy workers make personal super contributions but for those that do, the contributions are insignificant compared with employer-paid contributions of workers on minimum wage.
Gig economy workers who spend five to 10 years of their productive labour years participating in the gig economy may be between $48,000 or $92,000 worse-off in superannuation savings at retirement, according to the report.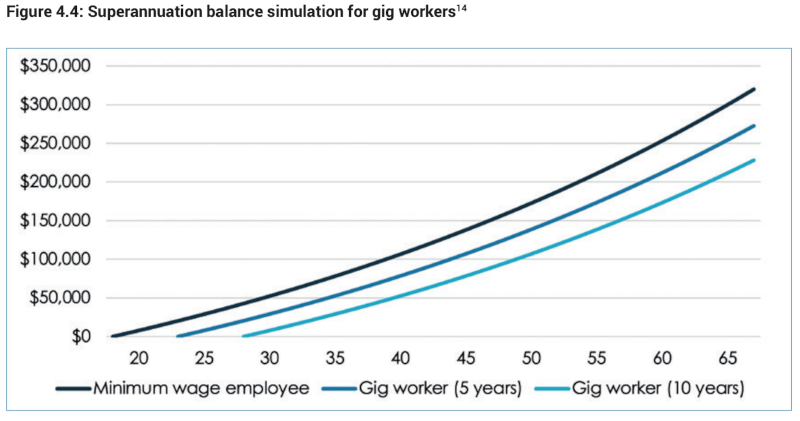 Source: The Actuaries Institute
Gig economy workers are also 14% less likely than the average worker to be covered by private health insurance and are also less likely to have life insurance.
"The ongoing concern is if the prevalence of gig economy work continues to rise under existing labour force regulations, there will be an increase in the proportion of persons with little to no superannuation savings on retirement," the paper said.
"This would put further strain on the government funded age pension scheme."
The findings come ahead of a Senate inquiry looking into the impacts of insecure work, namely how the gig economy impacts workers' ability to enter the housing market and have a decent retirement.
The Federal Government has increasingly been under pressure to regulate Australia's booming gig economy after five food delivery riders were killed on the job in the past two months.
The deaths shone a spotlight on the lack of rights of these workers, who are not entitled to JobSeeker and JobKeeper and are forced to take on risky, low paid jobs to make money for their families.
The paper noted that the gig economy workforce is overrepresented by vulnerable groups in society - young workers, students, and the formerly unemployed.
It comes on the same day as research from Rabobank which found 3.7 million Australians experienced a decrease in income during COVID-19.
For those who are eligible, government assistance has helped bridge the gap for many, with two in five (39%) Aussies taking up additional support this year, including Job Seeker, Job Keeper, and early super access.
Some Australians dipped into their savings (15%), accessed their super early (9%), reduced their voluntary super contributions (6%) or cut their health insurance (6%).
Glenn Wealands, Head of Client Experience, Rabobank Australia said: "Many of us have had to make changes to our spending and saving habits this year as we've grappled with the impact of the pandemic, but as we start to focus on a new year, it's worthwhile to review the strategies we've put in place to ensure they are aligned to not only meeting short-term needs but longer-term goals also."
According to figures from APRA, Australians have collectively taken out $34.1 billion or reduced their nest egg by $7,668 - $8,374 on average.
Most reported using their super to pay for essential items (40%) and make mortgage payments (53%).
---