The platform is unapologetically for young millennials and Gen Z, and is designed as a one-stop-shop for the groups to better manage their money.
Their slogan, 'live large and take charge', encourages consumers to splash their cash how they wish, but doing so in an informed way about how each purchase will affect their cash flow and future plans.
So how does Fupay (foo-pay) work and how could it benefit you?
---
What is Fupay?
Fupay is a buy now, pay later (BNPL) app. However, the app also allows users to manage and spend money by bringing together their bank account data to give them an all-encompassing view of their finances.
The app analyses factors like income, bills, and transactions to forecast future expenses, set savings goals, and control where and what you're spending.
Betsy Westcott, Chief Revenue Officer at Fupay, said traditionally managing money had been an onerous task and most money budgeting apps merely told you where you've spent money.
"Fupay focuses on forecasting your financial position so the user can make an informed choice about what to do next," Ms Westcott told Savings.com.au.
"If they have surplus cash, do they want to save some money, pay down some debts or perhaps just live large and enjoy themselves?
"If they look like they're going to run low on funds do they want to cut back on some planned spending or would they like to leverage Fupay's responsible BNPL function to smooth out a bill, a purchase, access a small spot of cash to give them flexibility until the next pay day? The choice is theirs."
Fupay's BNPL features can be broken into three categories: Fu Card, Fu Cash, and Fu Bills. The Fu Card is a digital card accessed through the app which allows you to instantly load $20 to $500 to use wherever you wish. Fu Cash allows you to have up to $200 deposited into your account, again to use as you wish. Fu Bills allows you to have Fupay cover the cost of a bill up to $500, provided it can be paid through BPAY.
For each option, Fupay requires you to repay the funds over eight weeks, with personalised repayment options available, based on your cash flow and how much you can afford to repay.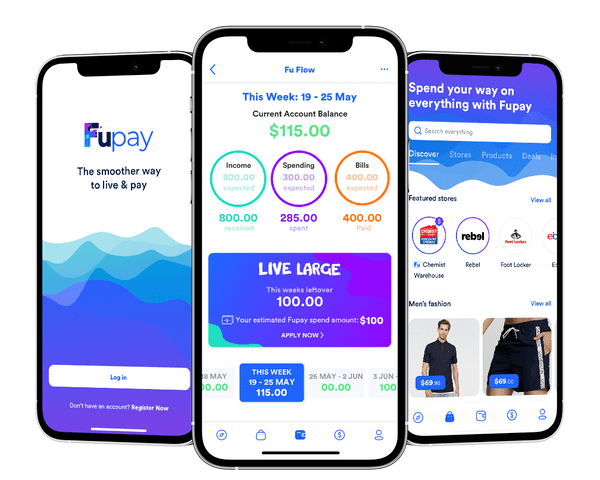 Source: Fupay
---
How much does Fupay cost?
Fupay prides itself on not being a traditional credit provider, and as such, doesn't technically charge interest on repayments. The BNPL provider also has no ongoing account keeping fees.
Instead, the platform charges a 5% flat fee on any amount you 'Fupay'. Depending on how much you borrow, you'll also be required to make the maximum repayment a certain number of times. You can see examples of this in the table below.
| Transaction amount | Number of maximum repayments | Total fee |
| --- | --- | --- |
| $50 | 1 | $2.50 |
| $100 | 2 | $5.00 |
| $150 | 3 | $7.50 |
| $200 | 3 | $10.00 |
Source: Fupay.
---
What are the advantages of using Fupay?
Fupay aims to distinguish itself in the saturated BNPL market through money management app features, smaller cash amounts, personalised repayments, flexibility, and a dynamic marketplace.
Ms Westcott said the 'greatest' advantage of Fupay came through the view it could provide a snapshot of users' current and future financial position coupled with the tools to make flexible cash flow choices.
"When a member joins Fupay, they're invited to connect their bank accounts so we can provide a holistic view of their money irrespective of them having multiple banking relationships, which most of us do," she said.
"Empowering customers to act on the actionable insights is the next step in enabling them to take charge of their money.
"It's one thing to know where you're at and where you're going but it's something else entirely to be able to act on that insight in-App."
---
How to get Fupay
You can download the Fupay app from your respective App or Google Play store. After downloading, you'll need to plug in some personal details and plug in your bank details in order to link your Fupay account and transaction account.
If you want to start using its BNPL features, you'll need to pass Fupay's specific lending criteria. Ms Westcott said Fupay's criteria is superior to a credit check, as credit checks are at least 180 days old and don't work as effectively for younger customers without credit profiles.
"We believe that understanding a customer's current cash flow affordability is the best measure," she said.
"We spent three years building a lending algorithm that programmatically assesses a customer's ability to repay short term credit within an eight-week period.
"This is a dynamic assessment that allows us to respond and adjust a customer's borrowing limit based on their financial situation so we only lend to customers that can afford to make repayments at that time."
---
'Empowerment through information'
Afterpay, Zip, Humm, Laybuy, Brighte, Sezzle, the BNPL provider list goes on (and on). Even big names like Commonwealth Bank and PayPal have launched ventures into the sector. It's an exploding industry with a multitude of players with somtimes quirky names.
With its focus on smaller cash amounts, young shoppers, and a platform that empowers its user to take control of their finances, Ms Westcott said the platform was unique in its offering, as seen through its "live large, take charge" motto.
"'Take Charge' is all about empowering members to know and understand their current and future cash flow to make informed choices," she said.
"The product starts with forecasting cash flow and showing customers the impact of spending and borrowing money on future cash flow.
"'Live Large' is about managing your money on your terms. You want to have a big weekend, go for it but do so understanding the impact of that choice and how to pay it back.
"Living large and taking charge is about enjoying today, taking care of tomorrow, and having flexibility around how you do that."
---
Where Fu from here?
Fupay will soon be launching in Europe and the United Kingdom, and has plans for a 'Fu Rent' option. For now, Ms Westcott said the platform was excited to solidify its place in the Australian BNPL landscape.
"We are still pretty new in the market so the future is about growing Fupay, supporting more merchants to offer a responsible BNPL across all lifestyle categories, not just retail, and enabling other companies to leverage our tools under their own brands," she said.
Photo by Blake Wisz on Unsplash