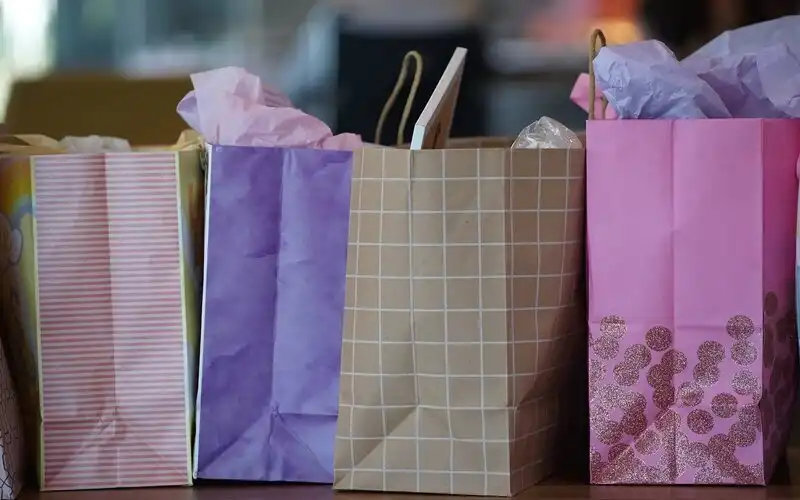 Finding it hard to keep track of all the buy now, pay later platforms available in Australia? Here's a pretty comprehensive list…
Australia's buy now, pay later (BNPL) industry has come a long way in a short time. While some retailers such as furniture and appliance stores have offered interest-free or delayed payment options for decades, it wasn't really until the launch of Afterpay in 2015 that BNPL as we know it really started to take off, with many other rival platforms popping up shortly after. As it now stands, the three biggest platforms - Afterpay, Zip, and Humm - claim to have as many as 8.5 million customers between them.
BNPL is expected to double its market share by 2023, but on current trends, it could do so before then. It seems almost every week a new brand sprouts up claiming to offer buy now pay later services, and quite frankly, it's getting a little hard to keep track of them all. So Savings.com.au has prepared a list of every BNPL provider in Australia (that we know of) at the moment, although by the time you're reading this, there's a good chance another one has come along.
---
The table below features personal loans with some of the lowest interest rates on the market.
No ongoing fees
No application fees
Apply online
Rates based on a loan of $30,000 for a five-year loan term. *Warning: this comparison rate is true only for this example and may not include all fees and charges. Different terms, fees or other loan amounts might result in a different comparison rate, Rates correct as of January 17, 2022. View disclaimer.
Which buy now, pay later platforms are available in Australia?
Here is a list of every BNPL provider (that we know of) available in Australia at the time of writing - see the links to jump to each one to find out more:
What is Afterpay?
Afterpay is comfortably the biggest of the BNPL platforms in Australia, with 3.4 million 'active' customers in Australia and New Zealand (active is a customer who has used it in the past 12 months). According to Roy Morgan, 70% of Australians are aware of the service as of February 2021, up from 33.8% in September 2018.
Afterpay is a no-credit-check service designed for users to be able to sign up while in line at the store. With Afterpay you have to pay for at least a quarter of the payment upfront while the rest can be repaid in fortnightly instalments. If you don't, you can be charged late fees up to $10, capped at 25% of the order.
Other key Afterpay facts:
A $500-$1,000 credit range
$7 late fees after the initial $10
Late fees capped at $68 or 25% of the purchase price (whichever is lower)
Four fortnightly repayments
No interest charged
What is Zip co?
Zip is the second biggest BNPL platform in Australia, and actually has two separate BNPL brands:
Zip Money: for larger purchases, account limit over $1,000
Zip Pay: for smaller purchases, account limit under $1,000
Zip in total has 2.5 million active customers as of January 1 2021, with customers increasing 39% from the previous six months. It is also offered by more than 34,000 different stores and merchants. According to Roy Morgan, almost half of Australians know of Zip.
What is Zip Money?
Zip Money is a line of credit with credit limits over $1,000, and is the less popular of Zip's two brands. Regular accounts can access up to $5,000 and in special circumstances, credit limits can be up to $50,000. Zip Money does charge some interest, but it is interest-free for the first three months.
What is Zip Pay?
Zip Pay (for smaller purchases) functions in a very similar manner to Afterpay in that it allows you to create an account in minutes (two minutes 18 seconds for us) and allows you to link a debit card for in-store and online purchases. Zip allows users to choose how often their repayments are made based on their preferences, be it monthly, fortnightly, weekly or instantly, and unlike Afterpay does require a credit check.
Other key Zip Pay facts:
It charges a $5 late fee (capped)
$6 monthly account fee which is waived if you carry no balance
$40 per month minimum required payments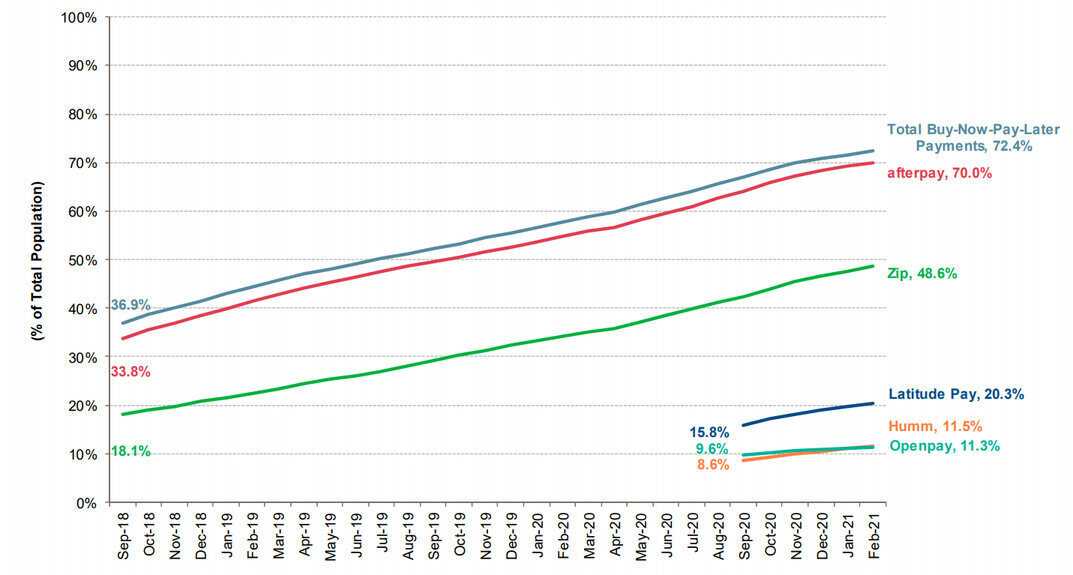 Source: Roy Morgan
What is Humm?
Humm is a payments platform allowing hoppers to make "interest-free" purchases of up to $30,000 through the platform to be repaid in "slices".
Humm, originally Flexigroup, launched in Australia in mid-2019 and has grown to be roughly the same size as Zip, with around 2.5-2.6 million active customers in 2021. Awareness of Humm has grown sharply, with 11.5% now are of it, up from 8.6% in September 2020.
When buying with Humm, there are two different payment plans with different repayment structures, which it classifies as 'big things' and 'little things'.
Big things: for big purchases (up to $30,000), you can make as many as 60 monthly payments
Little things: for small purchases (<$2,000), you can make between five and 10 fortnightly payments
Humm is both fee-free and interest-free as long as you make your payments on time. Late fees are $6 for each missed payment, while monthly fees of $8 can be charged on 'big things' and 'little things' with 10 repayments. There is also a $35-90 establishment fee for big things purchases.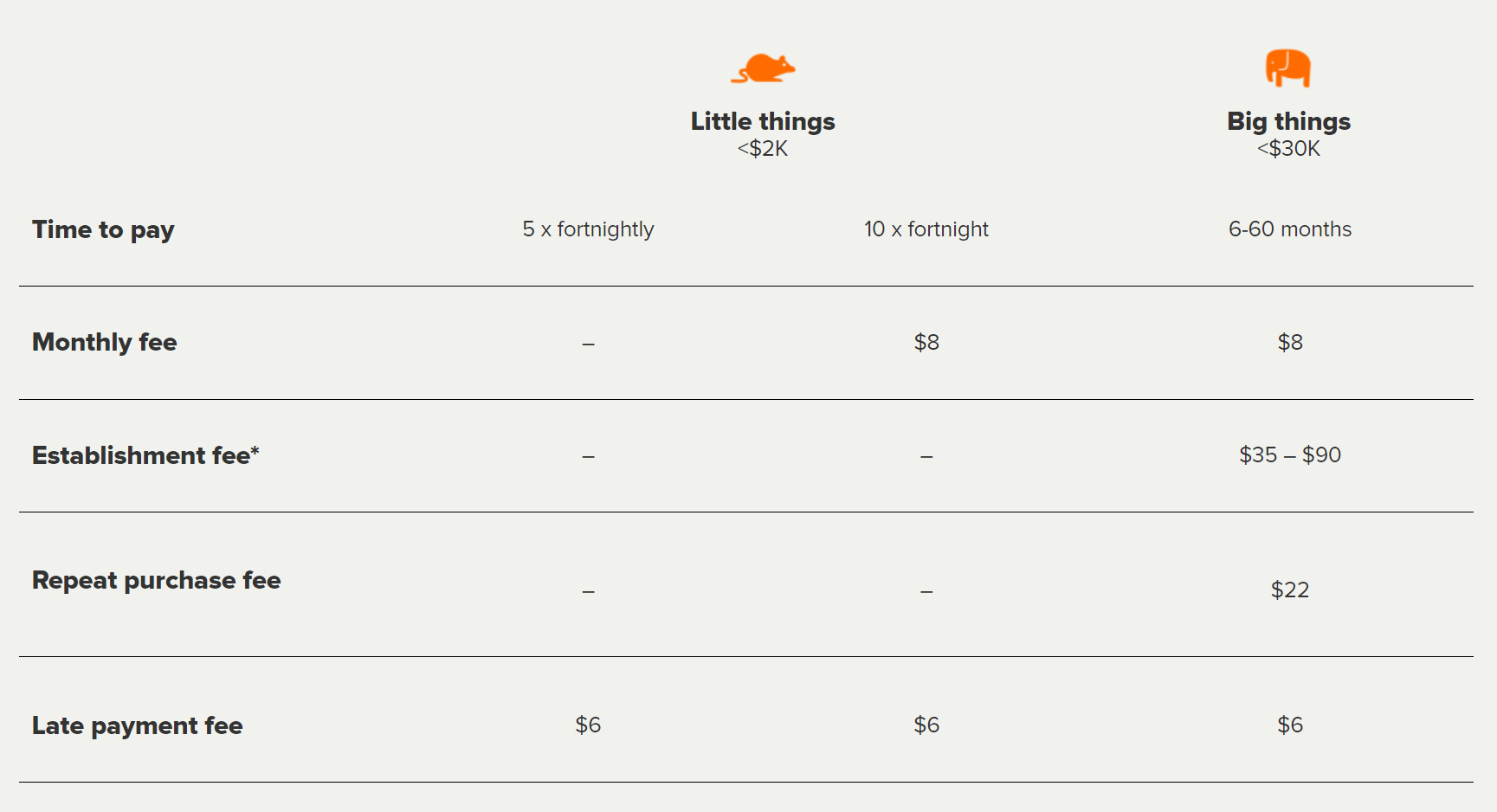 Source: Humm
Humm also owns another smaller BNPL platform called Bundll.
What is Bundll?
Bundll, owned by Humm, was launched in 2019 and is described as being like a "debit card on steroids". It allows customers to bundle all of their everyday purchases like groceries together into a single bill, which can then be paid off in regular BNPL instalments.
From June 2020 to February 2021, Bundll grew from its small base of 15,600 to just under 52,000, while monthly transactions increased from 82,000 to 321,000.
Bundll requires no credit check, charges no interest and no monthly fees. It does charge a $10 late fee, but it mainly aims to make money through merchant and interchange fees, while it also allows users to 'snooze' repayments for a further two weeks for $5.
The standard Bundll credit limit is $1,000, but a 'superbundll' (larger purchases combined with smaller purchases) can allow for purchases up to $4,000. This can be paid off over 12 weeks at a cost of 5% of the balance.
Openpay
Openpay is one of the older BNPL platforms in Australia. It first launched in 2013 as a payments solution for a clothing line, before moving to the broader market in 2016. It now has almost 500,000 active customers in Australia (a 123% increase over 2020) and several thousand merchants, specialising in retail, health and education stores.
Openpay has one of the largest credit limits among the BNPL platforms, allowing you to carry a balance of up to $17,000 (pending a possible credit check). It also offers flexible repayment plans, and depending on the size of the purchase it can be repaid over one to 24 months in weekly or fortnightly payments.
As with the majority of other options, Openpay is interest-free but can charge fees, like:
A $9.50 default fee for missed payments
Processing fees up to $3.95 sometimes
Referral fee of $19.50 if your payment is late by eight days or more
Openpay's fees can vary based on the shop and the size of the plan, but the fees are capped at $200.
Related: Openpay CEO Michael Eidel on BNPL regulation.
CommBank BNPL
One of the newest BNPL providers in Australia, CommBank BNPL was launched in March 2021 by big four bank Commonwealth Bank, which already part-owns Klarna (see below). Available only to eligible Commonwealth Bank (CBA) customers, CommBank BNPL is linked to CBA bank accounts and can be used anywhere its debit or credit cards are accepted, which is a big advantage over other competitors which charge extra merchant fees.
With CommBank BNPL:
Purchases over $100 will be split into four equal fortnightly instalments
For purchases under $100, the full amount will come out of the linked CommBank account in one go
No interest charges, monthly or annual fees apply
Late fees of $10 apply per missed instalment repayment
A credit limit of $1,000 applies
Credit checks apply to customers
Customers can access CommBank BNPL via the bank's app or by adding it to their phone's digital wallet.
Klarna
Swedish-based Klarna is actually one of the world's largest BNPL platforms with tens of millions of customers, but it only arrived in Australia in early 2020 when Commonwealth Bank acquired 50:50 ownership here. Now, Klarna has already surpassed more than 550,000 customers in Australia across hundreds of different retailers.
Klarna functions in a very simple way, allowing customers to spread a purchase over four interest-free instalments much like Afterpay, although it also offers a 36-month financing plan for larger purchases. Klarna has a minimum spend of $35 and no maximum credit limit, with each limit "subject to an individual availability assessment".
Klarna does charge late fees too, which vary with the purchase size:
$3 (capped at $9 per order) for $35-$59.99 purchases
$5 (capped at $15 per order) for $60-$99.99 purchases
$7 (capped at $21 per order) for $100-$199.99 purchases
$15 (capped at $45 per order) for $200+ purchases
Customers can also be charged a varying amount to 'snooze' repayments if they think they'll miss the deadline.
See also: Klarna the first BNPL platform to launch its own loyalty scheme
PayPal Pay in 4
Another of the most recent BNPL debutants, payments giant PayPal released its own platform called PayPal Pay in 4 in March 2021. Launching in June 2021, PayPal Pay in 4 works the same way other leading platforms do, allowing customers to split eligible purchases between $50-$1,500 over four equal, interest-free fortnightly instalments and charging no fees for on-time repayments.
Late fees for purchases under $125 involve a one-off $10 charge, while for purchases over $125, a $10 late payment fee applies for each missed repayment, capped at $30.
More details on this scheme are yet to be released, but it is already known that purchases for gambling, gift cards and personal transactions won't be available.
Laybuy
Also claiming nearly 600,000 active customers, Laybuy launched in Australia in September 2019 after becoming one of New Zealand's biggest BNPL brands. Co-founded by NZ retail expert Gary Rohloff and his son Alex, Laybuy is partnered by more than 8,000 retailers in Australia but can be used anywhere that accepts Mastercard.
Laybuy allows six weekly payments (interest-free), a frequency it says most people prefer, while it also has a feature called Laybuy Boost, which essentially allows customers to top up their account's credit limit for more expensive items. Laybuy also:
Charges a $10 late fee on each missed payment
Conducts upfront credit checks to assign a spending limit
Requires at least 1/6th of the purchase upfront
Latitude Pay
Latitude Pay, launched in late 2019, was a BNPL service created by Latitude Financial and partner Harvey Norman to initially be a payment option for purchases made solely at the retail giant. But since then it has partnered with Mastercard and a number of different eCommerce partners from the likes of The Good Guys, Forty Winks, catch.com.au and more.
Available online or in-store, Latitude Pay offers no-interest payments with no extra fees for purchases up to $1,000, split into 10 weekly instalments. Latitude Pay requires a 10% payment upfront, with missed payments for the remaining nine portions incurring a $10 late fee for purchases less than $50 and a $50 fee for transactions up to $1,000.
Latitude Pay has reportedly been used by 350,000 customers so far, but despite having fewer customers, more Australians are aware of it (20.3%) than Humm (11.5%) and Openpay (11.3%).
Brighte
Brighte is a buy now, pay later solution aimed exclusively at solar and renewable energy home improvements. It is the leading 0% interest fintech for solar and home improvements with more than $500 million financed to date. Brighte claims one in 14 solar installations in residential homes are financed through its platform.
Although it's more niche than the others on this list, Brighte serves its purpose well and has one of the highest credit limits on this list with up to $30,000. In terms of costs, Brighte charges:
A $1.50 weekly account keeping fee
A $4.99 late payment fee (capped at $49.90 each year).
Pre-approval is available for purchases up to $15,000 with Brighte.
Related: Personal lender Plenti to offer interest-free loans for solar panels.
PayRight
PayRight is a payment plan provider that's been around since 2016, and became ASX listed in December 2020. Based on its most recent results, it has around 42,000 active customers, and that number is growing by about 10% each quarter.
Payright works essentially the same way Afterpay and co. does, as it offers interest-free fortnightly or monthly instalments with terms of up to 36 months. It claims to be different however by being geared towards larger purchases, and has a maximum credit limit of $20,000. According to internal data, the average transaction with PayRight is approximately $3,000.
In terms of costs PayRight has:
An establishment fee of up to $59.95
A monthly account keeping fee of $3.50
A payment processing fee of $2.95, added to each repayment
And a late payment fee of up to $12.95, charged separately
Sezzle
Known as the 'miniature Afterpay', Sezzle is a publicly traded BNPL with a headquarters in Minneapolis, operating in the US and Canada as well as Australia. As of March 2021, Sezzle had almost seven million total users over a 12 month period.
As a payment plan for online purchases, Sezzle is still relatively small here. It lets customers split their repayments equally over six weeks in fortnightly repayments, with the first 25% paid upfront. So it has the same model as Afterpay.
Sezzle also:
Has no interest or processing fees

Lets customers reschedule repayments at a cost of $5 after the first time, which is free

Has a $10 late fee for missed repayments, waived if the payment is made within 48 hours of the due date
Pay It Later
Pay It Later is one of the smallest BNPL platforms on here, both in terms of users and how much you can borrow. Pay It Later has a $1,000 credit limit, paid off over four weekly instalments at 0% interest.
Pay It Later charges $10 late fees up to a maximum of $60, and has no establishment or ongoing fees. For merchants, it charges a flat-rate transaction fee and a percentage-based transaction fee each time, and shoppers are often given discounts at these merchants for using it.
One difference Pay It Later has is a 60-day returns policy, managing all refunds for the customers if they want to return their purchase within that time.
Fupay
Fupay (pronounced Foo-pay) is a BNPL platform that describes itself as an "unapologetically and authentically young millennial brand", if you're into that kind of thing. Fupay calls itself a "lifestyle management platform allowing young millennials to better understand and manage their cashflow needs."
Available with both Google Pay and Apple Pay compatibility, Fupay lets users instantly load between $20-$500 onto the card to be repaid over eight instalments. These repayments can be flexible based on personal preferences.
Fupay doesn't charge any interest, and does not perform a credit check, although it will still assess your income and financial behaviours. In terms of fees, Fupay:
Charges a one-off setup fee of $5
Charges varying late fees
And has a 5% transaction fee for each purchase
Similar BNPL platforms
Not to be outdone by these heavy hitters above, there are other platforms that aren't quite a traditional BNPL service but are worth mentioning nonetheless. These are:
Limepay
Limepay is one of the smaller BNPL platforms in Australia but is still worth a shout. Launching in mid-2020, Limepay is a bit different as it is a retailer-focused BNPL, allowing merchants to effectively launch their own BNPL platform through its website.
Limepay offers flexible payment instalments in the standard four blocks. It is designed to streamline the process for the consumer, who can link a credit or debit card or use a digital wallet to access the service.
Limepay charges no interest and charges $5 but late fees that are capped at $10 for future missed payments. Its late fees are capped at $68 for any purchase price or no more than 25% of the purchase price.
Splitit
Splitit lets customers make purchases using an existing debit or credit card but in deferred instalments, letting them continue to enjoy the benefits of their current payment methods such as rewards points. Splitit doesn't charge any fees beyond your usual debit and credit card fees and interest charges.
Flexibond
Backed by payments platform EML Payments and Ezidebit Australia, Flexibond is a specialist buy now, pay later platform that lets renters pay their bond in instalments. Customers receive a Flexibond digital Mastercard, and the platform pays the bond via that card, up to a maximum of $10,000, with a 5% activation fee based on the bond amount.
A YouGov survey in 2020 found 53% of renters struggle to pay their bond, which is usually four weeks' rent plus an extra two weeks' rent upfront. While Flexibond says it is helping struggling renters afford to move, consumer groups and tenants' unions say it could be an "unhealthy addition to an already unfair rental system".
Related: State-by-state rental bond loans.
Plan It (American Express)
American Express dipped its proverbial toes into the BNPL sector in mid-2020 when it released a new feature for customers called Plan It. Using the American Express App, Plan It lets customers move a portion of their credit card balance into a payment plan spread over three, six, nine or 12 months, with a fixed monthly fee and 0% interest.
Available for use on balances above $150, Amex Plan It charges a fixed monthly fee of 0.42%-1.04% of the starting plan balance, which differs depending on the type of card the customer has.
Anti-BNPL platforms
While the BNPL craze might have taken off here, that doesn't mean everyone is a fan of it. There are a couple of platforms and startups that have appeared with the intention of combatting the potentially dangerous practices of buying now and paying later. Arguably the two most prominent are:
Sipora
Sipora, available on iOS, is a budgeting and saving app, but is one that could be useful for those who struggle with debt. It's essentially a round-up shopping app designed to combine your favourite retailers with round-up technology, allowing you to save quickly instead of buying through debt. It connects to your bank account similar to how Raiz does and rounds up each transaction you make in your everyday life to the nearest $1, $2 or $5 to be put into a Sipora account.
"Sipora offers consumers a way to save for something they want in a relatively short period of time, without relying on credit or buy now, pay later debt," co-founder Jonathon Despinidic told Savings.com.au shortly after it launched.
YouPay
The recently launched YouPay describes itself as an alternative to BNPL, having begun in response to the "staggering number" of people signing onto consumer debt products. YouPay lets shoppers send private payment links to friends and family, instead of encouraging people to pay for one-quarter of a purchase upfront, potentially accruing late fees. This way, people can tap into support networks or shared expense groups instead of relying on debt plans.
"BNPL is an amazing piece of technology and a huge convenience when managed appropriately. When it isn't though there can be problems for customers," CEO and Founder Matt Holme told Savings.com.au.
"Before going into debt with an institution - be it BNPL or a credit card - we want you to turn to your support network of family and friends for assistance."
What are the pros and cons of using buy now, pay later?
So yes, there are a lot of different BNPL providers out there and more popping up by the minute, while similar products are being launched by banks and credit card companies like American Express too.
Advantages of using buy now, pay later
With millions of Australians potentially using these products, they must be doing something right, and there definitely can be benefits to using them. For one, even the most expensive ones will likely be far less dangerous than a credit card.
While most BNPL platforms cap their late fees (which are only a few dollars each time), the average credit card interest rate is 17% per annum. When you combine that with higher credit limits on credit cards they have the potential to accrue thousands of dollars in interest debt, not to mention annual fees of hundreds of dollars on some cards. Most BNPL platforms don't charge ongoing fees, and will often have a debt ceiling of several dozen to a couple of hundred dollars before you get cut off. All in all, BNPL is generally cheaper than credit cards.
Buy now, pay later is also very popular with younger age groups compared to other credit products, as 57% of Afterpay users say BNPL helps them stay on top of their money and budget better. Millennials are also 37% less likely to own a credit card because they see them as being too risky and too costly, preferring the simpler repayment schedules of BNPL platforms.
Other perceived benefits of BNPL include:
They're easy to apply for quickly
You can easily sign up to multiple, as they have less extensive credit requirements
Four in five consumers (81%) find BNPL convenient and easy to use (ASIC)
They can have flexible repayments as well as simple ones
Many stores offer them now
But of course, there are risks to using them too.
Disadvantages of using buy now, pay later
Although it can be cheaper than using a credit card, that isn't always the case, especially if you don't meet your repayments on time. While some BNPLs limit how much they charge in late fees (e.g. Afterpay never charges any higher than $68 in late fees before you get cut off) these can still add up if you're missing repayments on other platforms as well, potentially accruing hundreds of dollars in late fees.
Some other potential cons of BNPL:
There are less stringent credit checks on some, making them easier to apply for (see more about how BNPL can affect your credit score here)
It can encourage impulse spending, particularly if you're already bad with credit, while you can also get into the habit of paying with debt, instead of with money you already have.
Another potential problem of using BNPL too much is that it could harm your ability to get a loan in the future, such as a home loan or car loan. Lots of lenders still regard them as a line of credit because you're borrowing money you don't have, which can look bad on an application and lead to you getting rejected.
So with buy now, pay later, the disadvantages might not always be visible to you.
Which BNPL platform is the best?
As with any financial product, no buy now, pay later service is 'best' for everyone. Afterpay might be the biggest and most well-known, but what makes a product right for you is how well it suits your financial personality.
If for example you only occasionally use BNPL, larger players like Zip or Afterpay might be a better shout as they're more widely available and have simple repayments. Other options like Humm, Bundll or Klarna might be more suited to those who want to make more regular purchases or perhaps want to buy more expensive items.
There are lots of points of difference between each of the different BNPL platforms:
Some conduct credit checks, some don't
Some charge higher fees, some don't charge fees at all
Some offer higher credit limits, while others offer longer or shorter repayment plans
Some are available at a broader range of shops, while others are better suited for more niche purchases (such as Brighte for solar panels)
When deciding which one to use, consider each of these and compare each platform on them. But most importantly, you should think about whether you really need to use one at all…
Savings.com.au's two cents
The buy now, pay later revolution might be changing how we shop, but just because it exists doesn't mean you have to use it. If your BNPL spending is left unchecked, you can easily accrue debts and black marks on your credit history just as you can with a credit card or personal loan. So if you have the cash to pay for something from your bank account without going into a debt repayment plan, then it's probably worth doing just that.
And a reminder that if you're struggling with debts:
Consult a free financial counsellor
Call the National Debt Helpline on 1800 007 007
Call Lifeline's 24-hour crisis support service on 13 11 14
Contact your bank or lender's financial hardship team
---
Photo by Denisse Leon on Unsplash