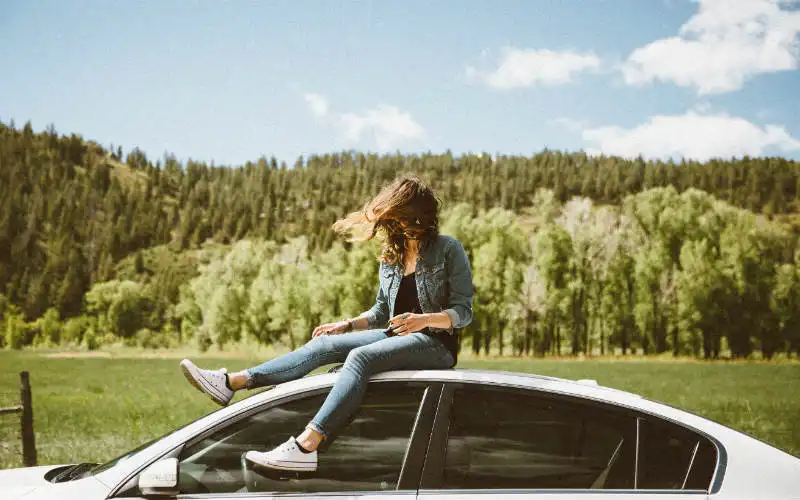 A used car can often offer better value for money than a new car, provided it's not a lemon.
In the market for a used car? The table below features car loans with some of the lowest fixed interest rates on the market for used car buyers.
There's no shortage of benefits to buying a used car, the primary being that they're often significantly cheaper than brand new models, given that cars depreciate in value the most over their first few years.
But blindly paying thousands for a used car without doing the proper research and background checks is like playing Russian roulette with your finances.
So unless you want to imitate De Niro in The Deer Hunter, there are a few things you should mull over before you pull the trigger on a suspiciously cheap Alfa Romeo. This guide may help you dodge the potential financial potholes of buying a used car.
What to look for when buying a cheap used car
It's particularly important to do a thorough inspection of the car when buying a cheap second-hand model. The cheaper and more used the car is, the higher the chance there'll be some defects.
When buying a cheap used car, do a check of the following things:
The engine: Ask if you can take it for a test drive and make sure the engine runs smoothly, and ask to see the service record to make sure the car has been serviced regularly. A bad engine can be very expensive, so it's crucial to make sure this is in working order.
Make sure all the lights and seatbelts work: If these things don't work then you could be endangering yourself when you drive, so check all the lights (headlights and interior lights) and also check that the seatbelts are tight when pulled on.
Make sure the steering wheel works too!
Open and close all the doors to see if they work properly.
Do a customary check of the tyres: Worn and torn tyres may need to be replaced, and a tyre that's overly worn compared to the others might indicate the wheel alignment is wonky.
Check the exhaust for smoke.
Check all the interior tech works, the air conditioning, radio, parking sensors etc. This might not be a deal-breaker but could bring the value of the car down.
And finally, check the National Personal Property Securities Register to see if there's any finance still owing on the car before you hand over the cash.
Of course, make sure you also do a routine check of the car, looking for stains, scratches and those weird smells.
Things to know before buying a second-hand car
Firstly, you should check your budget and consider how much of your funds you're willing to have tied up in this depreciating asset.
Cars don't typically grow in value, earn you interest or pay financial dividends, which is why money experts preach the adage that you should buy the cheapest car your ego can afford.
If your ego is set on a particular model, you can use websites like Red Book for an estimate of what you can expect to pay for it. Arming yourself with this pricing information can stand you in good stead when bargaining with the often less-than-honest used car sellers.
Besides ego and price, you should also consider:
How much you'll be driving it: Do you need a cheap runaround or a sturdy beast that can endure daily bouts of long-distance driving?
Lifestyle factors: Is it practical for your lifestyle? For example, is there enough room for your kids or for transporting furniture?
Safety: What's its safety rating? Some older used cars lack the newer safety features that are deemed critical in the modern era.
Security: Does it have modern security features?
Car insurance premiums: If the car lacks the latest safety and security features, you may be facing higher car insurance premiums
Where you'll buy the car from: You can get a car from either a

dealer, an auction or a

private sale, all of which have different pros and cons.
This last point is probably the most important one, as it's easy to get stung by dodgy sellers or lenders if your eyes aren't on the road.
Things to do when buying a second-hand car
Aside from actually buying the car itself, there are a number of things you need to do when buying a second-hand car:
Research and compare multiple different car models in-person or online - there are a number of websites you can use for this listed below.
Draw up a budget for yourself and know what you can reasonably afford. Think about whether you'll buy the car outright or with a car loan.
Check the National Personal Property Securities Register to find out if the car has debt owing on it. This can also tell you if the car is stolen.
Arrange an inspection of the car and do a test drive, looking at each of the things mentioned above.
Ensure all the relevant paperwork is in order, such as registration and service info, and that the details match the seller's details.
Avoid the traps of buying used cars
Ultimately, you don't want to buy a piece of garbage instead of a car, especially not for thousands of dollars.
You should always endeavour to check the following aspects of a used car:
The outside: paintwork, damage to the tyres and panels, oil leaks and broken windows
The inside: working seatbelts, working lights and accessories, and wear and tear on the seats and carpets
Under the bonnet: check the radiator cap, battery and cooling fans for signs of corrosion or damage
If possible, take the car for a test drive to see how smoothly the car runs and listen for any irregular sounds or movements the car makes. Finding any issues that don't match what the seller advertised could allow you to negotiate a few hundred or even a couple of thousand off the selling price.
Traps of buying through a private seller
In a perfect world, we'd like to be able to simply trust our neighbours to do the right thing and be honest about the car they're selling, but we don't live in a perfect world and unfortunately, cases where sellers have lied about certain aspects of their wantaway vehicle are common.
Buying from a private seller like Davey Smith from Facebook can be much cheaper, but these sellers are not bound by the same laws as licensed car dealers. For instance, licensed dealers must ensure there is no finance owing on the car as opposed to private sellers.
You should never purchase a car that has an outstanding debt on it (known as an encumbrance) because if the borrower defaults on the debt, the lender has the right to repossess your vehicle – even though the debt wasn't yours! Seems unfair doesn't it?
So if you are going down the private seller route, then it pays to have an existing debt check done on the car through the National Personal Property Securities Register, for a fee of just $2 per search. This search also shows if the vehicle has been reported as stolen.
Traps of buying through an auction or dealer
You can pick up a good bargain at an auction, but there are a few limitations. Typically you don't get an opportunity to do a test drive or even have a formal valuation done through an independent inspection, so you're really relying on an above average knowledge of cars here to ensure that you're getting a good deal.
Licensed car dealers can be a more reputable source, given they're often required to provide statutory warranties or cooling-off periods. On the flip side, they can charge higher prices than you'd otherwise be able to get from a private seller.
No matter what source you go with to buy your used car, always make sure you hit them with questions that might not be answered in the ad, e.g. how long was the car owned for? Was it ever damaged? Does it currently have a roadworthy certificate?
You get the idea – trust yourself more than anyone else when it comes to used cars.
Tips on getting the best deal on a used car
To get the best deal on a used car, you should generally do your homework on the car first and set yourself a strict budget based on what you can afford. This should help you come up with a firm yet reasonable asking price for the car you've decided to buy. Contact the seller politely expressing your interest in buying the car, and come ready to ask the following questions:
Have you owned the car for long? Why are you selling it?
Is the car in good condition? Has it ever been in a crash?
Has the car been serviced regularly?
Arrange an inspection for the car and remember to check each of the things we mentioned above, such as the engine, lights, seatbelts and more. Make sure you do a test drive too, and consider making notes of any faults you discover.
Once you're ready to buy the car, ask the seller if they're willing to move on the price, and tell them what you're willing to pay for the car. Be reasonable, but try to haggle on price a little bit, especially if you discover faults during your inspection, and as always, be willing to walk away if you think the asking price is too high. There's plenty of fish in the sea and plenty of cars on the road.
If you're buying from a dealer and not a private seller, you may be able to get a better deal if you buy at certain times of the year, such as End of Financial Year (EOFY) sales, when dealers are under pressure to clear older stock or need to sell more cars to meet their sales targets. You can also get better deals during holiday periods when lots of other potential buyers are away, or if you know the car has been for sale for a while.
Best way to search for used cars
You should look to compare a wide range of used cars online when buying. Even if you come across a car on your street with a 'for sale' sign that looks like a bargain, there could well be an even bigger bargain out there waiting to be snapped up.
The best way to find a good value used car online is to use a number of car buying websites, some of which are very reputable. Some of the best websites to compare used cars on include:
Carsales.com.au
Carsguide.com.au
Drive.com.au
Gumtree.com.au
Redbook.com.au
Carcity.com.au
How old should a second-hand car be?
There's no hard and fast rule for how old the used car should be when you buy it, but generally speaking, you should normally aim to buy a used car that's at least two years old to get the best bargain. This is because at two years old, most cars will still look relatively new unless they've been dinged up, but will also have been smashed by depreciation, which is usually the worst in the first two or three years of a car's life. Cars lose around 10% of their value the instant they leave the dealership when new, and can depreciate by around 30% in the first two to three years.
The older the car, the cheaper it will tend to be, but the drop off in value is usually the most favourable to a second-hand buyer compared to the condition of the car after around two years.
Used car loans
If you feel you need a car loan to finance your used car purchase, here's what you should know.
Used car loans aren't really too different from new car loans – you're still borrowing money from a lender and repaying it plus interest. The main point of difference between new and used car loans though is that used cars tend to come with higher interest rates and less favourable lending terms.
Why?
Well, used cars are older and more worn than new cars, and given that loans are handed out over a period of time (of say, five years), then there is an increased risk to the lender that the car won't last for the whole loan term: it could break down completely or get into a massive prang due to ailing brakes or safety features.
So the lender is more likely to charge a higher interest rate in order to compensate for this added risk. Also, you may find it harder to get a secured car loan for a used car that's over a certain age (the typical maximum age is five years), so you may have to settle for an unsecured car loan (essentially a personal loan) which generally have higher interest rates than secured loans.
Looking to compare low-rate, fixed car loans for used cars? Below are a handful of low-rate loans in the market.
Frequently asked questions
1. What are the best car buying sites?
There are countless car buying sites in Australia, and it's impossible to say which is the best since there are merits to all of them. The most popular, however, are sites such as Carsales, Carsguide, Drive.com.au, Car City, Trading Post, Autoline and Carpoint. You can also buy and sell cars on sites like eBay, Facebook Marketplace and Gumtree.
2. Should i buy a car that's under finance?
Buying a car that still has finance owed by the previous owner becomes a matter of trust; Australian law dictates the buyer is responsible for checking if there are any debts owed on the car, so if you buy a car with finance on it, you could lose the car if the previous owner doesn't pay off that debt. If you trust the person then buying a car under finance can be as easy as buying one without it, but you should check with the Personal Properties Security Register (PPSR) if you don't.
3. How to check if a car has finance?
When buying a used car from a private seller, you should check if it has any finance owing. To do this, simply enter the number plate or the chassis number in your state's Personal Properties Security Register (PPSR) or Register of Encumbered Vehicles (REVS) to check for outstanding debts. You can also use these registers to see: the car's registration status, the vehicle details like the make and model, whether the car is stolen or not, and whether the car has been written off. Checking this register may attract a fee.
4. What are the costs involved in buying a car?
In addition to the price of the car, you could be charged a combination of stamp duty, inspection fees, compulsory third party insurance (CTP), Encumbrance/PPSR fees to check for finance owing as well as potential interest on a car loan or finance deal. For a car loan, you might need to pay the following fees: application or establishment fees, ongoing car loan fees, documentation fees, early or missed repayment fees, and balloon payments at the end of the loan.
5. When is the best time to purchase a car?
The 'best' time to buy a car will ultimately depend on what your needs are, but the following times are generally considered to be the best times to get good deals: the end of each month, as dealers might have sales targets to meet; the end of financial year, as dealers might try to boost their EOFY sales figures; or the start/end of the year, as some cars become 'old' when a new year is about to roll around (plate clearance sales). You can also get a good deal during model run-outs, which are when a newer version of the same car is released. The older model might just become a lot cheaper when this happens.
Savings.com.au's two cents
Buying a used car can be tricky as they can be harder to accurately value. Also, you often can't truly tell if it's in a perfect working condition until you've driven it for a while – e.g. you never know when the air-conditioner will stop working suddenly.
But with this added risk can come the big reward of getting great value out of a car at a significantly lower price, so it pays to do the proper research and background checks to alleviate the risk. A $30 CarFacts/CarHistory report could save you from the multi-thousand dollar cost of buying a lemon or the car being repossessed.
You should never be afraid to haggle with the seller to try and knock a few bucks off the price tag. If you walk in there having done your research and know what to look for, then you could earn yourself some serious savings. Channel your inner nit-picker!
---
Latest Articles