Roy Morgan's Automotive Currency Report for the December 2018 quarter found 2.125 million Australians intended to purchase a new car in the next four years.
This is a decline of 6% from 12 months prior and is also the lowest level seen since November 2014. Overall, this number is below the 15-year average for people wanting to buy new cars.
In addition, the number of those looking to buy in the next year is down 9.9% (61,000) from 12 months ago, indicating figures for new car sales are not set to have a good year.
January and February this year have already seen 7.4% and 9.3% falls respectively in the number of new cars sold.
Norman Morris, Industry Communications Director at Roy Morgan, said the new vehicle market is now facing some real challenges.
"There is currently some concern about the slowing economy, lack of wage growth, energy price escalation, declining home values and political uncertainty with a potential change of government," Mr Morris said.
"In addition to these potential economic constraints on new vehicle demand, the rapidly changing technologies with the resultant fuel choice decisions adds to the complexity of decision making in this market."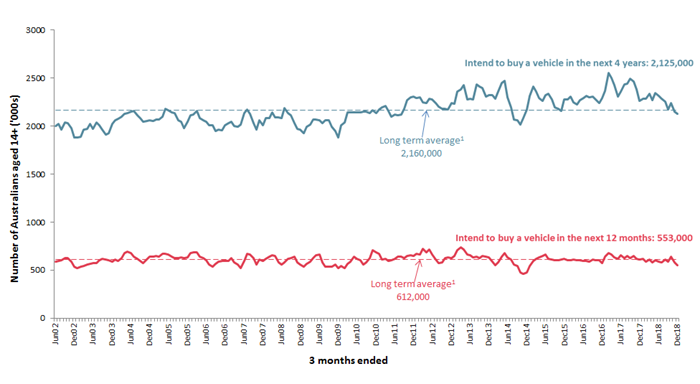 Source: Roy Morgan
Petrol being phased out?
For those who do want to buy a car in the coming years there's an increasing number of them wanting fuel types other than petrol.
Roy Morgan found only 61.9% of intended buyers over the next four years are considering cars with petrol engines, compared to the 75% of new cars sold throughout 2018.
Roy Morgan compared the fuel type preferences of prospective buyers with their current share of sales in the market, and found higher preference levels among all other types except for petrol.
Diesel was 3.6 percentage points higher among prospective car buyers (27.6%) compared to share of sales (24.0%), and Hybrid (petrol and electric) higher by 7.1 percentage points (to 8.0%).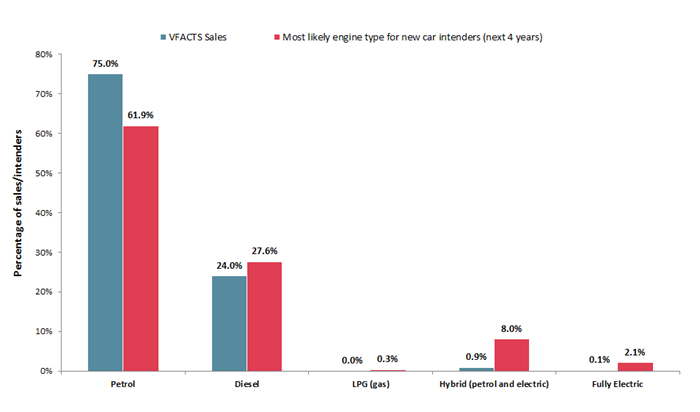 Source: Roy Morgan
"We have already seen some early signs of changes in this industry, particularly in the very major move away from cars to SUVs and the speed and range of new models entering the market," Mr Morris said.
"Most manufacturers are ramping up their development in areas such as electric vehicles and driverless cars but it will ultimately be the consumer that will determine who the winners are."
Mr Morris also said this research highlighted the need to understand generational differences when it comes to fuel choice moving forward.
"The early adopters of changing motor vehicle fuels are most likely to be millennials as they appear to be more willing to move away from the traditional petrol engine cars."
And speaking of millennials (1976-1990), they're surprisingly the biggest fans of diesel, having the highest preference rating of those surveyed at 38.1%.
To mix up the stereotypes even more, it's baby boomers (1946-1960) who're the most in favour of fully electric cars at 3.3% of respondents.
Millennials do however have a a higher preference for hybrid cars (that's petrol and electric).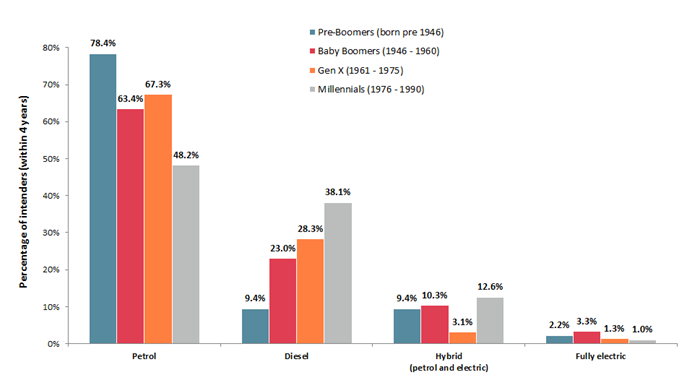 For feedback or queries, email will.jolly@savings.com.au
Photo by Filip Bunkens on Unsplash
---
---