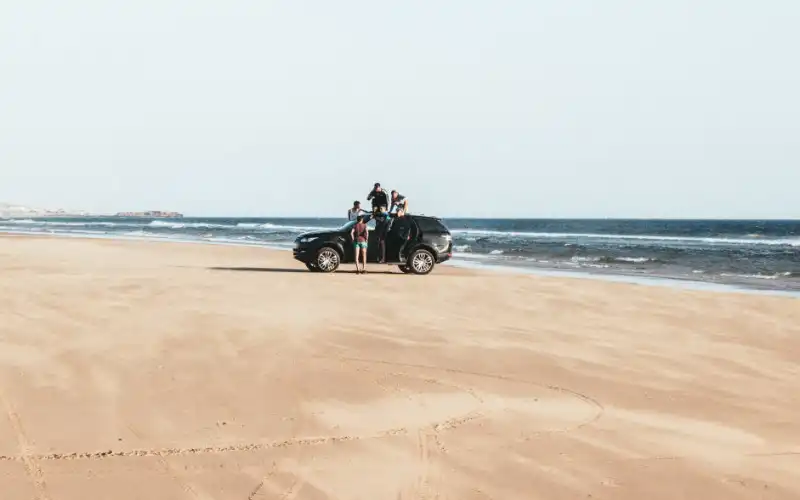 Aussies are renowned for being car lovers, with Australia having among the world's highest numbers of vehicles per capita.
There are more than 19 and a half million registered cars on the roads in Australia right now, according to the ABS. That's roughly 0.8 cars per person - a truly staggering amount, and that's counting babies, children and anyone else who doesn't drive at all. Remove these people from the equation, and you'd get a number much closer to 1/1.
But that number might just be on the way down.
In the market for a new car? The table below features car loans with some of the lowest fixed and variable interest rates on the market.
Approval in 24 hours
Balloon options to reduce repayments
No ongoing fees, no discharge fee
Rates based on a loan of $30,000 for a five-year loan term. Products sorted by advertised rate. *The Comparison rate is based on a $30,000 loan over 5 years. Warning: this comparison rate is true only for this example and may not include all fees and charges. Different terms, fees or other loan amounts might result in a different comparison rate. Rates correct as of January 26, 2022. View disclaimer.
Car sales number
The Federal Chamber of Automotive Industries (FCAI) chief executive Tony Weber said economic conditions in Australia and around the world have affected car sales. Nonetheless, Australians remain big lovers of cars, so without further ado, here are Australia's most popular cars by brand and by individual model.
The 10 most popular car brands in 2020
The following car brands account for the top 10 best sellers in May 2020:
| | | | |
| --- | --- | --- | --- |
| Rank | Brand | Sales | Change (%) |
| 1 | Toyota | 14,466 | -23.1% |
| 2 | Mazda | 5,661 | -34.0% |
| 3 | Hyundai | 4,109 | -49.3% |
| 4 | Ford | 3,894 | -32.7% |
| 5 | Mitsubishi | 3,010 | -41.2% |
| 6 | Volkswagen | 2,781 | -38.5% |
| 7 | Kia | 2,760 | -50.1% |
| 8 | Nissan | 2,216 | -44.2% |
| 9 | Subaru | 2,023 | -49.7% |
| 10 | BMW | 2,013 | -1.9% |
This list of top 10 car brands in Australia isn't that surprising. Seven of the brands listed here are in the global top 10 for car brands - Toyota again takes the top gong there.
Most popular models in 2020
FCAI also breaks down which individual car models sell the most in any given month. The top 10 vehicle models in any given month are usually pretty consistent, with five of the top 10 spots (and three of the top five) belonging to Toyota.
| | | | | |
| --- | --- | --- | --- | --- |
| Rank | Brand | Car model | Sales | Change (%) |
| 1 | Toyota | Hilux | 3,527 | -16.1% |
| 2 | Ford | Ranger | 2,663 | -32.9% |
| 3 | Toyota | RAV4 | 2,345 | -19.6% |
| 4 | Toyota | Corolla | 1,626 | -34.1% |
| 5 | Mazda | CX5 | 1,479 | -29.6% |
| 6 | Toyota | Prado | 1,358 | -23.5% |
| 7 | Toyota | Landcruiser | 1,260 | -9.9% |
| 8 | Hyundai | i30 | 1,191 | -58.9% |
| 9 | Mazda | 3 | 1,052 | -55.4% |
| 10 | Hyundai | Tucson | 1,019 | -40.4% |
Price data sourced from carsguide.com.au
This data is interesting as the top-selling car - the Toyota Hilux - is a ute, just like the second-highest selling car the Ford Ranger and the fourth-placed Mitsubishi Triton. That so many of the top 10 best-selling vehicles are utes suggests that perhaps Aussies are keen to embrace their humble true-blue personalities. Or maybe it's just because utes are powerful, practical and used heavily by tradespeople and businesses (as fleet cars), which would surely account for a large portion of these new sales. Either or.
Why are these brands so popular?
There's a good variety of cars in these lists so it's difficult to say exactly why these ones are so popular. Brand recognition surely has a major say in purchase decisions, but after looking at each of these models in this list, you can see a few common themes:
A high fuel-economy, as well as

low carbon emissions
Affordability - many of these cars can be bought for a drive away price of less than $30,000
Low running costs

for some of the smaller models was a deciding factor
Interior comfort and style too
Notably, each of the top ten individual car models also have a five-star ANCAP safety rating, meaning that they come equipped with the highest standard of safety technologies modern cars can have, such as parking assist, blind-spot mirrors, lane departure warnings and more. This is fairly standard now among new cars, but it does show that perhaps the typical car buyer today is more safety-conscious.
How do Australians buy their cars?
According to a joint study by Ipsos and Carsales.com.au, car buying in Australia is now more multifaceted than ever. Gone are the days of popping into a dealership, speaking to a greasy car salesman and driving away in a car beyond your price range. Now, 61% of new and used car buyers are influenced by car review and comparison sites, compared to just 38% who are influenced by dealerships.
The average Aussie is simply more informed now, taking an average of four trips to a dealership before buying. During this time in between trips, they use mobiles, tablets and computers to access vital information on their car of choice, and are willing to travel up to 80 km to find the right one.
Brand loyalty is also on the decline, so the cars you see at the top of this list must be doing something right. Don't just take our word for it though - you have a wealth of information at your fingertips, so put it to good use!
Savings.com.au's two cents
ABS inflation data does show that cars are getting more affordable overall. For example, a new $16,000 car in 2018 would've cost you $20,000 in the year 2000. That's a 20% difference in price. Your car doesn't have to be new either, as 30% of car buyers consider a used car, which can cost significantly less.
While cars are an expensive asset to buy, they can be even more expensive to own. You could end up paying over $10,000 a year after you've already bought the thing. So don't just look at the outside of a car. Look into:
It's possible that there are cars outside of the top 10 that fare much better in terms of overall cost. If you decide to take out a car loan to purchase your next car, then consider looking at a secured car loan with low interest rates and fees. Try using a car loan repayment calculator, so you know what to expect and don't end up in over your head.
---
Disclaimers
The entire market was not considered in selecting the above products. Rather, a cut-down portion of the market has been considered. Some providers' products may not be available in all states. To be considered, the product and rate must be clearly published on the product provider's web site. Savings.com.au, yourmortgage.com.au, yourinvestmentpropertymag.com.au, and Performance Drive are part of the Savings Media group. In the interests of full disclosure, the Savings Media Group are associated with the Firstmac Group. To read about how Savings Media Group manages potential conflicts of interest, along with how we get paid, please visit the web site links at the bottom of this page.
Latest Articles