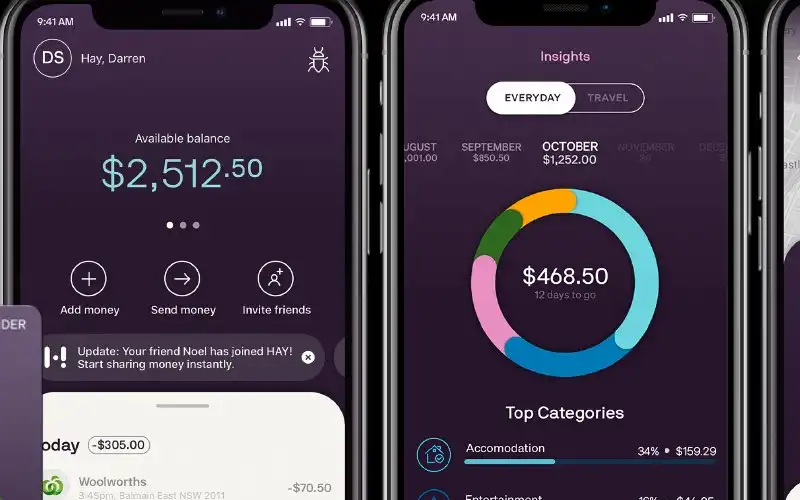 Account insights with new fintech Hay. Source: Hay
There's yet another fintech new to Australia, this time with a 'membership bonus' for its first 10,000 customers.
Would-be neobank 'Hay' launched today, allowing Australians to join the waitlist for its digital transaction account which is set to offer fee-free Visa foreign exchange rates, $500 worth of fee-free overseas ATM withdrawals per month, and no fees on international transactions.
Domestically, Hay says it will charge no fees for transactions, purchases and cash withdrawals at ATMs, along with no setup or account keeping fees.
The account will operate through Hay's smartphone app which promises to provide 'enriched' payment information, monthly insights, travel budgeting features and more.
When account-holders are overseas, the Hay app also pledges to automatically show their held balance in the foreign currency.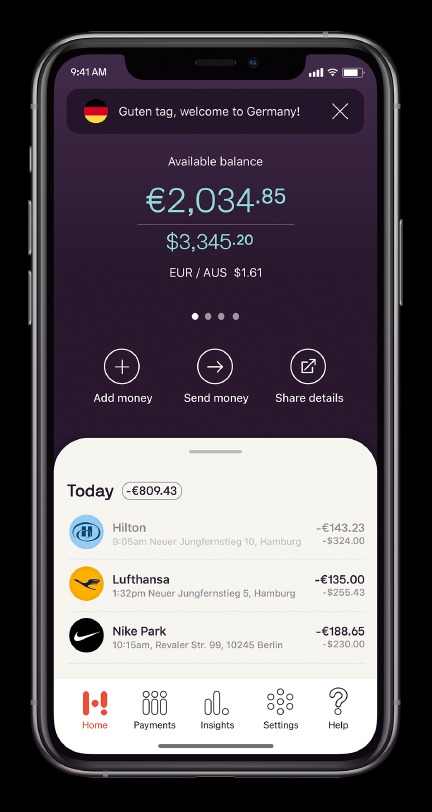 An example of Hay's transaction account showing real-time balance in host currency. Source: Hay
Hay currently operates under an Australian Financial Services Licence (AFSL), but is awaiting the approval of its application for a Restricted Authorised Deposit-taking Institution (ADI) licence which would see the fintech become a neobank alongside the likes of Volt, Xinja and 86 400, although these neobanks hold unrestricted ADI licences.
Hay chief operating officer David Curry said Hay's team benefits from having local and international technology and finance experience.
"Many have directly participated in the UK neobank revolution, so we've seen first-hand what has and hasn't worked and built Hay from there," Mr Curry said.
Hay's waitlist allows new customers to secure a 'founding member' spot, which will provide its first 10,000 users with 'unique' benefits for the life of the account.
Perks include early access to all new releases, plus a limited edition founding members' card.
Hay is also a New Payments Platform (NPP) participant, which will allow it to offer instant transfers in and out of the account with real-time push notifications sent to customers' smartphones or wearable devices.
"It is such an exciting time for fintechs in Australia; we are experiencing a revolution in banking services across the globe and it is now Australia's turn," Hay CEO Andrew Laycock said.
Laycock was previously a hedge fund manager in the UK for more than 10 years.
Prospective customers can download the Hay app on the App Store or Google Play, or join the waitlist on the hellohay.co website.
Neobanks to challenge status quo
Neobanks have provided a challenge to the traditional banking sector, and a viable alternative for customers.
Up Bank this week revealed that in just six months it has acquired 165,000 new customers, with half aged between 16 and 24.
Xinja also reported $30 million flowed through in the first week of announcing its new 2.25% p.a. savings account.
"Due to the cost of legacy, the traditional financial providers just aren't able to respond fast enough to change," Hay COO David Curry said.
"That's where we come in, with the ability to constantly evolve and deliver best-in-class infrastructure, compliance, privacy and security."
The table below displays a snapshot of savings accounts with some of the highest non-introductory interest rates on the market.
---
Latest Articles