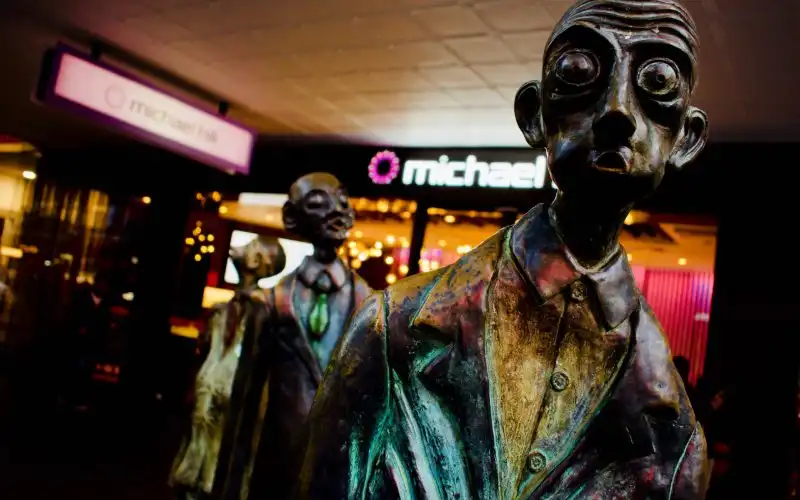 Image: Dazed consumers (by Aditya Joshi on Unsplash)
When it comes to choosing the best value home loan, many Aussie homeowners are punching below their weight, according to recent research from Australia's corporate watchdog.
As part of its investigation into Australian consumers' experiences when getting a home loan, the Australian Securities and Investments Commission (ASIC) recently commissioned a survey of consumers that had taken out a home loan in the last 12 months.
Released late last week, the research found that over a quarter (26%) of consumers were either unsure if they received a good interest rate or felt they could have obtained a better rate.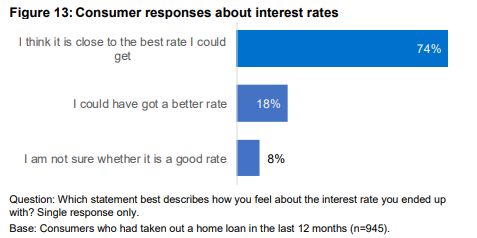 Only 30% of those that felt they could have found a better rate said so because they prioritised 'other factors' above the interest rate, such as the convenience of sticking with their current lender or the availability of an offset account.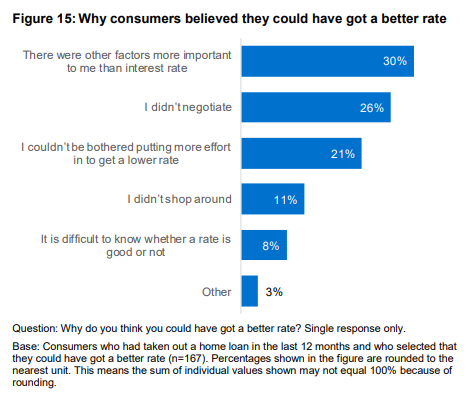 According to ASIC, that suggests one in five (21%) consumers settled for higher rate home loans, or were uncertain they got a good deal, because of "confusion, indifference or exhaustion".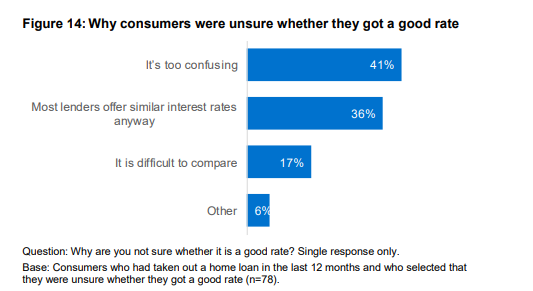 "Based on the findings of this research, we believe that some consumers are likely taking out loans when cheaper alternatives exist, suggesting there is a need for greater price transparency in relation to home loans to help consumers make informed decisions," the ASIC report said.
According to ASIC, help may come in the form of open banking, which is set to give Aussie consumers more power and control over their financial data when it comes to finding a good deal.
"The introduction of a consumer data right in Australia's banking industry ('open banking') will, over time, facilitate innovations designed to improve consumers' ability to compare and switch between products and services and encourage competition between service providers, which may lead to better prices for customers," ASIC reported.
"Under open banking, consumers will be able to access a variety of product information and safely consent to the transfer of their banking data to trusted parties."
Open banking is being introduced in phases, with consumer data for home loans, credit and debit cards, savings accounts, transaction accounts and term deposits set to be made available by 1 February 2020.
Consumers rarely comparing effectively
In addition to its quantitative survey of over 2,000 consumers either in the process of taking out a loan or had done so recently, ASIC also conducted qualitative research – closely following 300 customers that were in the process of taking out a loan – 97 of which obtained final approval.
The research uncovered evidence that many consumers are failing to adequately shop around for a good deal on their home loan, with some showing signs of having somewhat blasé and myopic attitudes towards the process.
Most consumers (60%) took out a home loan with a lender they had an existing relationship with.
In fact, 19% of consumers did so directly without obtaining an alternative quote for a home loan from another lender.
Meanwhile, most of those that did compare multiple home loan options didn't appear to put enough systematic thought into it, according to ASIC.
"Where consumers had home loan options to compare, we found that they rarely compared options in any formal, methodical way," ASIC said.
"While consumers appeared to consider aspects of the loan (e.g. interest rates, fees, features), they were less likely to compare potential savings between options."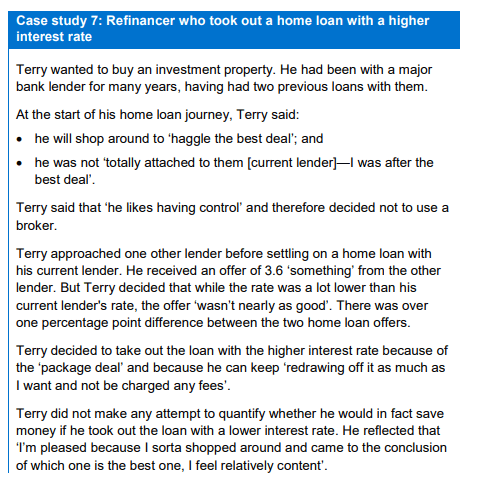 Comments from those surveyed suggested some consumers have a tendency to procrastinate getting a better deal on their home loan, or would rather leave the effort to a broker:
"I'm more inclined just sticking with my broker and leaving all the information for him…instead of going to a new bank or a lender and doing the whole process again. I have had enough, it's too much time off work already." –

First home buyer who used a broker
"Broker only presented one option and I felt compelled to proceed with that one. I was also quite complacent about the interest rate— I'm of the understanding that it isn't the best…let's just get it and we can change it further down the track." –

First home buyer who used a broker
Complacency was evident among the 97 closely-followed consumers that had obtained approval on a home loan, with over a third (34%) not even knowing what the interest rate on their new loan was.
Some of the comments from those that didn't know their rate suggested they were either confused about how their interest rate is set, didn't want to know their rate, or simply didn't give much thought to it:
"Don't know what it [interest rate] is. I think it changes when it gets approved." –

First home buyer who used a broker
"Don't really want to think about how much interest we're paying— but it's something obscene but I can't remember." –

First home buyer who used a broker
"Can't really remember [the] interest rate, four-point-something." –

Non-first home buyer who used a broker
Between the different types of borrowers that had taken out a home loan in the past year, first home buyers were found to be more likely to shop around for a home loan, with 50% visiting three or more providers.
Only 28% of non-first home buyers visited three or more providers.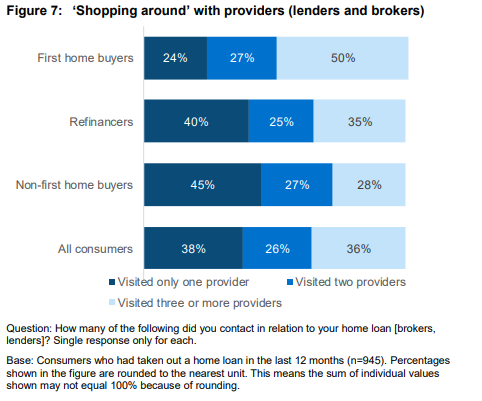 The most important info = the hardest to find
The reasons why many consumers are reluctant to shop around for a good home loan are probably pretty simple – it can seem stressful and complicated, not to mention boring.
ASIC's research suggested as much.
Frustratingly for consumers in the market for a home loan, the most sought-after information was typically the hardest to find.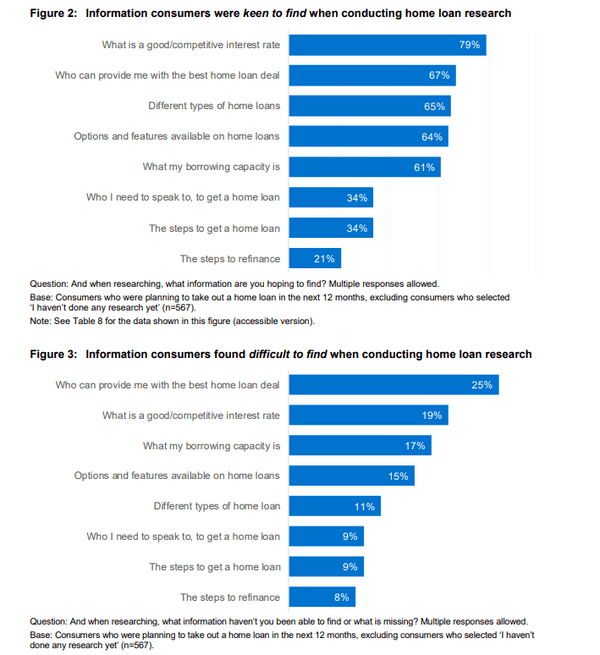 One consumer cited the fact that you can't really negotiate on a home loan until you've gone through the application process as a particular sore point:
"One of the frustrating things for me is if you buy a car you can negotiate a deal with them without buying from them—they'll tell you price. But with a bank they want you to sign the whole application form before you get serious and then you're kind of locked in with them really." –

Refinancer, went direct to a lender
Why a good deal is important: Avoiding the struggle
ASIC's research also found that around one in 10 of those with a new home loan were struggling to meet the repayments.
This finding may underline the importance of helping more consumers find a suitable, affordable home loan.
The struggling borrowers were more likely to be first home buyers (13%) or refinancers (11%) than non-first home buyers (6%).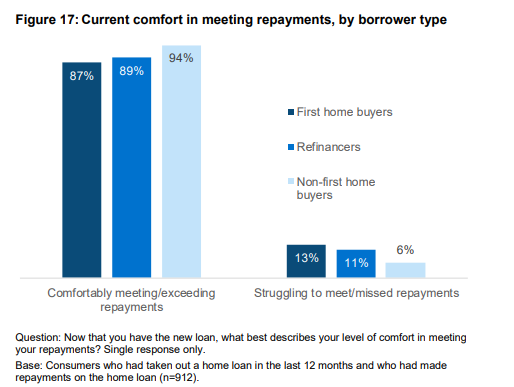 "One in 10 consumers appears to be a relatively high proportion of consumers self-perceiving a level of financial pressure within 12 months of entering into a new home loan," the report said.
---
Latest Articles