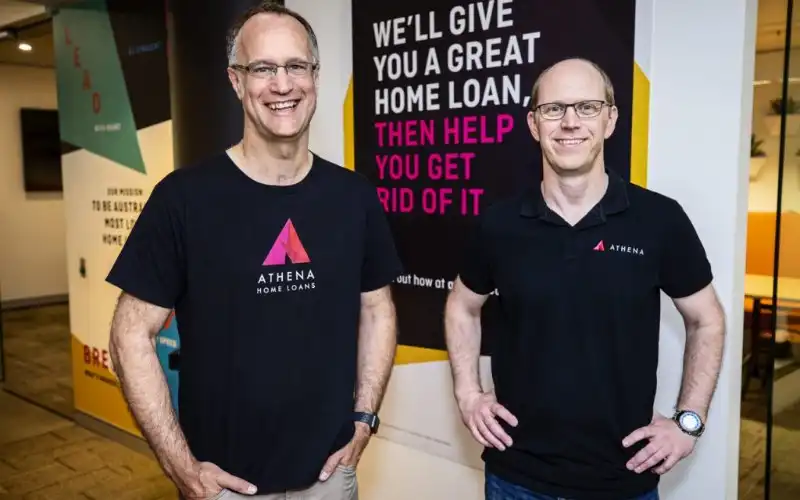 Photo: Athena co-founders, CEO Nathan Walsh (left) and COO Nathan Starkey (right)
Since bursting onto Australia's home loan market in early 2019, Athena has enticed borrowers with its attractively-low home loan interest rates, no-nonsense messaging and a proven reputation for swiftly passing on central bank rate cuts in full to its customers.
From the furnace of public and political outcry over the big banks' failure to pass on the Reserve Bank's latest cash rate cut to borrowers in full, the non-bank lender emerged with a glowing recommendation from none-other than Treasurer Josh Frydenberg.
Speaking to Today on Channel 9 following the Reserve Bank's announcement, Mr Frydenberg slammed the big banks' partial rate cuts as "very disappointing", encouraging customers to "vote with their feet".
"Some of the smaller lenders have actually passed on this rate cut in full, and I saw Athena is offering a variable rate at 2.84%, which is below what the major banks are doing," he said.
Treasurer Josh Frydenberg is urging the big four banks to pass on the Reserve Bank's rate cuts in full to ensure the economy continues to grow. #9Today pic.twitter.com/jQFT0KNjut

— The Today Show (@TheTodayShow) October 1, 2019
Launched in February 2019 after two years in the making, Athena markets itself as a disruptor in the home loan sector, and if a name-drop from Australia's Treasurer is anything to go by, it's already upsetting the apple cart.
Athena's headline home loan rate of 2.84% p.a. (2.80% p.a. comparison rate) – the one referred to by Mr Frydenberg – is currently one of the lowest variable home loan interest rates on the market for owner-occupiers.
The founders, Nathan Walsh and Michael Starkey, would know a bit about the apple cart they strive to upset, having both previously worked for one of the big four – National Australia Bank.
Speaking to Savings.com.au, co-founder and CEO Nathan Walsh said Athena aims to shake up the big four's oligopoly on home loans.
"I think that this is a moment where people are really crying out for an alternative from the established legacy players," Mr Walsh said.
"We are focused on helping Aussies pay off their home loan faster and saving themselves a bucket load in the process."
Athena was the only lender in the country to pass on this year's three cash rate cuts to all customers instantly and in full, a fact which Mr Walsh is quick to highlight.
"There's not a single one of the 12 largest lenders in the country who actually took that action and passed those rate cuts through in full," he said.
"It actually cost Aussie borrowers over $2 billion in excess interest when you look at the June, July and October rate cuts."
Shout out to other home lenders - let us know if you need some help with your homework!#RBAratecut #PushTheButton pic.twitter.com/LryQbg6l3X

— Nathan Walsh (@NathanW_Athena) July 2, 2019
It's all about saving money
Aussies can be pretty apathetic when it comes to saving money; we're busy, we can't be bothered, it's too much effort for not enough gain.
Mr Walsh said Athena wants to change this mindset by improving financial literacy.
"It's very easy to underappreciate just how the compounding effect of that interest differential leads to very large numbers.
"The average customer switching to Athena today is saving themselves over $60,000 over the life of the loan.
"People get really surprised when you're talking about savings, like $60,000, when that might be a differential of say half a per cent on the loan."
According to Mr Walsh, the vast majority of Australians could be missing out on serious savings on their home loan.
"Only about five per cent of Aussie families refinance their home loan each year.
"But when you look at, it's probably more like 80% of the market that could actually be capturing big savings."
Keeping it simple
Athena has placed great importance on a streamlined and simple system for new and existing consumers.
The lender boasts an application process that could take as little as 15 minutes, zero fees across the board and Australian call centres available seven days a week.
Mr Walsh said that one of the most popular features of Athena's home loans is their redraw facility.
"Our redraw provides the opportunity to put your excess cash in and get it full offset against your loan balance.
"It's not structured as a deposit account. The key point there is we're proudly not a bank and we never will be.
"So giving people that secure access to money when you need it in a fee-free account we think is a very compelling feature and something that gets us a lot of great reactions from customers."
Athena is also the first lender in the country to announce an automatic rate match.
"We will never charge our existing customers more than new customers on a like for like loan.
"And so that translates into confidence that you're always going to be getting the best deal versus an industry where people know that their loyalty isn't rewarded by incumbents today."
Customers can also score a 0.01% discount for each of the first five years of their loan, just for making repayments on time.
You can also make fortnightly or weekly repayments, instead of monthly, to reduce the life of your loan and make as many repayments as you want fee-free, no matter the size.
What makes Athena different?
Athena is a completely online lender which Mr Walsh said is how they're able to offer the low rates they do.
"Ultimately, we are an online and direct lender.
"That means we don't have the branches, we don't have the bankers, we don't have the overhead and we're able to take all those savings and pass the benefits of that through to customers in terms of better rates."
A visit to the Athena homepage is a far cry from the monotony of typical financial institution websites.
From explaining their namesake ('Game-changing Goddess of Good stuff') to colourful expressions like 'f*** fees' and so-called 'sexy' rates, the website is a clear expression of what makes Athena different.
Free yourself!!! Athena, #thehomeloanwrecker bondage bus in full effect. Have you seen it cruising around your city? 😉 pic.twitter.com/Fcs2o6HTjW

— Athena Home Loans (@AthenaHomeLoans) April 10, 2019
Mr Walsh said this tone is an effort to be simple and transparent with people.
"Ultimately we want to be authentic to the way customers are actually talking about their experience with a home loan.
"I think there is some real frustration out there with existing lenders.
"We're simply like, let's just be straight with customers; here's what we do, here's the benefits of that, let's represent very clearly who we are and what we believe.
"We're actually pretty passionate about our mission, about helping out Aussies pay off their home loan faster.
"We really want that to come through and influence the way we talk to customers."
What's next?
At its launch in February, Athena only offered home loans to those refinancing but has recently launched a service allowing them to offer loans to home buyers.
They've also raised $70 million in Series C funding, the biggest ever round of funding led by local investors.
Mr Walsh said Athena is in an exciting position and is looking forward to what's to come.
"So now for us, it's continuing to listen to customers, continuing to use really modern technology to deliver better service and better proposition for customers.
"We've had really great backing in terms of the series C round for investors and that's just really setting ourselves up for growth and innovation as a lender."
---
Latest Articles