Savings.com.au takes an in-depth look at the road ahead for the nation's renters, and what they can do to manage whatever comes next.
On this page:
Buying a home or looking to refinance? The table below features home loans with some of the lowest variable interest rates on the market for owner-occupiers.
Lender

---

Variable

More details

FEATURED

Online Exclusive

Up To $4K Cashback

Includes NOV RBA Rate Increase

loans.com.au – Variable Basic Cashback Home Loan (Principal and Interest) (LVR < 70%)

Immediate cashback upon settlement
$2000 for loans up to $700,000
$4000 for loans over $700,000

Variable

More details

FEATURED

Refinance Only

Apply In Minutes

Unloan – Variable Rate Home Loan – Refinance Only

No application or ongoing fees. Annual rate discount
Unlimited redraws & additional repayments. LVR <80%
A low-rate variable home loan from a 100% online lender. Backed by the Commonwealth Bank.

Variable

More details

FEATURED

Up – Up Home Variable (Principal & Interest) (LVR ≤ 90)

Up is 100% owned by Bendigo Bank.
Up to 50 offset accounts
New joiners get $10 by signing up to the app using code UPHOMESAVINGS. (T&Cs apply)
Immediate cashback upon settlement
$2000 for loans up to $700,000
$4000 for loans over $700,000
Important Information and Comparison Rate Warning
Are we set for a rental 'time bomb'?
There have been rumblings of a potential time bomb set to explode in our nation's rental market, with stimulus measures and banking support packages coming to an end soon en masse:
But perhaps more critically, and more urgently, Australian homeowners and investors, a portion of whom may have offered their tenants a rent reduction, will soon have to start repaying their mortgages after initially deferring repayments for six months. According to the Australian Banking Association (ABA), around 150,000 mortgages are still deferred with the country's seven largest banks, while the largest, Commonwealth Bank, says it still has more than 50,000 deferrals alone as at November 2020.
The number of deferred home loans in Australia peaked at over 900,000 in June. While full or partial repayments have resumed on the majority of these (in excess of 70% for some banks), there are still many borrowers out there struggling to meet repayments. According to Commonwealth Bank, 23% of remaining deferral arrangements have been extended, and more support is needed for these customers.
Around 7% of all deferred loans have at least one borrower on JobSeeker, according to Commbank data, and interest-only loans continue to be over-represented among deferral data.
With over 2 million Australians owning at least one investment property, this means there is a big potential for overlap in tenanted properties where the tenant's income is slashed by reduced JobSeeker or JobKeeper support, or their landlord has to start repaying their mortgage and can no longer afford to offer them a rent reduction.
Are tenants going to be in strife when mortgage repayments resume?
It's entirely possible, and perhaps somewhat likely that both tenants and landlords could struggle to meet their housing commitments soon when stimulus measures and bank protections end, although as reported by the Consumer Policy Research Centre (CPRC), mortgage holders were less likely to require assistance, while renters were more likely to be struggling with bills and more likely to acquire extra debts, such as credit card or personal loan debt.
Leo Patterson Ross, CEO of Tenants Union NSW, says tenants could be in trouble if they need to renegotiate with their landlord.
"We know that Jobseeker reducing again will place more than 300,000 additional people into poverty across Australia. Many of these people will be renting, and they will be placed into real trouble without sufficient funds to survive on," Mr Patterson Ross told Savings.com.au.
"Many people originally had to negotiate rents on the higher Jobseeker rate and that was hard enough. Now they are being asked to go back to renegotiate but from an even lower income level. It is hard to imagine this going well without more government support."
But the situation for landlords isn't perfect either. While many affected mortgage holders deferred their repayments, interest on the debt continued to accrue, meaning they're likely to owe the banks thousands extra.
"This [interest accrual] meant that the banks really weren't giving much assistance, and so many landlords didn't feel they were able to give as much of a reduction [in rents]," Mr Patterson Ross said.
"The federal government could have been firmer with the banks and told them they needed to be part of the community, and offer real support during this crisis."
The situation depends on our economic recovery
Dr Shaun Bond, Professor at The University of Queensland Business School, is slightly more optimistic, saying the rental and housing market has performed better than people expected. This is supported by Commonwealth Bank, which said our economic recovery could be faster than first thought.
"To some extent, the residential market has performed better than people expected. I think there was a big worry about what would happen when the eviction moratorium ended, but there's a surprising amount of strength," Dr Bond told Savings.com.au.
"In many parts of Australia, the COVID outcomes have been a lot better than people thought, so we're starting to see a return to a lot more activities than I think people expected if we went back a few months. We've seen job growth come back again, so that's certainly helping."
"But, if we're still in a situation where job growth is lagging and people haven't been able to get back to work, then certainly some households will experience difficulties."
More support may be needed if no vaccine arrives soon
Recent news of a Covid vaccine by pharmaceutical company Pfizer being 95% successful has been met with relief across most of the world, with the potential of a vaccine being fully rolled out sometime next year.
Dr Bond says a vaccine will be crucial to the overall rental situation and economic recovery, and more support may be needed without one.
"What everyone's hoping for is that we at least have some support in place - potentially a vaccine or improved outcomes with regards to COVID –which will mean that the economy starts to pick up again and some of the improving economic growth will help people deal with the current situation," he said.
"And we hope that that starts to happen before the benefits run out.
"I suspect if we get through to March next year and we still don't have an effective vaccine there will be more pressure on the government to keep helping the economy by providing assistance to households who are still suffering."
Will we see a surge in evictions?
Although eviction bans have been extended until next year at least in every state bar Queensland, that doesn't mean everything is going to be rosy in just a few months. It's extremely likely a lot of landlords and tenants will still be under financial pressure.
"Landlords who are having difficulty if they now have to pay their mortgage are going to have to look at the position of their tenants. Are their tenants paying market rent? Is there a rent arrear that came out of the COVID crisis?" Dr Bond said.
Dr Bond said although the jobs market was beginning to improve, there's still going to be a risk of evictions next year.
"Landlords obviously will have to make a decision where if they do have a tenant that isn't paying the full rent, and assuming there's might be a provision to move those tenants out, they'll have to look closely at the property and say, well, can I rent the property for what I expected to get?
"It's going to be a choice. Try to work with the tenant who's already in place and come up with an arrangement that keeps them there, because from a landlord's point of view vacancies can be very costly as well."
Hundreds of thousands could be in danger of eviction
Exactly how many people could face eviction in the coming months is impossible to determine, but Better Renting did its best in its recent report, estimating that anywhere between 5% to 15% of all renters could be in trouble due to 'Covid-related rental debts'. That's between 324,000 - 973,000 people Australia-wide.
According to Better Renting, this is down to a lack of government action to protect renters and the refusal of some landlords to provide rent reductions, as it previously reported fewer than 10% of renters who lost income thanks to coronavirus received a satisfactory reduction. This also led to many renters avoiding rental debts by racking up other forms of debt.
"When a landlord evicts someone, it has a devastating impact on that person's life. A family loses their home, children may have to change school, people might struggle to keep their job. It's a huge strain on people who are already struggling," Better Renting Executive Director Joel Dingham said.
"Governments must act now to make sure people aren't being put out into the street."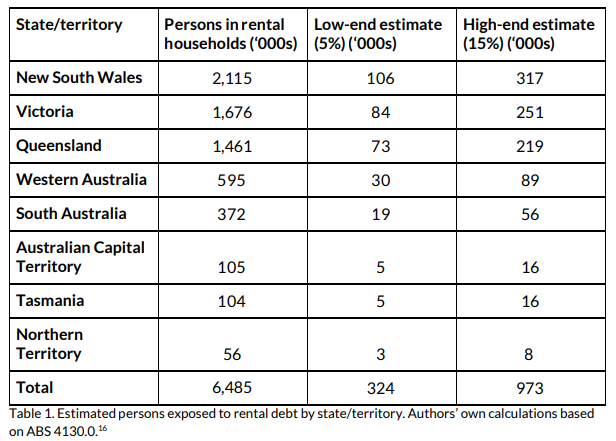 Source: Better Renting
Can you be made to repay 'deferred rent'?
Yes, rent deferrals are legal, as long as they were established in a rental agreement, and are actually quite common. According to data from the University of New South Wales, up to one-in-three rental agreements have seen deferrals instead of cuts to rent. As the ABC reported, many tenants thought they had signed a rent reduction only for the landlord to claim it was a deferral instead.
Leo Patterson Ross agrees that there has been some confusion as to whether rental agreements had been cuts or deferrals.
"There were not clear requirements that the rent agreements were rent reductions that do not need to be repaid and not rent deferrals which are really just rent arrears by another name," Mr Patterson Ross told Savings.com.au.
"However, we have seen a large number of agreements where they appear to be rent reductions but the landlord or agent now claims that it was only a deferral. Ultimately the Tribunal is the place to decide what the parties originally meant."
Better Renting said this is the most dangerous form of debt a renter can have, and unlike bank debt, rent owed to a landlord has little to no regulation. To prevent the upcoming crush of evictions, Better Renting recommends the government acts to cancel all owed rental debt.
"They can do this by buying debt from landlords at a reduced rate and then declining to claim that debt from renters," its report said.
"This is the simplest means of preventing Covid evictions, and [is] a needed response to an economic crisis that has put so much pressure on renting households, even as they made sacrifices in the interest of public health."
The good news is for landlords, while agreed rent reductions generally aren't covered by landlord insurance, deferred rent that doesn't get paid back might be. For those who aren't covered, Better Renting also said governments could create a hardship fund for the small proportion of property investors who may be financially exposed as a consequence of debt cancellation.
If necessary, will you be able to find a new place to live?
There's no denying, large subsets of the population could face a lot of difficulties if they have to find new accommodation. The Rental Affordability Snapshot from Anglicare in September 2020 found just 0.2% of rentals across the country are deemed 'affordable' for renters on the current rate of JobSeeker, which will be decreased again come 2021.
"For people on the lowest incomes, rentals are even less affordable than they were back in March," Anglicare Australia Executive Director Kasy Chambers said at the time.
"More and more people are competing for cheap housing. That's squeezing people out of the market.
"With 1.6 million people locked out of work, the new rate of JobSeeker is the only thing keeping them afloat."
Rents in general have decreased during Covid, and according to the Reserve Bank, will remain below their pre-pandemic rents for some time. Rental affordability is technically the best in 13 years on average, but the property market has generally been shielded from the worst impacts of COVID by stimulus protection measures. If Australia's poorest renters have to start looking for new places, good overall rental affordability won't matter much.
That's not to say no properties will be available. If necessary, they might have to look further out, look for a smaller place, or consider alternative living arrangements, as well as requesting financial assistance (more on this later).
Your landlord could simply end up selling the property
Rather than being evicted, or forced to pay off a rental debt, Dr Bond said that there's a good chance for homeowners to get a good price for their property at the moment, which is something that could potentially spare you from being evicted.
"If tenants are in difficulty, as a last resort, if they can't do anything to improve the cash flow from the property, then they [the landlord] may have to sell, particularly if they can't afford to maintain the property," he said.
"What we're seeing is that actually there's quite a shortage of stock in the market at the moment. So while it might be a last resort for some people, in many instances they can exit the property and actually end up with quite a good price.
"So that is a reasonable strategy for some people to think about as well."
Of course, tenants should know a new owner doesn't mean you're guaranteed to stay in the property - far from it. But it could represent a chance for a fresh start with a new owner if you can explain your situation to them.
What tenants can do if they're still struggling
As rents have actually reduced as a whole recently, one of the first things tenants should do is to do their research to see if they could re-negotiate a permanent rent decrease, regardless of if they were impacted by the virus.
"This won't be the case in every area, but in some areas there certainly have been large decreases in rents," Mr Patterson Ross said.
"Landlords will need to modify their expectations, and it may be worth their time keeping a sitting tenant with a small reduction rather than risking a vacant property and no rent at all and then accepting an even lower rent."
But this may not work if your relationship with your landlord is already fraught, and may just lead to further difficulties.
Check if you're available for rent assistance
If you're having trouble affording to pay your rent, you might be eligible to receive rent assistance from the government, which can provide a modest amount to help manage your payments. Check out our article on rent assistance here for a detailed breakdown of what you can get and how to apply.
Remember your rights
Each state has different laws when it comes to evictions and rental rights. In New South Wales, tenants who have lost more than 25% of household income have protection against rent arrears evictions without rent negotiation until March 2021.
Mr Patterson Ross, who represents NSW tenants, said tenants should approach NSW Fair Trading if any issues arise - the same applies to renters in other states with their relevant authorities. You can find the relevant links to your state's Residential Tenancies Act and Residential Tenancies Tribunal below:
| Residential Tenancies Act | Residential Tenancies Tribunal |
| --- | --- |
| | |
| | |
| | |
| | |
| | |
| | |
| | |
| | |
Don't be afraid to ask for financial help in an emergency
If you're pushed to the brink and are very short on money after paying your rent, then ASIC's MoneySmart lists many helpful, free resources you can use such as:
A lot of people are likely to need these services soon, and there's no shame in doing so. You can also contact your bank to see if you can qualify for its hardship program if you haven't already.
Remember to seek mental help if you need it
The Australian Housing and Urban Research Institute (AHURI) found half of all renters experiencing stress or anxiety as a result of COVID-19.
"The pandemic has placed many people in the rental market at risk; they face uncertainty, tenure insecurity, financial hardship and significant mental health effects," University of Adelaide research lead Professor Emma Baker said.
While this article has focused on the financial aspects of renting, financial stress is intrinsically linked to mental stress. If you or anyone you know needs help in the coming months, you can contact any of the following:
Savings.com.au's two cents
The pandemic's impact on housing may be one of its lasting legacies here, as it has ended up deeply exposing many of the flaws in our housing system. These impacts may be felt for years, and although there's no telling what the future will really hold, the signs point toward the coming months potentially being a disaster for a big chunk of the nation's rental population, who as pointed out, have been predominantly affected the most by the financial constraints of the pandemic.
It seems to be the case that although some key stimulus measures like JobKeeper and JobSeeker have been highly effective so far - unemployment numbers would have doubled without JobKeeper - the decision by most State and Federal Governments to leave the future of the housing market to "all parties (landlords, tenants and banks) needing to work cooperatively" - in the words of the prime minister - might not be sufficient.
The relationships between tenants and landlords have soured even more this year, and that, along with eviction bans ending, mortgage deferrals expiring, rent deferrals coming due and the tapering off of the vital JobKeeper and Seeker payments will likely mean a further round of stimulus will be required, such as a landlord/tenant hardship fund.
Otherwise, the alternative could be a surge in housing stress and homelessness, as well as possible rent strikes and a deepening of the divide between landlords and tenants.
---
---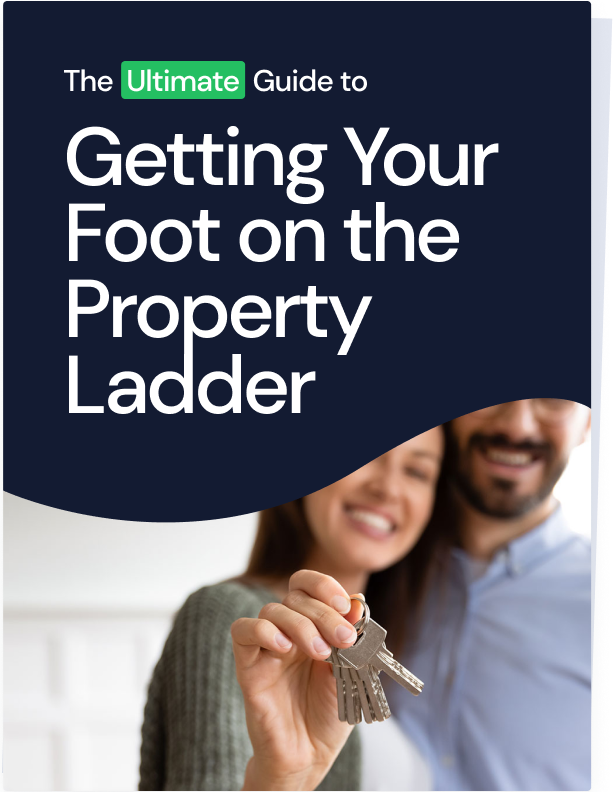 Ready, Set, Buy!

Learn everything you need to know about buying property – from choosing the right property and home loan, to the purchasing process, tips to save money and more!

With bonus Q&A sheet and Crossword!