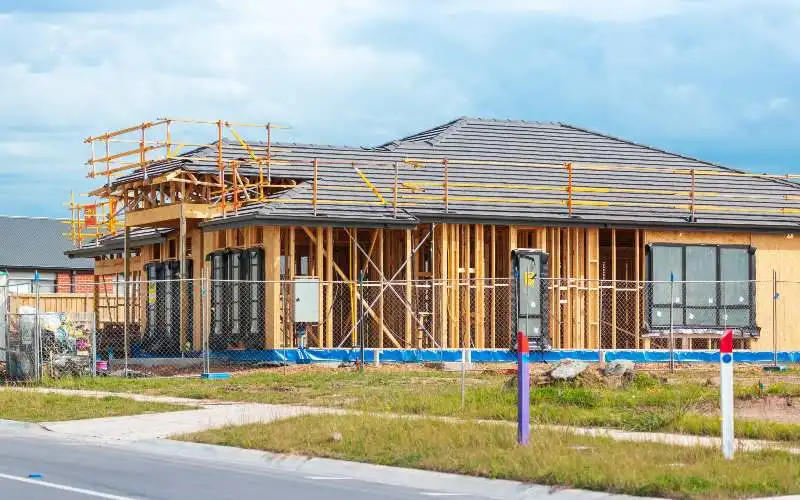 First home buyers are turning to new builds and government incentives to get into the market as property prices continue to soar.
More than half (54%) of first home buyers in Australia were more willing to build or buy a new home than they were two years ago, according to NAB research.
That number rose to more than 60% of first home buyers in SA, the ACT, and WA, and more than 80% of first home buyers in Tasmania and the NT.
The research also found that despite COVID lockdowns and rising house prices continuing to impact buyers, first home buyers continue to enter the market in droves.
"We recently saw our strongest month of home lending on record in June which is a sign of very strong demand," said Andy Kerr, NAB's executive of home ownership.
"Confidence in the housing market continues to improve and that shows in the amount of activity we are seeing through mortgage applications."
The overall market share of sales to owner occupiers (net balance of first home buyers) rose to a two-year high of 34.9% in the June quarter.
Government incentives like the federal government First Home Loan Deposit Scheme (FHLDS) are helping drive some of this growth.
On a scale of 0 (not at all) and 10 (significantly) first home buyers nationally gave a rating of 6.6 when asked how much the FHLDS had helped them get into the market earlier.
That number rose to 7.1 for VIC, followed by SA (6.8), QLD and the ACT (6.7), and the NT and NSW (6.3).
"We understand there are headwinds in slower population growth and the impact of rising house prices," Mr Kerr said.
"However, we expect low rates and government programs like the First Home Loan Deposit Scheme to continue to drive a strong housing market.
"Despite the current lockdowns impacting the lives of many Australians, there is still appetite for conversations with customers to buy a home. More than a third of appointments in the last week were conducted via video."
NAB revises property price predictions: Sydney to soar 21%
The big four bank has also revised its property price forecasts in the wake of the pace of the current property market boom.
NAB upgraded its outlook for national property prices to rise by 18.5% in 2021, and slightly lower expectations in 2022 to 3.6%.
"Faster than expected outcomes in recent months see a higher starting base, and while we see a slowing in the monthly pace of growth from here, we still see solid growth over the next six months," NAB economists said.
"The better than expected recovery in the economy and labour market alongside very low interest rates has supported the strong rebound in the property market.
"Affordability constraints will likely begin to bind over the year and see a slowing in price growth as the impact of lower rates fades."
Property prices in Sydney are now expected to rise by 21.6% in 2021, followed by Brisbane (19.5%) and Melbourne (17.6%).
"We still expect prices for house prices to lift at a faster rate than for units, which have been more impacted in major cities by slowing population growth," NAB economists said.
---
Photo by Troy Mortier on Unsplash