Compare home loans from customer-owned banks
There are dozens of "not-for-profit" banks in Australia, known as customer-owned banks, which can offer some great value home loans.
See our article on each of the different types of home loans here for more information on these types of home loans, and have a look at the tables below to see some of the lowest-rate home loans on offer from customer-owned banks.
Customer-owned bank home loans for owner occupiers
Customer-owned bank home loans for investors
On this page:
Everyone's heard of the big four banks, as well as the likes of ING, Macquarie, Bendigo Bank and so on. But had you ever heard of Coastline Credit Union? The Capricornian? Lithuanian Co-operative Credit Society "Talka" Limited?
No, those aren't local rugby teams – they're customer-owned banks, also known as mutual banks. And just because you haven't heard of them doesn't mean you should write them off as your potential lender.
In this article, we'll go through the basics of customer-owned banks: what they are, who the biggest ones are, what kinds of loans they offer, and how they compare to some of the other prominent banks in the market.
What is a customer-owned bank?
Customer-owned banks are ADIs (authorised deposit-taking institutions) that are owned and operated with the sole purpose of providing banking services to members (i.e. customers) rather than generating a profit. In other words, they don't have shareholders and instead reinvest profits either back into the bank itself or into the community.
In terms of products they can offer, there's no real difference between mutual banks and retail banks – they can all offer home loans, credit cards, deposit products and more.
In recent years, banking with a mutual bank has become more and more popular. According to the latest data from end of financial year reports, the combined market share of the big four is down nearly 1%, while a 2020 report from KPMG found customer-owned banks actually increased their residential lending portfolio by 3 that year and 7.3% the year before. Mutuals have about $138 billion in total assets combined, which is about 2.6% of the total banking market.
This isn't a whole lot, but is a marked gain on previous numbers when you consider the sheer size of the big four and other retail banks. More recent research from the Australian Prudential Regulation Authority (APRA) found the major banks grew by their lending by 2.6% in 2019, for comparison.
"With growth rates like this it's clear that word of our sector's customer satisfaction scores, competitive interest rates and innovative services is spreading," Customer Owned Banking Association (COBA) CEO Michael Lawrence said.
"Australians want, and deserve, to be put first by their bank. Thankfully there's an entire sector with a 150-year legacy of doing just that.
"These figures are a positive indicator of improving competition, but now is not the time to become complacent. If greater customer outcomes are the goal, then greater competition is the means."
In the words of Mr Lawrence and the customer-owned banks themselves, the fact that they're not for profit means they can pass on better rates and fees to their customers, while also offering better service. This is sometimes true, but not always, and we'll explore just how good the interest rates from mutual banks really are.
Who are the customer-owned banks?
There are more than 70 customer-owned banks in Australia, from large customer-owned institutions that operate nationally, to tiny little coastal credit unions dedicated to serving the local township's inhabitants. While not all mutual banks will be on there, COBA has a list of each of its 67 member institutions here.
The 10 biggest (by total assets) Australian customer-owned banks, according to KPMG's 2020 Mutuals Industry report, are: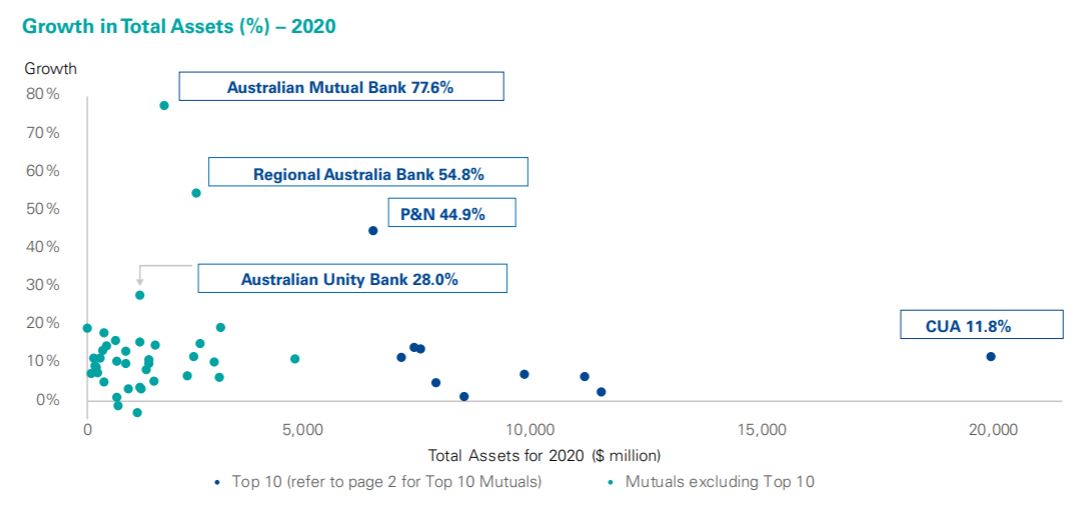 Source: KPMG
CUA
Founded in 1946, CUA – short for Credit Union Australia – has grown to become the country's largest customer-owned bank, offering financial and insurance products to over 500,000 Australians. CUA is based in Brisbane and was named the "Most Innovative Mutual" by the Australian Banking Innovation Awards 2019.
Newcastle Permanent
Newcastle Permanent is the second-largest customer-owned bank in Australia and touts itself as an alternative to the big banks. It has over 300,000 customers and nearly 1,000 staff, and given the name, it is unsurprisingly based in Newcastle.
Heritage Bank
Based in Toowoomba, Queensland, Heritage Bank originally began as the Toowoomba Permanent Building Society in 1875. It changed its name to Heritage Bank in 2011 but remains one of the oldest financial institutions in Australia (still standing).
People's Choice Credit Union
People's Choice Credit Union, or People's Choice for short, has more than 360,000 members across Australia. It began in 1949 but became what it is today after the merger of Australian Central and Savings & Loans in December 2009.
Its headquarters are in Adelaide, and Roy Morgan named it the country's best credit union in 2014, 2016, 2017 and 2018.
Teachers Mutual Bank
Based in Homebush, NSW, Teachers Mutual Bank was created in 1966 by teachers for teachers as Teachers Credit Union. It's now available to everyone, and has over 200,000 members across the country, making it one of Australia's largest mutual banks.
It also owns Firefighters Mutual Bank, Health Professionals Bank and UniBank.
Greater Bank
Greater Bank began as the Newcastle and Hunter River Public Service Starr-Bowkett Building Co-operative Society Limited, or NHRPSSBBCSL as you might know it. It changed its name to Greater Bank in 2016, and today claims to have more than 250,000 customers.
Greater Bank is based in Newcastle NSW.
Bank Australia
Bank Australia was first established in 1957 as CSIRO Co-operative Credit Society, before rebranding to Bank Australia in 2015. Over its history it has unified 72 credit unions, eventually becoming Australia's first customer-owned bank. As a 'responsible lender', Bank Australia does not lend to industries operating in:
Fossil Fuels
Live exports
Gambling
Intensive animal farming
Weapons
Tobacco
Bank Australia's headquarters are in Kew, Victoria, and it has more than 400 staff and over 125,000 customers.
Beyond Bank
Beyond Bank Australia, or just Beyond Bank, is headquartered in Adelaide. It's 100% customer-owned and became so in 2013, and is comprised of other institutions such as My Credit Union, Country First Credit Union, Alliance One, Wagga Mutual Credit Union and more.
Beyond Bank has nearly 250,000 customers, 40+ branches and a national Australian-based call centre.
IMB
Based in Wollongong, IMB was established way back in 1880 as Illawarra Mutual Building Society and is one of Australia's biggest mutuals. IMB has over 200,000 members and a growing branch network in Illawarra, Sydney, NSW South Coast, the ACT and Melbourne, whereas many other mutual banks tend to be more online-focused.
P&N Bank
P&N Bank is the only West-Australian bank in the top 10, based in Perth. This makes it the largest bank-owned and managed in Western Australia. The P&N stands for police and nurses – it originally began in 1969, but the merger of Police Credit Society and the Nurses Credit Society led it to be named the Police & Nurses Credit Society
What home loans do customer-owned banks offer?
Customer-owned banks are plentiful, as the data above shows, and the larger ones are able to offer home loans for all sorts of different circumstances:
How do the customer-owned banks' rates and fees compare to other lenders?
Customer-owned banks can offer some great value home loans with low interest rates and fees, but remember there are thousands and thousands of home loan products on the market. What you can see in the tables above don't tell the full picture – not all customer-owned bank home loans products will have rates as low as the ones displayed.
Don't automatically assume customer-owned banks offer the best rates on the market just because they say they do. It's very possible (probable) that there are better rates out there, so broaden your search to include some of these other types of lenders too. These other types of lenders include:
Buying a home or looking to refinance? The table below features home loans with some of the lowest interest rates on the market for owner occupiers.
Fast turnaround times, can meet 30-day settlement
For purchase and refinance, min 20% deposit
No ongoing or monthly fees, add offset for 0.10%
Customer-owned bank home loans – pros and cons
No bank is perfect. Here are the various pros and cons of banking with a customer-owned institution:
Pros
Customer-owned banks can offer some

competitive interest rates

and low fees
They have the same consumer protections as the big banks
They can represent a certain local area
They can have strong customer service with good online capabilities
They have

strong average customer satisfaction ratings,

according to Roy Morgan Research
You become a part owner in the bank and have a say in major company decisions
Read more about the COBA code of practice here.
Cons
It can be harder to get approved – their smaller size means many mutual banks only take customers with good credit ratings and a strong deposit
If you can't meet these conditions, you might have to pay a much higher interest rate
Smaller lenders might have fewer loan options
The very small ones might rely on branch banking with sub-par online offerings – mainly due to a lack of resources
With the cash rate as low as it is, smaller lenders might struggle to lower rates any further compared to larger banks
Savings.com.au's two cents
There are alternatives to the big banks out there. In fact, around 100 authorised deposit-taking institutions (ADIs) are registered with APRA, plus a number of non-bank lenders offering home loans.
Customer-owned banking is growing in popularity, and with competition so strong at the moment, now could be a good time to open a new home loan with one or refinance from your existing lender.
Consider consulting a mortgage broker too if you need help choosing the right home loan.
---
Let us come to you.
Get Savings in your inbox.