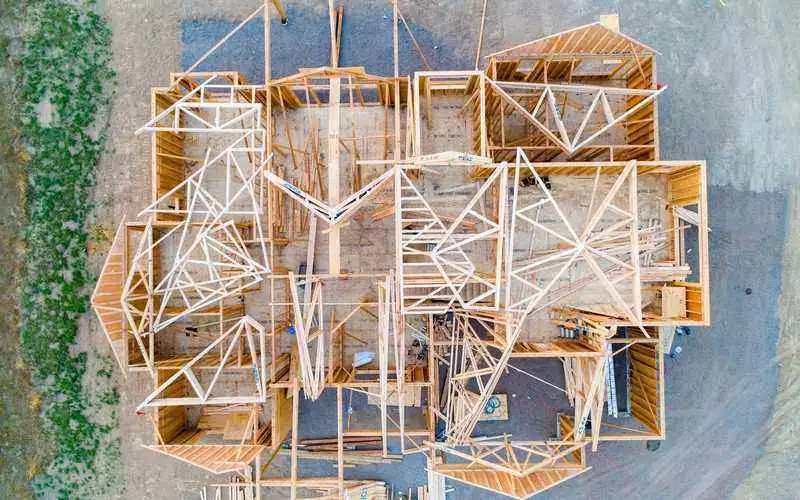 Photo by Avel Chuklanov on Unsplash
With the Government announcing its new HomeBuilder scheme to support the construction industry, how did industry experts react to the news?
The Federal Government late yesterday announced the $688 million HomeBuilder grant for new builds and renovations, aimed to boost the construction industry and the economy as a whole.
The grant will apply to everyone - not just first home buyers, who meet the following criteria:
They're an Australian citizen aged 18 years or older and be an individual, not a company or trust.
They're on an income of less than $200,000 for couples, and $125,000 for singles.
They're spending between $150,000 and $750,000 on a renovation for a home that has been previously valued at less than $1.5 million; OR
They're building a new home worth less than $750,000.
The property is not an investment property.
They are preparing to build or renovate with licensed builders.
More details of the scheme can be found here.
Building a home? The table below features home loans with some of the lowest variable interest rates on the market for construction.
Lender

---

Variable

More details

FEATURED

GET A DISCOUNTED GREEN RATE

Green Construction Home Loan (Interest Only)

Interest Only during construction
No monthly, annual or ongoing fees
Get Australia's lowest rate construction loan when you go green

Variable

More details

100% FULL OFFSET ACCOUNT

Offset Package Home Loan (Principal and Interest) (LVR < 60%)

Variable

More details

BUNDLE YOUR HOME LOAN AND YOUR INVESTMENT LOAN FOR MORE SAVINGS

Yard Investor Bundle Loan (Bundled with Home Loan)

Variable

More details

AN EASY ONLINE APPLICATION

Yard Investment Loan (Principal and Interest) (LVR < 80%)

Variable

More details

100% FULL OFFSET ACCOUNT

Offset Package Home Loan (Principal and Interest) (LVR 60%-70%)

Variable

More details

GREAT FLEXIBLE LOAN OPTIONS

Basic Home Loan (Principal and Interest) (LVR 70%-80%)

Variable

More details

FREE REDRAW FACILITY

Basic Investment Loan (Principal and Interest) (LVR < 60%)

Pay more to reduce the amount of interest you pay
Easily access additional funds in your redraw
Great rates and low fees

Variable

More details

Yard Investment Loan (Principal and Interest) (LVR > 80%)

Pay more to reduce the amount of interest you pay
Easily access additional funds in your redraw
Great rates and low fees
Interest Only during construction
No monthly, annual or ongoing fees
Get Australia's lowest rate construction loan when you go green
Base criteria of: a $400,000 loan amount, variable, fixed, principal and interest (P&I) home loans with an LVR (loan-to-value) ratio of at least 80%. However, the 'Compare Home Loans' table allows for calculations to be made on variables as selected and input by the user. All products will list the LVR with the product and rate which are clearly published on the Product Provider's web site. Monthly repayments, once the base criteria are altered by the user, will be based on the selected products' advertised rates and determined by the loan amount, repayment type, loan term and LVR as input by the user/you. *The Comparison rate is based on a $150,000 loan over 25 years. Warning: this comparison rate is true only for this example and may not include all fees and charges. Different terms, fees or other loan amounts might result in a different comparison rate. Rates correct as of June 28, 2022. View disclaimer.
The introduction of this scheme follows over a week of pressure from industry groups saying the construction industry needs support with a potential 50% drop in construction activity looming.
For example, one group called for a $13.2 billion uncapped building and construction stimulus worth $40,000 per home.
Others, meanwhile, called for more investment in social housing, saying this strategy would be more beneficial to the economy.
So now that the actual policy announcement is here, how has the industry reacted? We've compiled the responses of some of the property and construction industry's most influential figures below.
Who's for it?
The general consensus among those who support the scheme is that it will boost the construction industry and provide jobs to many Australians reeling from COVID-19.
The Prime Minister
Prime Minister Scott Morrison and his Government were naturally very positive about the scheme.
Speaking yesterday, Mr Morrison said the scheme is designed to spark a tradie-led recovery for an economy that has just entered a recession.
"Our JobMaker program is backing a tradie-led recovery to help spark the economy as Australia emerges from the effects of COVID-19," the Prime Minister said.
"If you've been putting off that renovation or new build, the extra $25,000 we're putting on the table along with record low interest rates means now's the time to do it.
"This investment isn't just about helping Australians bring their dream home to life, it's about creating jobs and helping support the more than one million workers in the sector including builders, painters, plumbers and electricians across the country."
Housing Minister Michael Sukkar reiterated that residential construction is "vital to Australia's economy", with dwelling investment worth more than $100 billion per year.
"HomeBuilder will not only support the jobs of carpenters, plumbers, bricklayers and electricians on our building sites, it will also support the timber mill workers who produce the frames and trusses and the manufacturing workers who make the glass, brick and tiles for our homes," Mr Sukkar told The Australian.
Treasurer Josh Frydenberg meanwhile told ABC News that he expects 25,000 to 20,000 new builds and renovations to be made with the scheme, and that it will fill the void left in the economy by COVID-19.
"(And) this initiative we're announcing today, it's temporary, it's targeted," Mr Frydenberg said.
"And we'll work through the existing state systems, and it will complement existing state programs that are supporting already first-home buyers."
The housing sector is critical to the Australian economy. Our #HomeBuilder program is designed to boost construction to create jobs & grow our economy. #HomeBuilder will provide a $25k grant to eligible owner-occupiers to build a new home or renovate an existing home🏡. pic.twitter.com/ke211eX1Ez

— Josh Frydenberg (@JoshFrydenberg) June 3, 2020
Property Investment Professionals of Australia (PIPA)
Property Investment Professionals of Australia (PIPA) Chairman Peter Koulizos said the scheme is a "welcome shot in the arm" for the construction industry over the next six months.
"Not only will it help more first home buyers into the property market, but it will also allow current homeowners to upgrade to a new dwelling or to update their current home, which can improve their financial futures," he said.

"The restricted timeframe of the scheme as well as the requirement for projects to begin within three months of the contract date will also help to prevent profiteering from unscrupulous operators.

"Like with any property investment decision, though, it is vital that homebuyers complete thorough research and seek expert individual advice before buying a new home because it is a significant financial decision that will last much longer than the $25,000 grant."
Propertyology
Propertyology Head of Research Simon Pressley was slightly more mixed on the policy, although he did call it an example of society responding positively to a crisis.
Mr Pressley supports the government's decision to include large-scale renovations.
"A government policy which incorporates incentives for existing dwellings means that funding is reaching a much bigger critical mass. Australia has 10.3 million existing dwellings compared to building 0.2 million new dwellings each year," Mr Pressley told Savings.com.au.
"Stimulating the renovation sector also means that the little guys and girls (local tradies) will get a lick of the ice cream, not just the big developers."
On the other hand, he said that new builds generally represent an inferior asset choice for first-time buyers and investors.
"Too many people get lured by a stamp duty reduction or tax incentive at the expense of making a balanced decision," he said.
"New dwellings only represent 1% of a property buyer's options. Sensible and balanced financial decisions involve considering 100% of one's options.
"It would be reckless for a government to encourage anything less than that."
Master Builders
Master Builders Australia believes the scheme is a "massive relief" to Australia's thousands of tradies and builders, with CEO Denita Wawn calling it a lifeline for an industry facing hard times in the coming months.
"It will mean more new homes, more small businesses and jobs are protected and provide a stronger bridge to economic recovery for our country," Ms Wawn said.
"Based on the Government's estimated 27,000 grants, we think the scheme will be used for $10 billion in building activity, supporting the viability of 368,000 small builders and tradies – the businesses which employ 800,000 people in communities around Australia.
"Supporting the home building industry is essential to strengthening the economy and helping Australia recover from the impacts of the pandemic. Residential building activity gives back more than double to the communities that sustain it with every $1 invested in home building activity providing $3 to the wider economy."
Ms Wawn said the scheme is well-targeted.
"The Government has listened to Master Builders call for HomeBuilder to include grants for both new home builds and renovations. EY modelling commissioned by Master Builders shows that this stimulus mix will deliver the best return on investment for taxpayers," she said.
"The eligibility criteria mean that the vast majority of Australians will be able to access the scheme. More than 80% of households have an income of $200,000 or less."
Housing Industry Association
The Housing Industry Association (HIA), who had previously warned of a 50% contraction in construction activity, estimates that this scheme will generate over $15 billion in economic activity.
HIA Managing Director Graham Wolfe said that thanks to the scheme, this contraction will not be realised.
"The housing industry directly engages more than one million people – builders, trade contractors, designers, professional service providers and others. It provides jobs for many thousands more in the manufacturing and retail sectors, which supply the materials, products, white goods and furnishings that go into our homes," Mr Wolfe said.
"This incentive will help to address the projected decline in housing activity over the next 12 months.
"Stimulating home building activity has been an effective recovery catalyst in past economic shocks. HIA is confident it can again support the national economy through this difficult period."
HIA also confirmed that this scheme is the largest contribution to owner-occupied housing an Australian Government has ever made.
Who's against it?
The consensus among those opposing the scheme appears to be that it is too limited in scope or targets the wrong groups entirely. A lack of social housing support is a recurring theme.
The Labor Opposition
There's been plenty of disagreement with the scheme among the Labor Opposition party, with the general consensus being that the scheme falls short of what is needed.
Labor Leader Anthony Albanese said the greatest weakness of HomeBuilder is the lack of funding given to social housing, while he also flagged concerns that many of the renovations and builds will be made by people who were going to do so anyway.
"There's nothing wrong with supporting private housing – that's a good thing – but this package today will require $150,000 of expenditure at a time of economic uncertainty. Not many people have $150,000 ready to go, ready to sign a contract," Mr Albanese told ABC News.
"The government needs to have a comprehensive plan that deals … with social housing, and that's the biggest weakness in the package."
During the coronavirus crisis, homeless people had to be put up in hotels because we don't have enough social housing in this country. At a time when we need urgent stimulus, why would the Government ignore this national priority?

— Anthony Albanese (@AlboMP) June 3, 2020
Shadow Treasurer Jim Chalmers echoed Mr Albanese's sentiments, saying the scheme falls a long way short of what's needed to prevent building industry job losses.
"It is incredibly disappointing that the Morrison Government could fund a housing construction program but not one cent for social housing," Mr Chalmers said.
"HomeBuilder will not build a single home for people who need them most - mums and kids fleeing domestic violence, veterans sleeping in parks, or essential workers.
Mr Chalmers said Labor has previously called on the government to include the following in its support package:
More social housing construction
Construction of more affordable accommodation for frontline workers
An expansion of the first home loan deposit scheme for new builds
Grants to first home buyers who build their first home
Deputy Labor Leader Richard Marles meanwhile said the scheme is "ultimately just a disappointment", citing that it falls short of the number of new homes that need to be built.
"Around 60,000 new homes were supposed to be built in the country before COVID-19 struck," Mr Marles told Sky News.
"And what this package that the government's announced today does is only provides an additional 10,000 homes.
"There's a million people that work in this industry and it's one that's been in crisis and that means most of those working in the industry have lost their jobs."
Another key Labor figure to critique the scheme's lack of investment in social housing is Shadow Minister for Education and Training Tanya Plibersek.
"It is great to help people buy or renovate their home but when we were last in Government in the global financial crisis, we built 126,000 new public housing homes, we upgraded about 70,000," Ms Plibersek said.
"We started about 80 homelessness programs. We have thousands being turned away every night in Australia from crisis accommodation, mums and kids fleeing violence, veterans sleeping in our parks.
"It shouldn't happen in a country like Australia and now is the ideal time to be building accommodation for those people."
Everybody's home
Everybody's home, a national campaign aiming to create a fairer housing system, called the scheme "a band-aid for a broken housing system", and said it would leave millions of Australians who are either in housing stress or homeless "out in the cold" as we near a recession.
Campaign spokesperson Kate Colvin did say however that it was good news the government excluded property investments, but it missed the chance to create longer-term jobs and growth by supporting social housing construction.
"Right now we have a real opportunity to create a landmark turning point for the economy and for the kind of country we want to be," Ms Colvin said.
"Instead we're already going back to business as usual and taking the easy option of handing $25,000 to renovators who can already afford a home, without supporting those who really need housing help.
"It's such a short term, short-sighted and disappointing announcement – a kind of stimulus you create without actually stimulating any real change."
According to Everybody's Home, the scheme ignores data showing 30,000 new social housing properties built over four years would create 18,000 extra jobs per year.
"Investing in a national social housing program will kick start a long-term building pipeline for the construction industry and life-time benefits for people who need a home they can afford, whether that's to raise their family, get back on their feet or live safely," Ms Colvin said.
"We also expect Government investment to renovate or upgrade existing social housing, including improving energy efficiency and accessibility for people with disability."
The Australian Council of Social Service (ACOSS)
The Australian Council of Social Service CEO Dr Cassandra Goldie said that this scheme will largely benefit middle and higher-income earners, and is a wasted opportunity to address urgent social housing stocks.
"There is no argument that the construction sector needs a shot in the arm, but this money will not go where it is most needed. It will largely benefit those on middle and higher incomes undertaking costly renovations, without any related social or environmental benefits," Ms Goldie said.
"We are in a recession, with more and more people struggling to pay rent, which will only lead to greater homelessness.
"We should be focusing on ensuring everyone has a roof overhead, not on government support for people who are relatively well off to upgrade their roofs."
Grattan Institute
Although this isn't in direct response to the scheme's official announcement, the Grattan Institute's Program Director of Household Finances, Brendan Coates, wrote in The Conversation that social housing was again the key to construction stimulus.
"Large handouts would prompt some more residential construction by encouraging some people to bring forward their home purchases. But under such schemes, governments also end up giving grants to people who would have bought a home anyway," Mr Coates wrote.
"Nor do grants to home buyers actually make housing more affordable. They are typically passed through into higher house prices, which benefits sellers more than buyers."
He then said that cash grants for renovations are slightly better, but bring their own problems.
"Nor is it clear the renovation sector needs further stimulus: reports suggest COVID-19 is driving a renovation boom across many parts of Australia. Research by credit bureau Illion and economic consultancy AlphaBeta shows spending on home improvements is already 33% higher than pre-COVID levels," he said.
A better option Mr Coates suggested is, you guessed it, support for the construction of social housing.
"Social housing – where rents are typically capped at no more than 30% of household income – provides a safety net to vulnerable Australians," he said.
"In particular, the Morrison government should repeat another GFC-era policy, the Social Housing Initiative, under which 19,500 social housing units were built and another 80,000 refurbished over two years, at a cost of A$5.2 billion.
"Funding social housing won't boost house prices or provide windfalls for developers. It will do more to keep construction workers on the job, while also helping some of our most vulnerable Australians."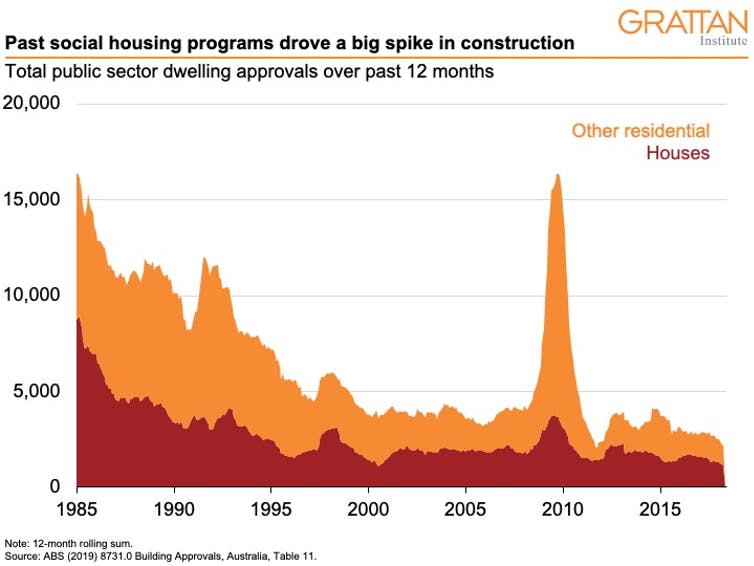 Source: Grattan Institute
---
Disclaimers
The entire market was not considered in selecting the above products. Rather, a cut-down portion of the market has been considered. Some providers' products may not be available in all states. To be considered, the product and rate must be clearly published on the product provider's web site. Savings.com.au, yourmortgage.com.au, yourinvestmentpropertymag.com.au, and Performance Drive are part of the Savings Media group. In the interests of full disclosure, the Savings Media Group are associated with the Firstmac Group. To read about how Savings Media Group manages potential conflicts of interest, along with how we get paid, please visit the web site links at the bottom of this page.
Latest Articles