Finding the right home for you can be a long, time-consuming process. But once you've found 'the one', you probably want to move quickly - especially in a hot property market - so understanding how to get the ball rolling is highly important.
The logistical process of making an offer is relatively easy, but doing it right is what takes a bit more skill. In the current 'sellers market', there are sometimes dozens of offers on any given property; putting in a competitive offer that stands out might be the key to your new home.
---
Advertisement
Buying a home or looking to refinance? The table below features home loans with some of the lowest interest rates on the market for owner occupiers.
Lender

---

Variable

More details

FEATURED

Online Exclusive

Up To $4K Cashback

Includes NOV RBA Rate Increase

loans.com.au – Variable Basic Cashback Home Loan (Principal and Interest) (LVR < 70%)

Immediate cashback upon settlement
$2000 for loans up to $700,000
$4000 for loans over $700,000

Variable

More details

FEATURED

Refinance Only

Apply In Minutes

Unloan – Variable Rate Home Loan – Refinance Only

No application or ongoing fees. Annual rate discount
Unlimited redraws & additional repayments. LVR <80%
A low-rate variable home loan from a 100% online lender. Backed by the Commonwealth Bank.

Variable

More details

FEATURED

Up – Up Home Variable (Principal & Interest) (LVR ≤ 90)

Up is 100% owned by Bendigo Bank.
Up to 50 offset accounts
New joiners get $10 by signing up to the app using code UPHOMESAVINGS. (T&Cs apply)
Immediate cashback upon settlement
$2000 for loans up to $700,000
$4000 for loans over $700,000
Important Information and Comparison Rate Warning
---
What to do before putting in an offer
Before you throw your hat in the ring, there are a few things you might want to sort out. The last thing you want to do is put in an offer completely unprepared, have it be accepted, and then be unable to proceed with the purchase. So, getting all of your affairs in order before you proceed is pretty vital.
Attend inspections and open homes
The first step is to actually see the house before deciding whether it's worth pursuing. Often times, photos can be staged and won't give you the full picture (pun intended). It's important to see the property in person, figure out whether you could realistically see yourself living there, and decide from there what it's worth to you.
A handy byproduct of attending an inspection is that you can scope the competition. If you're at an inspection with upwards of 50 people, you can probably assume a handful of them will put in an offer.
On the other hand, if you're the only person at the inspection, there might be less interest in the property. Note that multiple open homes and inspections can be held across multiple days.
Seeing how many people are at an inspection or two can give you an idea of how much time you have to put in your offer.
If you want to stand a chance, you should try to get in before any other strong offers. This can also save you ending up in a heated bidding war - not having it start in the first place.
Have your finances sorted
You don't want to put in an offer, especially an unconditional offer (we'll get to that later), and then not have the money to back it up. To get started, you might like to use an online calculator - 'how much can I borrow?' - to find out if you have the borrowing power to afford the house you're looking at. This can give you an idea of whether you'd stand a chance getting home loan approval.
From there, you could apply for home loan pre-approval/conditional approval. This kind of financial security can make your offer much stronger, as it shows the owner you're a serious buyer with money ready to go.
While conditional approval isn't a guaranteed 'yes', it's as close to it you can get without actually applying for your mortgage. Alternatively, if you're already a homeowner and looking to sell, or you're looking to use equity to put down your deposit, make sure you're ready to make it all happen.
Be ready to move - and do it quickly
In saying 'be ready to move', the meaning is two-fold: you should be ready to move quickly with your offer/the purchase, and you should be ready to quickly move into your new home. Before putting pen to paper, make sure your current living situation is sorted out or can be sorted out fast.
For example, if you're currently renting but your lease doesn't end for another eight months, be ready to face the legal gymnastics of getting out of the lease early (you'll likely need to break lease - which can be expensive - so be ready to bite the bullet).
Alternatively, if you are planning on selling, you'll need to make sure you account for this in your offer/contract with a 'subject to settlement' clause, or have the funds available to go through with the purchase if you can't sell in time (e.g. be prepared to apply for a bridging loan).
Either way, make sure you have it all sorted before you put your offer on the table, because if you can't move quickly on the house, someone else might swoop in with their offer and snatch up the home from under you.
How to put in an offer to purchase a home
Generally speaking, the actual process of putting in an offer is the same across the board. At inspections, real estate agents should have 'offer to purchase' forms ready for prospective buyers to fill out. This form generally asks for some information, including:
Your name and personal details

How much you're offering to pay for the home

Whether you have finance pre-approved

Building and pest terms

Finance terms

Settlement terms

Any other special conditions/clauses you'd like included on the contract
With this information in tow, the agent goes to the owner with your offer to see whether they're interested in taking you up on it. If they're interested, you'd proceed with getting a contract signed and be well on your way to owning the home.
Or if they're not quite sold, you might need to negotiate your offer and your terms to find a way forward, or bow out of the race.
While it sounds simple in theory, putting in the right offer and entering negotiations can be tricky situations. To get a better understanding of how to handle it all, we've reached out to a few property experts to get their advice.
How much should you offer?
The big question mark is over the dollar amount, as ultimately, that will probably be your main focal point. The price you're willing to pay for the home will probably be one of the first things the owner looks at.
How do you offer a competitive price without paying too much in a high-demand market where properties are going for hundreds of thousands more than the asking price? Should your first offer be your absolute max, or should you be ready to go a little higher?
Cate Bakos, Real Estate Buyers Agents Association (REBAA) president, said this is "so subjective" and depends on the situation.
"If an agent is running a 'best and highest' campaign, a buyer will definitely need to be prepared to offer their maximum price," Ms Bakos told Savings.com.au.
"Not only does it depend on how the agent is running the competitive negotiation, but it depends on how the campaign is running, how strong the market is, how popular the property is and whether other offers have conditions. Buyers need to ask a LOT of qualifying questions before they go making offers."
Diaswati Mardiasmo, Chief Economist at PRD, said the key to good negotiation is a "wiggle room", so that there's an opportunity for the buyers and sellers to come to an agreed price.
"However this also depends on whether or not: a) there is a supply and demand imbalance in the market, and b) the home you are looking at ticks all of your boxes and is a 'must'," Dr Mardiasmo told Savings.com.au.
"If there is a supply shortage and the home you are looking for ticks all of the boxes, time is of the essence. Therefore, putting in your absolute best would be a potential strategy."
But if there's a roughly even balance in both supply and demand, and the home you're looking at buying is a preference only rather than an 'absolute must', you can afford to have some 'wiggle room'.
"Therefore, putting in an offer that is slightly below your absolute best would be a potential strategy," Dr Mardiasmo said.
Lloyd Edge, Director of Aus Property Professionals, said in order to formulate a 'fair but winning offer', it's important to ensure the property meets your requirements, and you've done some research to back your offer.
"You need to offer a fair price that you believe the property is worth," Mr Edge told Savings.com.au.
"Where a price guide is supplied, generally an offer below the lower price of the range will not be accepted.
"It can be fair to offer at the bottom of this range, or discount $ from an amount you believe the property to be worth, when compared to something similar that has recently sold, perhaps that already had a new kitchen."
Scott Aggett, property negotiator at Hello Haus, said he likes to make his first offer 95 to 97% of the way towards his clients' maximum walk away price as it does 'much of the heavy lifting'.
"I'm expecting either of these outcomes: (1) they accept the offer, or (2) it's close enough to start negotiations and I get a counter offer from the seller," Mr Aggett told Savings.com.au.
"Many sellers want to feel like they engaged in some form of negotiating and not just take the first offer presented; this is why it's wise to go close to your best but not all the way with your first offer."
He also provided us with a tip he uses for submitting the first offer on a property: he makes it over the phone via text message to the agent wherever possible.
"If my first offer is not high enough, (because) maybe they have other buyers talking higher numbers or the vendor simply wants much more, agents will dismiss my SMS offer instantly," Mr Aggett said.
"If the offer is strong enough or even acceptable to the client, the agent will request that I put the offer in writing, over email, or on a contract.
"This one little step can save thousands in solicitors/conveyancer fees, building and pest reports, and many hours work for buyers. You'd rather know upfront if you have a chance to buy it or not and this will often work wonders."
How to avoid paying too much
On the front of avoiding paying 'too much' for a property, Ms Bakos said it's important to do some research and ask some questions.
"Comparable sales analysis takes around an hour or two. All a buyer needs to do is check the sold tab on a search engine and apply a bit of focus to this really important task," she said.
Dr Mardiasmo stressed that buyers need to be aware of the 'average vendor discount' for a particular area and/or property type. The average vendor discount represents how close to the asking price properties are selling for. If the discount is 'tight', you should offer close to the initial asking price.
"For example, if the area or property type that you are interested in has had a tightening in the average vendor discount, then you need to offer close to the first list asking price," Dr Mardiasmo told Savings.com.au.
"If it has swung to a premium, then you need to offer higher. Even if you offer higher, knowing the average vendor discount will guide you."
She said that this information can usually be obtained from research and/or market reports of the area, or directly from the agent.
Dr Mardiasmo provided Savings.com.au with the chart below, which is taken from one of PRD's Market Update reports for Lake Macquarie NSW, to show how knowing the average vendor discount will help.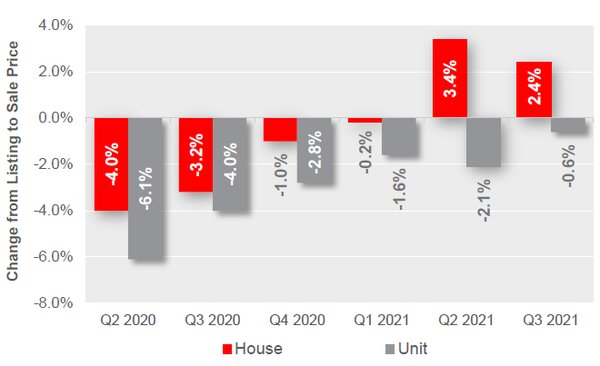 Source: PRD
In this instance, the house market has swung from a discount to a premium in the past 12 months. Q3 2021 figures show an average vendor market of +2.4%.
"Therefore, you (the buyer) now know that on average, properties are going for between 2 to 3% of the asking price," Dr Mardiasmo said.
"You can use this as a negotiation point, in terms of what offer you put in, and also to defend your offer if the seller is asking for a higher price."
For units, the market 'tightened' in the average vendor discount, now at -0.6%, which is very close to the listing price.
"So you (the buyer) know that you must offer closer or the first list price, to be able to secure the property," she said.
Mr Edge also said you need to compare the property you're looking at to similar properties on the market - and properties that recently sold with similar attributes - to make an offer below your maximum price that you would pay that leaves room for negotiation (or wiggle room) if required.
Mr Aggett recommends playing a 'simple game' with yourself/your partner to decide what a property is worth to you.
"Ask yourself: What is your maximum walk away price? Let's say $800,000. Would you buy it today if you could at $810,000? If it's a YES, try again Would you buy it today if you could at $820,000?" he said.
"You get where I'm going here.
"Keep pushing until you have a clear decision on where your interest stops on a home. Emotional buyers (often at auctions) don't push themselves hard enough to determine that number and are at a high risk to overspend."
Conditional vs unconditional offers: Which is better?
Other than the price, another major component of your offer is whether it's conditional or unconditional.
Some sellers may prefer an unconditional offer over a conditional offer. Real estate consultant Chris Bellesini said he has clients that are prepared to accept $10,000 less if an offer is unconditional as it takes away the risk for them.
Unconditional contracts are usually geared towards benefiting the seller as it means the buyer can't back out of the contract. But for the buyer, an unconditional contract comes with a fair share of risk.
Briefly, an unconditional contract comes with no conditions attached. Meaning that once the contract is signed, you (the buyer) are tied into the sale. Essentially, you're buying the home whether you like it or not - even if you can't pay for it - which can obviously become an unpleasant situation for some. This is why unconditional offers shouldn't be thrown around lightly.
Conditional contracts can be subject to things such as finance, building and pest, settlement of another property, or just about anything relating to the purchase. Solicitors can type up specific clauses, for example to have the pool cleaned before settlement, and if the conditions aren't met the buyer can pull out of the contract.
So, if your finance isn't approved or the building and pest report has a bunch of red flags, you have the legal right to back out of the contract. With an unconditional contract, you aren't afforded this luxury.
Ms Bakos said that an unconditional offer represents the lowest risk, but it's a tough pursuit for a buyer who will either have 'sleepless nights', or 'face putting their deposit at risk'.
"Buyers need to note that they will likely lose their deposit if they can't settle their purchase," she told Savings.com.au.
"On the flipside, those hyper-conservative buyers who have pre-approval yet insist on a finance clause disadvantage themselves when they refuse to take a sensible commercial risk."
According to Dr Mardiasmo, whether you choose to put in an unconditional offer or not depends on the property you're looking at, and the supply and demand situation of the market.
"It also depends if there are other conditions you yourself must obtain / satisfy prior to the purchase," she said.
"An unconditional offer means you can not make any conditions whatsoever, and you are obliged to purchase the property once the seller accepts.
"If you still have to obtain finance / mortgage loan, FIRB (foreign board) approval, access to grants approval, then it would be unwise to put in an unconditional offer – as if the seller accepts then you are obliged to purchase, whether you get the finance (or any other approvals) or not."
She also points out that making an unconditional offer means you are foregoing a building and pest inspection, which is highly recommended if you're buying a second-hand home to ensure there's no structural damage/anything of concern to do with the quality of the property.
"The only time you would consider putting in an unconditional offer is if you have no other concerns / conditions that you need to obtain yourself AND you are 100% sure in regards to build and pest inspection (for example if you are going to knock down the whole house, so having a build and pest inspection is moot)," Dr Mardiasmo said.
Mr Edge said an unconditional offer can 'certainly be beneficial', but it isn't always necessary.
"In the case where a property is listed for sale by auction, then submitting an unconditional offer is recommended as it gives the vendors the same security as a sale at auction, however prior," he said.
Mr Aggett said making offers that include a conditional aspect will not only hinder your chances of securing the property; it might stop you in your tracks, particularly in a hotly-contested property market.
"Sellers want certainty, agents want to get paid, so the push from their side of the transaction will be for buyers to waive the cooling off and lock into the agreed deal with no risks on their behalf of a sale falling over," he said.
"Sellers that are presented offers from multiple parties will very often take the unconditional contract at less money for the surety it brings.
"The goal for buyers should be to find a balance between both options - being organised is key to marrying this perfectly."
Your offer is accepted: What happens next?
Once your offer is accepted, the next step is signing the contract. Putting in an offer is all well and good, but signing the contract is what really seals the deal. But before you sign anything, it might be helpful to consult a solicitor to ask any questions you might have about the contract, draw up any clauses you need included (if you go with a conditional contract), or discuss your options if you're signing an unconditional contract.
Either way, solicitors are experts in all things contract-related - so if you're not feeling 100% certain, speaking with one can put your mind at ease.
If you're feeling comfortable with your ability to go through with the purchase, be sure to read the contract thoroughly. We're all guilty of skipping over the terms and conditions of things and blindly pressing 'agree', but with a financial decision of this magnitude, it's vital to read the fine print. Read over the contract carefully, ensure it all matches up with your offer, and then sign it swiftly.
If you take too long, the owners might choose to accept another offer and sign a contract with those buyers. The offer is the first step, but the contract is the legally-binding document that makes the sale official.
The buyer/s usually sign the contract before the seller, so make sure everything is right on your end. Things to check on the contract might include:
Your full legal name (including any middle names) is spelt correctly

The purchase price is the same as what you agreed upon

Any included/excluded chattels are listed

Finance/building and pest/settlement terms are as agreed

Any special conditions/clauses are included in the special conditions section

Electrical safety switch and smoke alarms have been installed

There are no neighbourhood disputes

You've been made aware of any title easements/encumbrances listed on the contract

If you plan on moving in, there are either no tenants or the contract is subject to vacant possession

If there's a pool, you've seen a copy of the pool safety certificate
Tips for strengthening your offer
Before you sign the contract, it's important to make sure your offer is as good as it can possibly be. Sometimes, you simply won't be able to offer as much as your fellow buyers - and that's okay!
All you can do is make your offer as attractive as it can possibly be, and if you can't compete, it's best to just bow out. You don't want to sign an unconditional contract for an offer you simply can't afford, because getting out of it will be expensive, stressful, and can have legal ramifications.
So, to make your offer as strong as possible, we've collected a few tips from our experts.
"Find out what terms the vendor wants, establish whether there are any quirks to the settlement or conditions that could entice a vendor, ie. long or flexible settlement terms, leaseback arrangement etc.," Ms Bakos told Savings.com.au.
"Be clear about your offer, and importantly, maintain a healthy respect for the vendor in all of your dealings with the agent.
"If a vendor is faced with multiple offers and feels anxious or negative towards a buyer, that buyer may find that they sit at a disadvantage compared to others who have been respectful."
Dr Mardiasmo said there are a few things you can do to strengthen your offer, including:
A cash purchase. There are many contracts have have crashed in the past six months due to finance issues, or disagreements between purchase prices and bank valuation. Offering a cash purchase means the seller minimises the risk of having the contract crashing.

Shorter settlement period. The longer the settlement period, the more things that can "go wrong". A shorter settlement minimises this.

Offering to purchase furniture. This can work if the seller/s are downsizing/moving elsewhere. You're taking the stress out of their need to sell or store furniture

Offering no need to pay/fix anything the building and pest inspection identifies (within reason). Sometimes, the report may identify things that need fixing, which can come at an extra cost (money and time) to the seller. If it's not something major (i.e. nothing structural), you could waive this.
Additionally, Mr Edge provided us with some 'dos' and 'don'ts' when submitting an offer on a property:
Things you should do
Research

Set yourself a limit/maximum you're willing to pay for the property before you start negotiations

Submit a clear, uncomplicated offer

Find out if there are conditions that would be favourable to the seller (shorter/longer settlement, deposit, etc.)
Things you shouldn't do
Submit an extremely low offer - the agent and seller might not take you seriously

Complicate your offer - condition of items such as pool, floorboards, or under the house can be negotiated between your conveyancers prior to the end of the cooling off period

Compare to a property that isn't comparable - you must compare to similar location, size, and age of the property
Lastly, Mr Aggett provided us with some helpful, general tips on making a strong offer:
Market knowledge is king

Speed kills - move fast through each stage of the process

Agents are not your friend. They work for the seller to extract a premium from buyers - they are very good at making the offer process simple for you, so be aware

Think about using leverage when you offer; ideally have a second property you are considering

Have a clear end goal when you start negotiating

Don't start what you can't finish - reach out for help before you show your cards and risk losing the property to another buyer or overspending
"Lean on industry experts; it's likely to be the single biggest financial outlay of your life," Mr Aggett told Savings.com.au.
"It's not a 'learn on the go' situation or a process to learn from your mistakes. Get it right the first time and avoid buyers' remorse."
Image by Pawel Czerwinski on Unsplash
---
---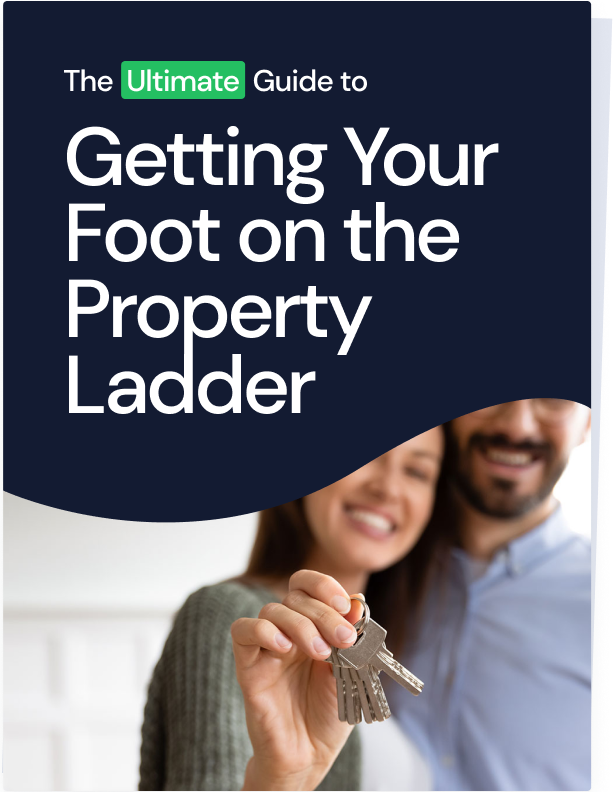 Ready, Set, Buy!

Learn everything you need to know about buying property – from choosing the right property and home loan, to the purchasing process, tips to save money and more!

With bonus Q&A sheet and Crossword!