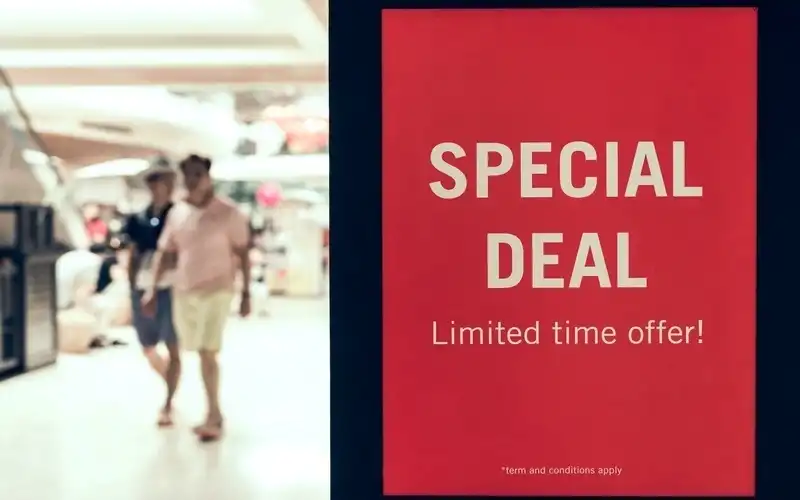 NAB subsidiary UBank has announced an 'end of financial year home loan sale', which includes a new record low rate.
According to UBank, it has today lowered its one-year fixed home loan rate for owner-occupiers paying principal and interest (P&I) to 1.75% p.a (2.31% p.a comparison rate*).
Available for loan-to-value ratios (LVR) of up to 80%, this new rate is the digital bank's lowest ever one-year fixed rate, and importantly, is only available for a limited time until 30 June 2020.
This change arrives ahead of today's Reserve Bank (RBA) cash rate decision for June, which is expected to see the cash rate remain unchanged at 0.10%.
UBank also reduced one-year fixed rates for investors paying P&I as well as interest-only (IO) with deposits of 20% or more:
UHomeLoan 1-year fixed rate for investors (P&I): cut by 15 basis points to 1.99% p.a. (comparison rate 2.70% p.a.)
UHomeLoan 1-year fixed rate for investors (IO): cut by 0.20% p.a. to 2.09% p.a. (comparison rate 2.71% p.a.)
UHomeLoan variable rate for investors (IO): cut by 0.54% p.a. to 2.60% p.a. (comparison rate 2.65% p.a.)
The latter of these rate changes will apply after June 30, unlike the others.
Since the first of several RBA cash rate changes that first occurred in June 2019, UBank has 'more than halved' its one-year fixed rates for owner-occupiers from more than 3.50% p.a.
UBank CEO Philippa Watson said it's important customers can still find the right home loan even with record low rates.
"We believe a really sharp one year fixed rate provides the right mix of certainty and flexibility that people are looking for," Ms Watson said.
"There's currently a lot of discussion around fixed versus variable rates and which one is best.
"This very low offer gives customers one of the lowest rates in market, giving them more money
back in their pocket and stability after a period of uncertainty."
---
Buying a home or looking to refinance? The table below features home loans with some of the lowest interest rates on the market for owner-occupiers.
86 400 cuts, launches new refinancing feature
Neobank 86 400, which is set to merge with UBank after being purchased by NAB, has today also made various changes to its fixed rate products
86 400 increased the advertised rate on its 'Own Home Loan' by 13 basis points to 2.50% p.a (2.72% p.a comparison rate*) for a five year term.
This home loan product also saw a 17 basis point decrease for a two year term to 1.98% p.a (2.61% p.a comparison rate*), while investor loans for this period were also cut by 15 basis points.
These changes have been made on the same day that 86 400 has launched its new 'direct-to-consumer channel'.
According to 86 400, this lets customers refinance from their smartphone or computer in as little as 15 minutes, with approvals possible within two hours.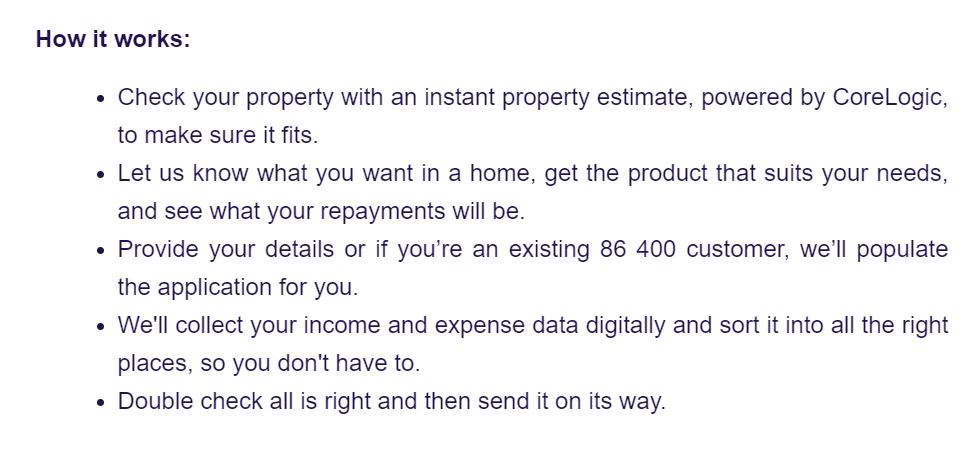 Here's how this new automatic process works (image via 86 400).
86 400 CEO Robert Bell said the neobank wanted to create a smart approach "for those who prefer to apply direct."
"While mortgage brokers will continue to be our primary channel, particularly providing expertise to help the customers through more unique and complex situations, launching a direct-to-consumer channel is our next stage of growth as we continue to live out our mission of helping all Australians take control of their money," he said.
Lending Product Lead Melissa Christy meanwhile said this new streamlined process is a "smarter, simpler, digital alternative".
"Our fast applications and approvals promise to put more Australians on the financial fast track to property ownership, or a better rate on their existing mortgage."
Related: ACCC, APRA approves NAB's purchase of neobank 86 400
New variable loan enters the market
Digital non-bank and financial services platform WLTH has launched a new home loan product today with a highly competitive rate.
WLTH has released a variable rate home loan at 1.99% p.a (2.05% p.a comparison rate*), available for larger deposits at a 60% LVR.
This new product has been released ahead of the expected cash rate hold today, and joins WLTH's other home loan products available for both owner occupiers and investors.
"We are excited to be able to launch this new product to market and be one of the market leaders in the space," CEO and co-founder Brodie Haupt said.
"Even with strong growth in the property market over the last few months, the RBA looks set to hold rates for the foreseeable future.
"The RBA has continuously said that they won't be increasing the cash rate until inflation is back within the target range and with no sign of this at the moment, I can't see the rates lifting earlier than expected."
Other recent home loan rate changes:
---
Photo by Artem Beliaikin on Unsplash