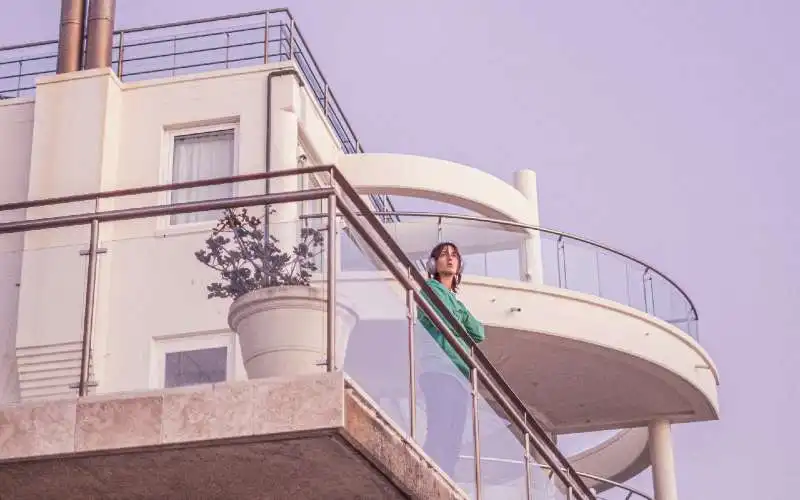 Australian women have lower rates of property ownership than men, as a new report highlights the impacts of the gender pay gap.
CoreLogic's inaugural Women and Property: State of Play report, released on International Women's Day, found 26.2% of all properties in Australia are exclusively owned by women.
That's compared with 29.9% of men.
CoreLogic's Head of Research Eliza Owen said the report highlights evidence between the gender pay gap and the gender wealth gap.
"Unsurprisingly, the report found that rates of male property ownership are generally higher than women, but with important distinctions that highlight the relationship between the gender wealth gap and the gender pay gap, and have implications for institutional response," Ms Owen said.
"CoreLogic estimates Australia's residential real estate to be worth over $7 trillion.
"Given there's a high level of equity held in real estate, if you don't own property, that's a big source of household wealth and security you don't have access to."
---
Buying a home or looking to refinance? The table below features home loans with some of the lowest interest rates on the market for owner occupiers.
Lender

Advertised rate
Comparison rate*
Monthly repayment
Rate Type
Offset
Redraw
Ongoing Fee
Upfront Fees
LVR
Lump Sum Repayment
Additional Repayments
Pre-approval

---

Variable

More details

FEATURED

LIMITED TIME OFFER

Smart Booster Home Loan Discounted Variable - 2yr (LVR < 80%)

Fast turnaround times, can meet 30-day settlement
For purchase and refinance, min 20% deposit
No ongoing or monthly fees, add offset for 0.10%

Variable

More details

FEATURED

ZERO APPLICATION FEES

FEE FREE OFFSET

Owner Occupier Accelerates - Celebrate (LVR < 60%) (Principal and Interest)

We lower your rate based off how much you've paid down your loan
Automatic rate match
No upfront or ongoing fees

Fixed

More details

FEATURED

USE A MARKET LEADING APP TO HELP YOU PAY OFF YOUR LOAN SOONER

Fixed Home Loan 1 year (Principal and Interest) (LVR < 80%)

Make up to $20,000 additional repayments per fixed term
Redraw available – lets you access any extra loan repayments you've made
Choose to rate lock for 90 days (fee applies)

Variable

More details

FEATURED

REFINANCE IN MINUTES, NOT WEEKS

Variable Owner Occupied, Principal and Interest (Refinance Only)(LVR <75%)

No application or ongoing fees.
100% free offset sub account.
Fast online application, approval in minutes not weeks.
Mobile app, Visa debit card, Apple and Google Pay
Refinance loans and variable rates only.
Fast turnaround times, can meet 30-day settlement
For purchase and refinance, min 20% deposit
No ongoing or monthly fees, add offset for 0.10%
---
The report found the most common type of property ownership was 'mixed gender' ownership, where both men and women had ownership of the property, which accounted for 43.9% of properties in Australia.
"That speaks to affordability constraints and infers you often need dual incomes to achieve property ownership," Ms Owen said.
"The other element of this is that lone households would have less success getting into the property market. What's important about that, when it comes to women and real estate, is that women make up over 60% of either single-parent of lone adult households.
"Yet at the Australia-wide level, sole property ownership among women is less than their male counterparts, which means women are over represented in lone households but they're underrepresented in property ownership.
"The core of this analysis and its findings is that it's all about wealth inequality and income inequality, and that doesn't just span between men and women, it spans among women as well - including those that are single, sole parents or part time workers."
See also: How to get a home loan on a single income
The report found that women are more likely to own a home in capital cities, particularly in affluent suburbs, than they are in regional areas where men are more likely to own property.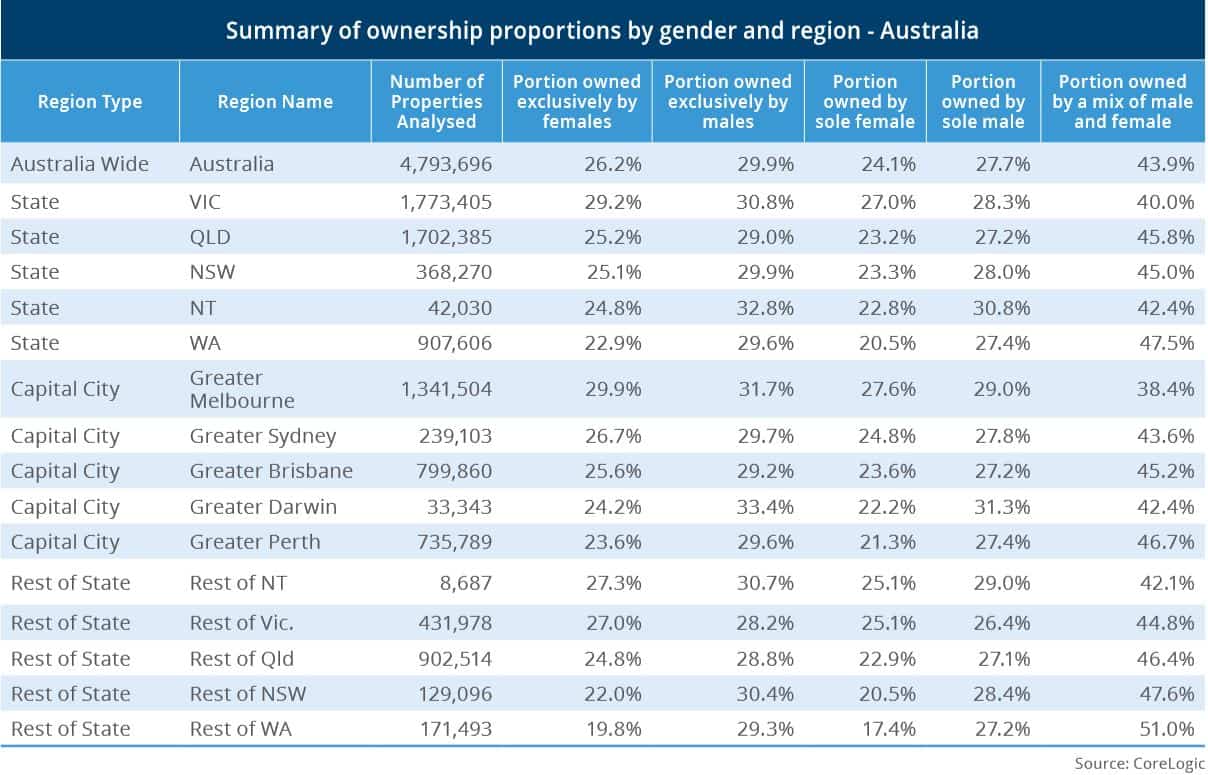 Source: CoreLogic
The highest rates of exclusively female home ownership was in the eastern suburbs of Sydney, where 34.8% of all properties were owned exclusively by women compared with 31.7% of men.
In Melbourne's inner south, 32.6% of property is exclusively owned by women and 27.6% are owned by just men.
Ms Owen said the figures show how the gender pay gap can impact access to home ownership.
"Where women have higher incomes, they may have a greater propensity to buy property, in some instances even outpacing property ownership rates of males," she said.
"This compliments previous research findings on this topic, which have shown that in some instances, women actually have a greater tendency for property ownership than men, given equal income."
See also: Women's guide to managing money at every age
Women taking longer to save for their deposit
The report found that it would take an additional 10 months for women to save a 20% deposit on the median Australian dwelling value, based on average weekly full time earnings data.
"We know there's a gender pay gap, and that income is an important determinant of access to real estate ownership."
According to the Australian Bureau of Statistics (ABS) the gender pay gap is currently sitting at 13.4%.
But Milena Malev, CoreLogic International's GM Financial Services & Insurance Solutions, says the true gender pay gap in Australia is actually closer to 30%.
"It's also important to note that Australia measures the gender pay gap by average weekly earnings for full time employees, however women represent 67.2% in the part time workforce and only around 37.9% of the full time workforce," Ms Malev said.
"This suggests the true gender pay gap in Australia is actually closer to 30% because of the different composition of men and women in the labour force.
"The implications of this are vast. It means men get access to housing sooner, they have more time in market, and therefore have greater wealth accumulation as well."
With property ownership being regarded as a pillar of retirement, the gender wealth gap means women are at a greater risk of poverty in retirement.
"This wealth gap becomes a particular challenge around retirement, and it's well documented that if you still have rental or mortgage costs at the time you retire, then you have a much higher incidence of falling into poverty," Ms Malev said.
---
Photo by Soheb Zaidi on Unsplash