Despite the current predicament of a slowing economy and stagnant wage growth, today's Australia enjoys a near-decade low unemployment rate and significantly higher real wages than in 1994.
While the cost of housing, insurance and health occupy a larger share of our spending these days, 'essential' items like food, household appliances and clothing have become relatively more affordable.
That's according to recent Commsec figures which look back over the last 25 years of the economy.
Since 1994, Aussies have increased their share of spending on housing, insurance, health, education, medicines, and electricity/gas. But we're also spending less money on food, clothing, furniture, household appliances, and the purchase of cars.
Commsec Chief Economist, Craig James said the improvement in the economy has been almost unprecedented.
"Lack of consistent longer-term data prevents economists from declaring the improvement as the best ever. But clearly the gains in real income and wealth have caused changes in how Aussies spend their money," Mr James said.
"Housing costs – paying the rent or mortgage – now occupy a bigger share of household spending. Over time, the relative cost (or affordability) of so-called essential items like food, clothing, cars and household goods has fallen, allowing Aussies to buy bigger and better homes."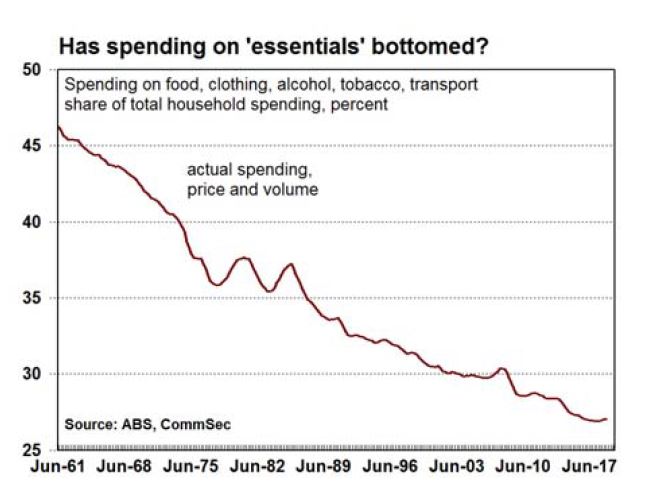 According to the report, wages have risen 165% since 1994, well ahead of inflation, which is up just over 85%. In the same period, household income per person rose by 181%.
"Income has outpaced inflation over time and wealth has soared. The lift in income and wealth have prompted many to upgrade their homes. People can afford more expensive and better quality homes because interest rates have fallen to record lows and a smaller proportion of household budgets now goes to 'essentials," Mr James said.
"The current generation of 20-30 year-old Aussies are faced with more expensive homes but also enjoy the same smaller proportion of spending devoted to 'essentials' than in the past. But Gen Z and Millennials also have different priorities, favouring travel, 'experiences' and smaller homes."