The findings from the Roy Morgan 'Digital Payment Solutions Currency Report' September 2019 found Australians aged 14-34 account for 55.9% of these users, with 25-34 year olds accounting for 33.5%.
To put these numbers in perspective, that age group represents just 18.1% of the population over the age of 14.
As a result, those aged 25-34 are nearly twice as likely to be using a buy-now, pay-later scheme as the average across the whole population.
In contrast, Australians over 50 make up only 14.2% of buy-now, pay-later schemes, despite being 40.7% of the population over the age of 14.
As a group, those using these schemes tend to be employed but earn an average or relatively low wage.
11.7% of users earn between $40,00 and $49,999, compared with just 8.8% of Australians overall.
Only 2.2% of users are earning $150,00 or more, compared to 4.4% of Australians overall.
Buy-now, pay-later usage in last 12 months: Market composition by age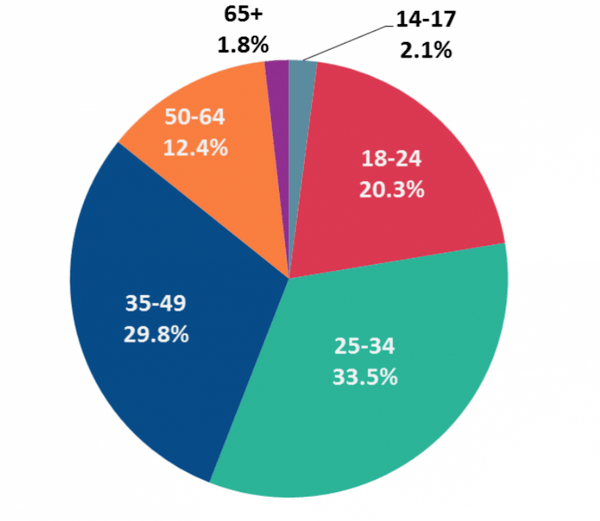 Usage low despite rapid popularity
Despite the growth in usage of buy-now, pay-later systems, overall user numbers are still relatively low, with 9.4% of the population now using them, up from 6.8% a year ago.
Even among the heaviest user group (25-34), only 17.4% are using these payment methods.
Perhaps unsurprisingly, usage among Australians aged over 65 is below 1%.
Overall, however, awareness levels are strong, with 52.2% of Aussies knowing about buy-now, pay-later schemes.
The most popular scheme in the market is 'Afterpay', with 49.%% awareness and 8.4% usage, well ahead of second-placed 'Zip' – which includes ZipPay and ZipMoney – with 25.2% awareness and 2.1% usage.
Roy Morgan CEO Michele Levine said buy-now, pay-later schemes would continue to grow in popularity and provide healthy competition in the credit sector.
"The payment environment in Australia is facing rapid change and these 'buy-now-pay-later' companies are likely to pose a threat to traditional deferred payment options including credit cards, as consumers can easily access a small amount of credit instantly," Ms Levine said.
"The increasing use of new payment technologies is being aided by the growing proliferation and development of smartphones and wearables with integrated technology such as Apple Pay and Google Pay.
According to Ms Levine, the industry will need to adapt by providing more innovative and simpler solutions as customers come to expect "minimum effort" when making payments".
"Traditional financial institutions may need to collaborate with Fintechs and other third parties to keep up with the fast-moving digital payment environment."
Income distribution for buy-now, pay-later users, compared with Australia overall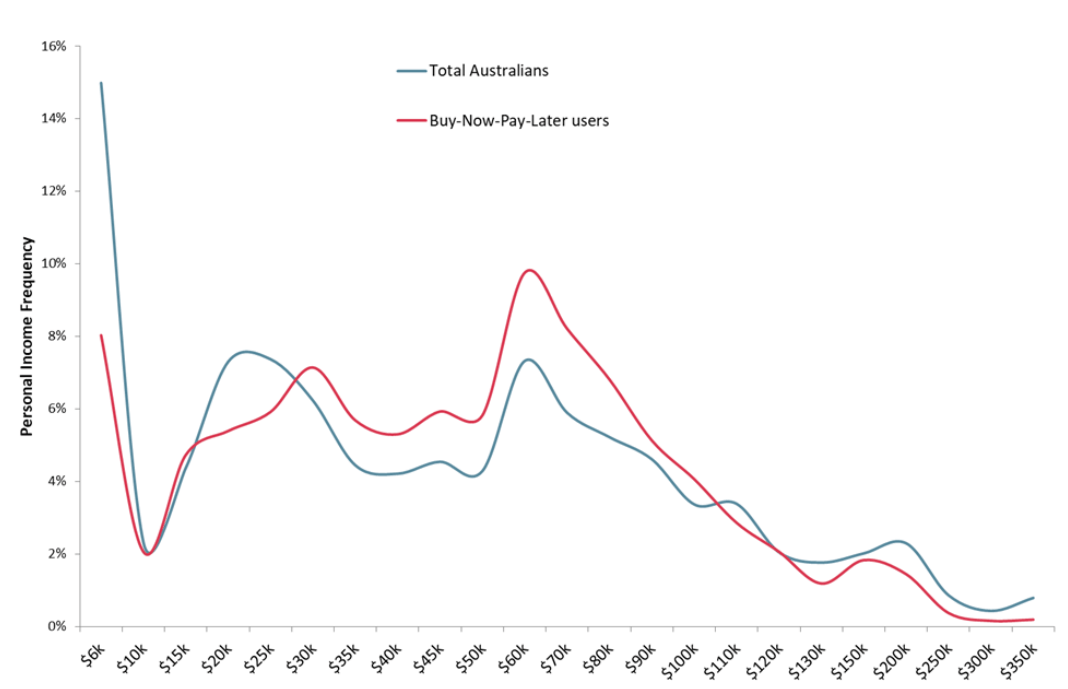 Credit card use continues to decline
As buy-now, pay-later schemes popularity grows, credit card usage is declining, with the percentage of Australians holding a credit card down approximately 3% over the past year.
Credit card debt is down to $7 billion today, compared to $8 billion in 2007.
Credit and debit cards are also facing strong competition from digital payment services like Apple Pay and Google Pay.
Research from financial technology company 'FIS' found eWallets were the second most preferred way for online purchases: credit cards were the most popular payment method at 28%, while debit cards came in third.