Commonwealth Bank's (CBA) latest monthly Household Spending Intentions (HSI) series found the two major events were key factors in a sharp decline in travel and education spending intentions in February.
Commonwealth Bank Chief Economist Michael Blythe said the drop off followed a dip in January, with the travel HSI readings the lowest since the series began in 2015.
"Along with tourism, the education sector is particularly exposed to the negative effects of the coronavirus," Mr Blythe said.
"That exposure is now showing up in a sharp downgrade to education spending intentions." .
Mr Blythe said the bushfires and global pandemic would seriously hinder growth domestic product (GDP) numbers, due to the massive impact on tourism and international education.
"The emerging consensus is that the bushfires probably knocked 0.2 percentage points off economic growth over Q4 2019 and Q1 2020, and the virus could take a further 0.5 percentage points out of Q1 2020," he said.
"The consensus is also that the sectors most affected by these natural disasters are tourism and international education.
"The tourism and education sectors account for 5% of GDP and 7% of total employment."
It's not all doom and gloom though: Home buying spending intentions remained near the top of its historical range while motor vehicle spending intentions continued to improve.
But retail spending intentions continued to remain at low levels, with health and fitness as well as entertainment spending intentions also weakening.
Check out the full breakdown of each sector below.
Retail Spending Intentions
Retail spending intentions remain soft, which will no doubt be a disappointment for the government given the stimulus measures directed at households via lower interest rates and tax rebates.
No doubt bushfires and COVID-19 have taken their toll but the fundamental driver of the dip is weak income growth.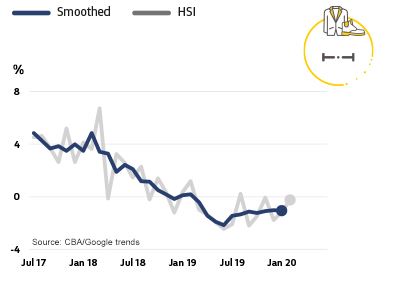 Travel Spending Intentions
Unsurprisingly, travel spending intentions have taken a sharp dip in recent months, with the February readings the lowest on record.
Again this is as a result of the bushfires and COVID-19 pandemic.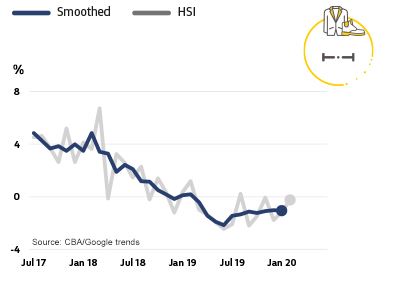 Home Buying Spending Intentions
After huge gains in 2019, home buying intentions have levelled out so far in 2020, but remain at historically high levels.
Lower mortgage rates as a result of Reserve Bank (RBA) cuts have heavily supported buying intentions.
HSI readings remain at levels pointing to further gains in dwelling prices, a turn in the residential construction cycle and a positive wealth effect that should help consumer activity.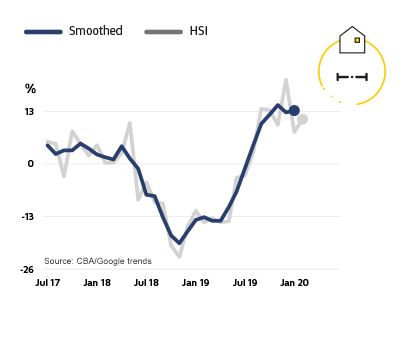 Education Spending Intentions
Along with tourism, the education sector is particularly exposed to the negative effects of the coronavirus, with a huge number of international tertiary students unable to both come to Australia and complete their studies.
That exposure is now showing up in a sharp downgrade to spending intentions.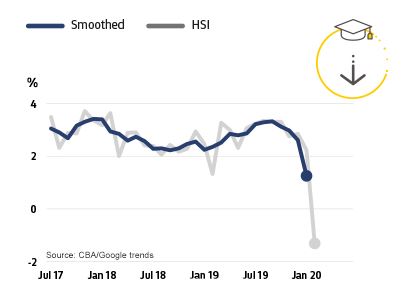 Entertainment Spending Intentions
Given that the government has put a ban on gatherings of 500 or more, the entertainment spending intentions sector has seen a pull back.
A host of theatrical releases have been postponed, which will also put further strain on the sector.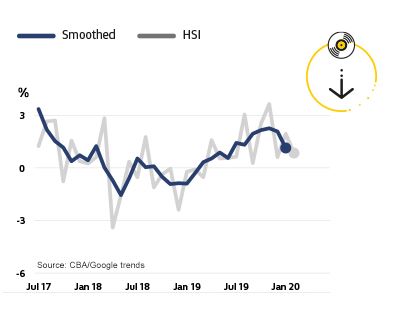 Motor Vehicle

Spending Intentions

The HSI readings for motor vehicles showed a sharp turnaround late in 2019, which continued in January and February.

This lift is a sign that the 'wealth effect' remains a positive force in consumer activity, with motor vehicle spending correlated with changes in household wealth.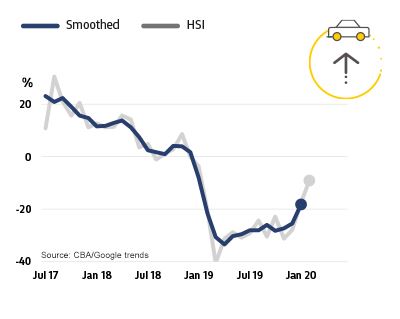 Health and Fitness

Spending Intentions

The weaker spending intentions for travel and education may be a reflection of the bushfires and virus, but there has been a pull back in spending intentions in the experience space more broadly as consumer confidence wanes.

The general resilience in spending intentions for health and fitness has taken a hit in recent months.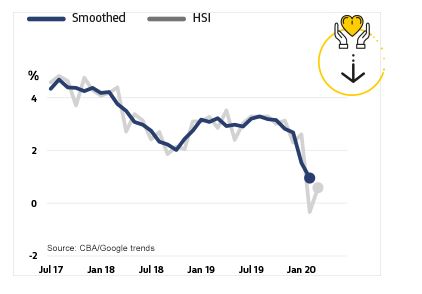 Qantas and Jetstar slash flight capacity
Two of Australia's biggest airlines announced on Tuesday they would be cutting international and domestic flight capacity by around 90% and 60% respectively
In a statement, Qantas and Jetstar said the changes were due to decreased travel demand because of COVID-19, and the decline in demand would be unlikely to rebound for weeks or possibly months.
"The Qantas Group is working to manage this impact as much as possible, including through the use of paid and unpaid leave," the company said in a statement.
Customers with existing bookings on any domestic or international flight until May 31 who no longer wish to travel can cancel their flights and get a credit voucher.