Payments app Beem It conducted a survey of 3,000 millennial Australians (those born in 1981 – 1996), and found money is at the top of their Christmas wishlist.
According to the survey, 46% (nearly half) admitted to only wanting money for Christmas and nothing else, well ahead of 32% saying they preferred regular physical presents.
Only 23% said they wanted experiences over cash or presents.
When it comes to spending that cash, the most popular option was to save it for later, with 37% saying they would prefer to keep it aside for a rainy day.
Other responses included:
Keeping it for social events (12%)
Putting it towards groceries or rent (18%)
Treating themselves on things like clothing or beauty items (34%)
While receiving the physical cash in person was the most preferred method (48%), 45% said they would prefer to receive it through an instant payment app while 7% want a regular old bank transfer.
Beem It has just released a new feature on its app allowing users to gift money to their loved ones, and CEO Angela Clark says more Australians are doing away with physical money in favour of digital transfers.
"With more Australians doing away with physical money and increasingly championing digital transfers, it's exciting for us to be able to launch this digital way to gift money in a fun, personalised way through the Beem It app," Ms Clark said.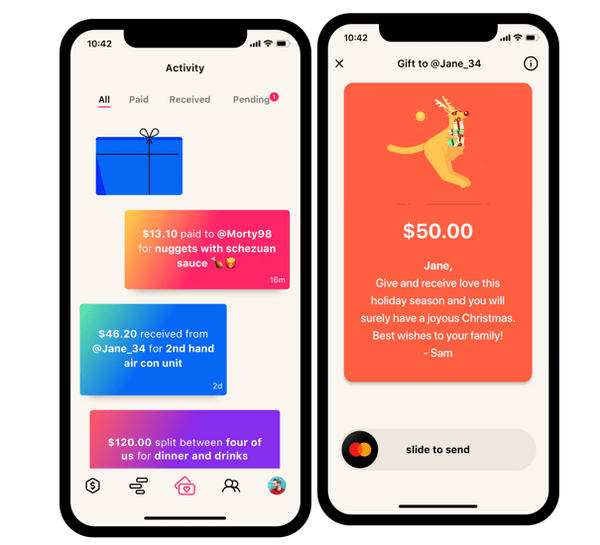 The new gifting feature on the Beem It app. Source: Beem It.
"With 27% of our survey respondents saying their grandparents usually gift them money for Christmas, we're looking forward to seeing if older demographics might also use an app like Beem It to replace the 'cash in Christmas card'.
"We've tested the app with some grandparents recently and then seemed to love it so we look forward to seeing if any millennials are surprised with a digital money gift this Christmas from a tech savvy grandparent."
A 'schedule' option exists within this new feature that allows users to send cash right on Christmas Day.