Mercer CFA Institute Global Pension Index Report has awarded Australia a B+, placing behind Iceland, Netherlands, Denmark, Isreal, and Norway.
The report also outlined key areas Australia can improve on to raise its score, with the gender pension gap the major talking point.
Senior Partner at Mercer and lead author of the study, Dr David Knox, said that Australia's issue with pension gender gap is common around the world.
"The causes of the gender pension gap are mixed and varied. Every country and region, including Australia, has employment-related, pension design and socio-cultural issues contributing to women being disadvantaged compared to men when it comes to retirement income," Dr Knox said.
CFA Institute Board of Governors and MCGPI Advisory Board member Maria Wilton reinforced Dr Knox's comments.
"Despite the Age Pension safety net, older women are at greater risk of homelessness and poverty. Specific measures need to be taken to level the gender playing field with respect to retirement outcomes will require a concerted effort by policymakers and industry stakeholders," Ms Wilton said.
The recent Retirement Income Review in Australia also reinforced this issue.
"Differences in retirement savings between men and women reflect the accumulated economic disadvantages faced by women in working life," the review said.
"On average, compared with men, women have lower wages, are more likely to work part-time, take more career breaks, and experience worse financial impacts from divorce.
"These factors contribute to the gender gap in superannuation balances at retirement.
"Income inequality between women and men is lower in retirement than in working life, particularly for lower and middle income earners. This is due to the age pension, which women are more likely to receive, and for longer, than men."
Across all men and women working full-time (excluding part-time and self-employed workers), the gender pay gap is 16.9%. Cameo modelling projects that this results in a 17.4% gender gap in superannuation balances at retirement.
Projected gaps between men and women
| | | | |
| --- | --- | --- | --- |
| | Working-life earnings gap | Superannuation balance at retirement gap | Average annual retirement income gap |
| Full-time workers | 16.9% | 17.4% | 8.4% |
| All workers (including part-time and casual) | 31.4% | 32.6% | 9.6% |
Source: Australian Government Treasury Retirement Income Review
The Mercer Global Pension Index also provided recommendations to tackle the problem, with eradicating inequality and increasing the base pension the main recommendations.
"There are two distinct but related problems in tackling the gender pension gap. The first desired outcome is to reduce, and preferably remove, poverty amongst the aged which is highest amongst women," the report said.
"To reduce severe poverty amongst the retired population, a minimum income is needed; namely a sufficient basic, guaranteed or minimum pension.
"Of course, a basic or minimum pension will not, in itself, remove the pension inequality between males and females. Indeed the OECD (2021) recognised that closing the gender pension gap poses a particular challenge given the close link to employment and income patterns.
"However, notwithstanding this difficulty, inaction is not appropriate."
National Seniors Australia chief advocate Ian Henschke has previously called on the government to introduce a universal basic pension, which he said would allay seniors' fears about spending in retirement.
Australia ranking among the three major categories: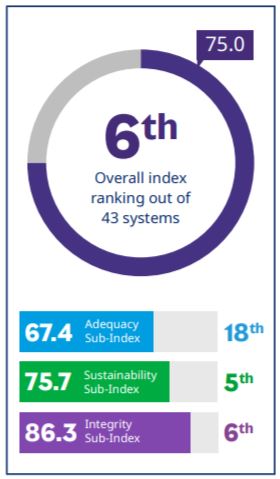 Source: 2021 Mercer CFA Institute Global Pension Index
---
Advertisement
Looking to take control of your retirement? This table below features SMSF loans with some of the most competitive interest rates on the market.
Lender

---

Variable

More details

FEATURED

Includes NOV RBA Rate Increase

loans.com.au – SMSF 70

Refinance only offer. No application fee and no settlement fee
No monthly, annual or ongoing fees
Access your SMSF loan via our easy-to-use online app Smart Money

loans.com.au – SMSF 70

Refinance only offer. No application fee and no settlement fee
No monthly, annual or ongoing fees
Access your SMSF loan via our easy-to-use online app Smart Money

Variable

More details

WLTH – Ocean SMSF 60 P&I ($50k - $2m)

Fully functioning offset.
Rapid Refinance available - receive approval in as little as 48hrs
50m2 of beach & coastline cleaned with every loan settled.

WLTH – Ocean SMSF 60 P&I ($50k - $2m)

Fully functioning offset.
Rapid Refinance available - receive approval in as little as 48hrs
50m2 of beach & coastline cleaned with every loan settled.

Variable

More details

Reduce Home Loans – Capitalizer SMSF 70 Metro

Variable

More details

La Trobe Financial – SMSF Residential

Variable

More details

Firstmac – SMSF 70 (Refinance Special)

Variable

More details

Liberty Financial – Liberty Residential SMSF (LVR < 80%)

Variable

More details

Yard – SMSF Loan (Principal and Interest) (LVR < 80%)

Variable

More details

WLTH – Ocean SMSF 80 P&I ($50k - $2m)

Fully functioning offset.
Rapid Refinance available - receive approval in as little as 48hrs
50m2 of beach & coastline cleaned with every loan settled.

WLTH – Ocean SMSF 80 P&I ($50k - $2m)

Fully functioning offset.
Rapid Refinance available - receive approval in as little as 48hrs
50m2 of beach & coastline cleaned with every loan settled.

Variable

More details

WLTH – Ocean SMSF 90 P&I ($50k - $1.5m)

Fully functioning offset.
Rapid Refinance available - receive approval in as little as 48hrs
50m2 of beach & coastline cleaned with every loan settled.

Variable

More details

FEATURED

Includes NOV RBA Rate Increase

loans.com.au – SMSF 80

Available for Purchase and Refinance
No application fee and no settlement fee
No monthly, annual or ongoing fees

loans.com.au – SMSF 80

Available for Purchase and Refinance
No application fee and no settlement fee
No monthly, annual or ongoing fees
Refinance only offer. No application fee and no settlement fee
No monthly, annual or ongoing fees
Access your SMSF loan via our easy-to-use online app Smart Money
Important Information and Comparison Rate Warning
---
Image by Elena Rabkina via Unsplash