Australian retail turnover fell 1.7% in August 2021, seasonally adjusted, according to figures released today by the Australian Bureau of Statistics (ABS).
This was the third consecutive monthly fall in turnover following falls of 2.7% in July 2021, and 1.8% in June 2021.
The fall was strongly impacted by continued lockdowns in Victoria, NSW and the ACT.
NSW fell 3.5% to its lowest level since April 2020, while Victoria fell 3.0% after lockdown began on August 5th.
The ACT's restrictions on non-essential retail workers led to a 19.9% fall.
ABS Director of Quarterly Economy Wide Surveys, Ben James, said that results from August directly linked to lockdowns.
"Retail turnover continues to be negatively impacted by lockdown restrictions, with each of the eastern mainland states experiencing falls in line with their respective level of restrictions," Mr James said.
"In direct contrast, states with no lockdowns performed well with Western Australia and South Australia enjoying strong rises as physical stores were open for trade."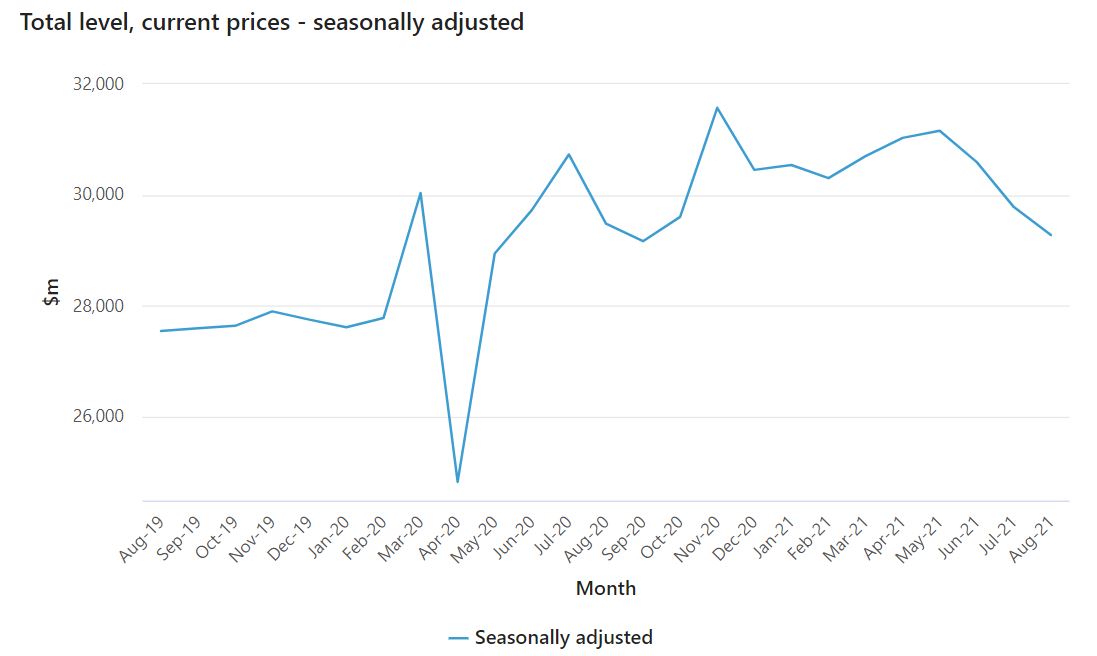 Source: ABS
With no lockdown restrictions in place for the month of August, retail turnover in South Australia rose 6.6%, bouncing back strongly from a lockdown in late July.
Western Australians continued to enjoy relatively few restrictions, with the state's retail sales rising by 2.8%.
Sales of discretionary goods, such as clothing and footwear (15.7%), sales at cafes and restaurants (7%) and from department stores (10.2%) dropped sharply.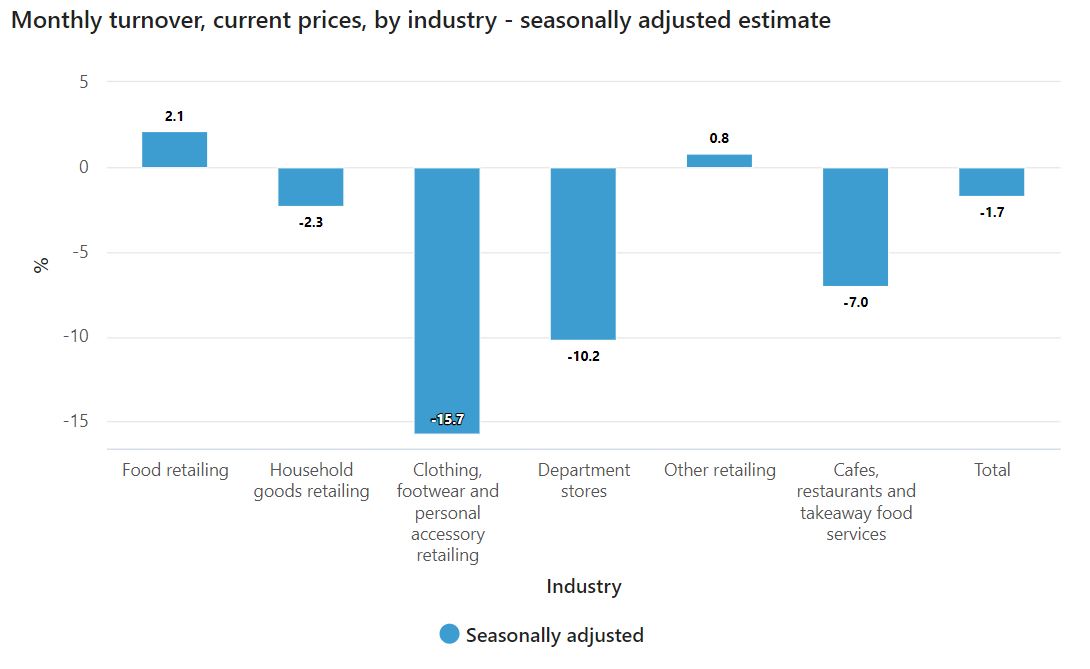 Source: ABS
A report from Barclays Australia predicts another fall in retail turnover in September, before bouncing back in October.
The report stated that lockdowns would continue to weigh on sales, with private consumption likely to drag third-quarter GDP into contraction.
"September sales are likely to continue to drop, as the impact from the lockdowns worsens with time," Barclays economists said.
"However, once the restrictions are eased, we expect a jump in retail sales, similar to the trend seen after Victoria reopened in October-November 2020.
"As salary-income growth remains slow despite the still-robust labour market, we think pent-up demand will see households dip into savings, which remain high."
---
Image by Verne Ho via Unsplash