A survey of more than 1,000 Aussie homeowners by ME Bank found 64% are improving their homes in the lead up to the holidays.
According to the survey results:
61% are making minor adjustments to fix broken things (such as a squeaky door)
52% are enhancing their garden or courtyard
42% are buying new furniture or furnishings
38% are enhancing the interior of their home (such as re-painting walls)
25% are enhancing their exterior (like replacing awnings)
18% are renovating a room (such as a bathroom)
4% are making other miscellaneous improvements
Why now?
According to ME's research, one driving motivation behind making improvements now is preparing for Christmas guests, with 31% of respondents making improvements admitting this.
Another 31% also said they simply like using Christmas as a self-imposed deadline, while 35% said the timing was purely a coincidence.
ME's Money Expert Matthew Read said the results are not surprising.
"Australians are house proud, so it's not surprising that many home owners are sprucing up their homes before the entertaining season," he said.
ME's survey found the budgets for these renovations ranged from a low of $200 to a high of $7,000, with the average spend reported to be $1,731.
Over half of respondents (61%) agreed that making home improvements before Christmas adds financial pressure to their holiday budgets.
The younger generations are feeling the pressure more too - 88% of 18–24-year old homeowners are feeling the financial pressure of renovating, compared to 44% over those over 55.
"Many younger Australians who break into the housing market will have larger mortgages than more established home owners, which could make them feel more stretched," Mr Read said.
"Making your home look nice before Christmas is understandable but it can add to the financial pressure of the holiday period.
"Budget before you build, because once started, a project in the lead up to Christmas will be difficult to stop, even when it's becoming much more expensive than you expected."
A September 2019 study from Houzz found baby boomers (ages 55-74) and Gen Xers (ages 40-54) combined to represent over three-quarters of renovation activity, at a median spend of $21,000 and $23,000 respectively.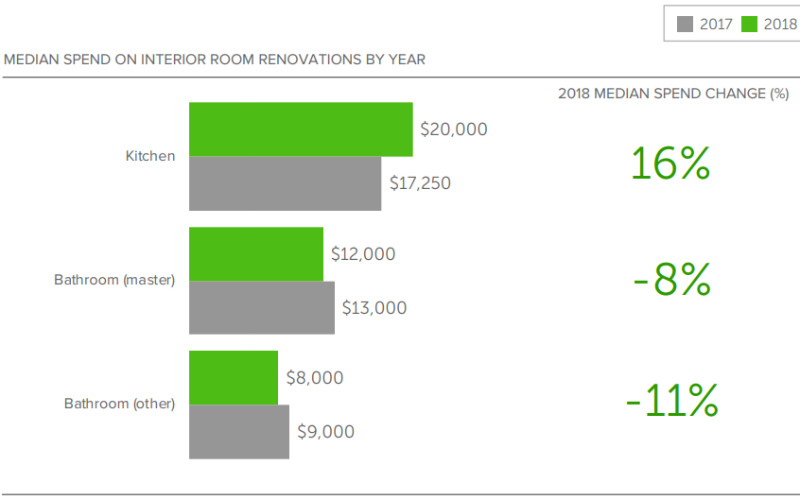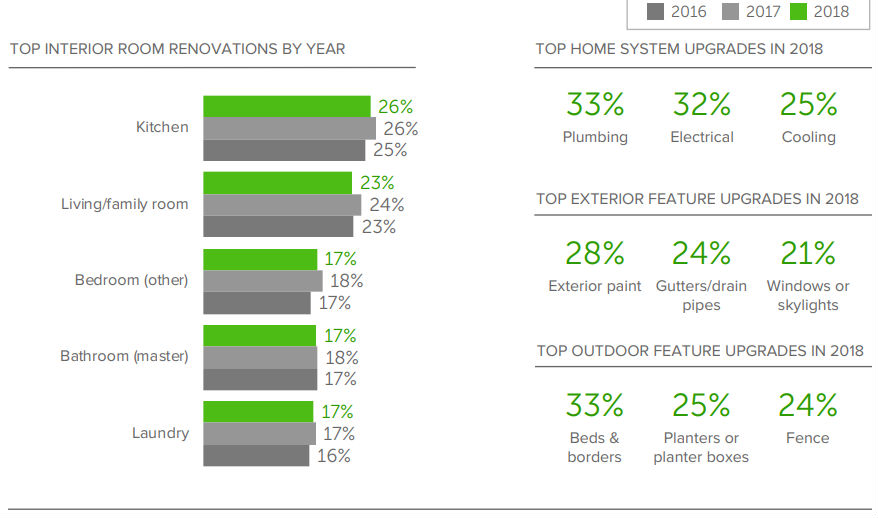 Source: Houzz
Good luck if you haven't already made arrangements
Given there's only two weeks until Christmas day, you might struggle to find a reputable tradesperson in time, at least according to renovation expert Cherie Barber, who spoke with Savings.com.au about the merits of hiring a tradie on such short notice.
"Typically in my experience, any good tradesperson will normally be booked out two months in advance of Christmas, so if you're booking any job past early November, you're gonna find it extremely difficult to get a good tradesperson in," Ms Barber said.
"People go on a crazy renovation frenzy before Christmas - it's a really active time for homeowners to be doing something to their properties and one of the busiest times for tradies is the lead up to Christmas.
"If you ring a tradesperson now, for example, fat chance getting a trade person out on site with a job, they'll say they're booked out until after Christmas."
If you do manage to find one in time, Ms Barber says there's a possibility the quality of the work might suffer
"If you do get somebody on short notice, you might be taking some sacrifices in quality of that work. People who are available straight away don't have as high a workmanship as tradies that are booked out a month or two or three in advance," Ms Barber said.
"You may be taking shortcuts in quality."
How to save on your Christmas renovations
In the words of Ms Barber, you can save money on these renovations by yourself, where possible.
"There's definitely some things homeowners should do themselves and some things they shouldn't be doing themselves. Things like electrical and plumbing are not negotiable - that's got to be done by licensed tradie," she said.
While structural changes need to be done by a professional in most cases, Ms Barber said the following cosmetic changes can be done yourself to save a few bucks, as well as making your house look nicer to visitors come Christmas day:
Painting walls (as long as it's under 35 degrees) can instantly freshen up a property
A powerwasher or a gurney can make concrete surfaces (like a porch or driveway) look brand new
Taking a day to your own gardening
"Most people take time off work over Christmas - this is definitely a great time to turn your attention to your home and spruce it up."
---
---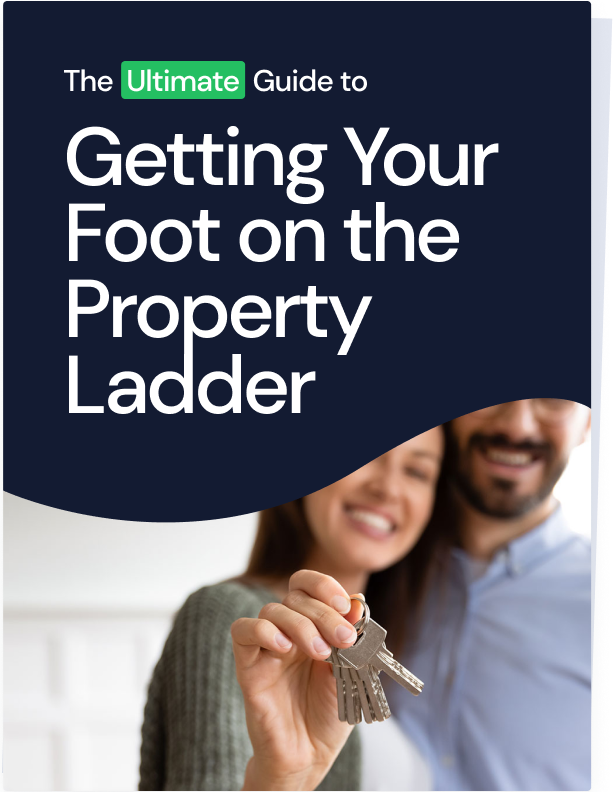 Ready, Set, Buy!

Learn everything you need to know about buying property – from choosing the right property and home loan, to the purchasing process, tips to save money and more!

With bonus Q&A sheet and Crossword!