The world's largest oil fields in Saudi Arabia were hit by a drone strike over the weekend, wiping out half of the country's oil production and 6% of the global supply.
This was confirmed by Saudi Arabian Oil Company (Aramco) Saturday evening Australian time.
"These attacks resulted in production suspension of 5.7 million barrels of crude oil per day," it said.
"Work is underway to restore production and a progress update will be provided in around 48 hours."
Saudi Arabia oil supply was attacked. There is reason to believe that we know the culprit, are locked and loaded depending on verification, but are waiting to hear from the Kingdom as to who they believe was the cause of this attack, and under what terms we would proceed!

— Donald J. Trump (@realDonaldTrump) September 15, 2019
As markets were closed over the weekend there was no immediate spike in oil prices, but US oil futures rose about 12% to $US61.20 shortly after trading opened.
Brent crude, the leading global price benchmark, rose 14% to $US68.36 per barrel.
US President Donald Trump said via Twitter he was authorising the release of oil from the Strategic Petroleum Reserve, something that should hopefully minimise the aftershocks of the attack.
Based on the attack on Saudi Arabia, which may have an impact on oil prices, I have authorized the release of oil from the Strategic Petroleum Reserve, if needed, in a to-be-determined amount....

— Donald J. Trump (@realDonaldTrump) September 15, 2019
And just to drive the point home:
PLENTY OF OIL!

— Donald J. Trump (@realDonaldTrump) September 15, 2019
How will this affect prices here?
NAB analysts predict the price of oil could hit $US80 to $90 per barrel over the next few months, but locally, Australian Energy Minister Angus Taylor said there is "no immediate threat to Australia's fuel supplies" and that there is no need for motorists to panic.
"The Government is working with our international partners to fully understand the impact of the incident in Saudi Arabia," Mr Taylor said.
"The International Energy Agency (IEA) has advised that global markets are well supplied with ample commercial stocks and are monitoring the situation. Australia is ready to work with IEA and member countries as needed."
CommSec chief economist Craig James meanwhile says there is a direct correlation between global oil prices and Australian petrol and diesel prices.
"Every US dollar per barrel increase in the price of oil is basically a cent at the Australian petrol bowser," he told ABC News.
"It takes around about two to three weeks for the [oil] price to come through to the bowser price.
"It may be the case that they're able to get back to [full] production quickly, which means it's not going to have any impact in terms of the Australian pump price."
So the oil price is back to the level it was in ... wait for it... July.
No one was having kittens then. It would be wise to go for a walk, take a chill pill and not fret too much that your cost of living will change by next to nothing

— Stephen Koukoulas (@TheKouk) September 16, 2019
Should you fill up now?
RACQ spokesperson Renee Smith said motorists should delay filling up their tanks for the time being.
"Looking at the Singapore prices we've seen today a 5 cent per litre increase in oil prices, and that will flow onto us in Southeast Queensland," Ms Smith told Savings.com.au.
"We're actually in the discounting phase of price cycles at the moment, so prices are actually falling about 2 cents per litre each day.
"So we don't want motorists to go out there and panic buy, they're better off holding."
What she expects will happen instead of prices skyrocketing is the bottom of the price cycle will just be higher than expected.
"Whereas we would expect them to be, say in the dollar twenties, we expect it to be more like the low dollar thirties when we get to the bottom of the cycle."
However this doesn't guarantee petrol stations won't hike their prices, and Ms Smith encouraged consumers to stay vigilant when filling up.
"Wherever motorists live, they should make sure that they're filling up at the cheaper service stations and we'll be keeping a close eye on the fuel companies to make sure they're not taking advantage of this situation and increasing prices any higher than is reasonable," she said.
"We urge the ACCC to do that as well."
According to the Australian Competition and Consumer Commission (ACCC), petrol prices reached a five-year high in August at 141.2 cents per litre.
The ACCC also found that prices were seven cents per litre higher than the average annual price the year before.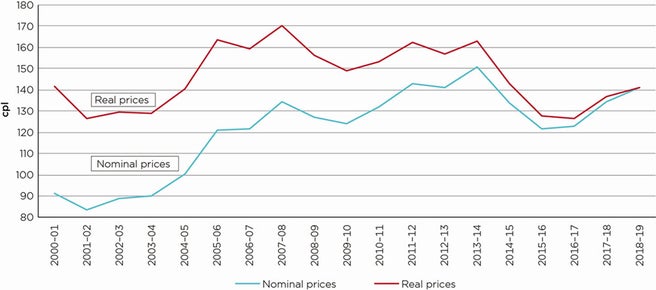 ---
---