It was the third consecutive month vacancy rates fell, with all cities now returning to pre-pandemic level vacancy rates, apart from Melbourne and Sydney.
Despite this, Melbourne was the main driver of the latest decline in the national vacancy rate, with the Victorian capital's vacancy rate falling to 3.0% in June, from 3.8% in May.
Melbourne continued to recover from its pandemic-induced jump in the number of vacant rentals, with estimated vacant rentals falling by a further 6.4% in June.
A 0.1% decline in vacancy rates in both Sydney and Adelaide also forced the national rate down, taking each city's rate to 2.6% and 0.5% respectively.
Domain Senior Research Analyst, Dr Nicola Powell, said the length of current lockdowns across the nation would have a big impact on the rental market.
"With many states recently recording cases of community transmission of COVID-19, the introduction of lockdowns and heightened restrictions will put a dent in confidence," Dr Powell said.
"If Melbourne's experience is a reference of what is likely to happen, vacant rental listings may increase in regions with a high proportion of people working in the hospitality and tourism sectors.
"Tenants who continue to suffer a significant reduction in hours may be forced to cut costs and move in with family or friends."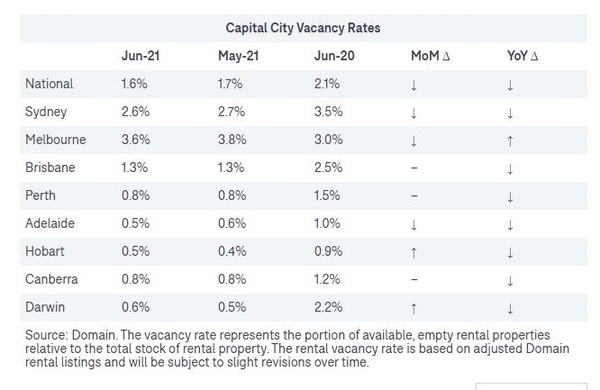 Brisbane and Adelaide vacancy rates were at their lowest level since Domain records began; Canberra remains at a multi-year low, and Perth and Darwin are close to their lowest-ever point.
Hobart and Darwin were the only capitals to record an increase in the vacancy rate, up 0.1% apiece, but Hobart remained the tightest rental market in the country.
"This could be perceived as a good sign for tenants as more vacant rentals hit the market," Dr Powell said.
"However, the vacancy rates still remain extremely tight and competitive, suggesting tenants will be finding securing a lease challenging, with some resorting to offering above asking rents."
The number of empty rentals in Sydney fell by 3.8% in June, as the vacancy rate fell 0.1% to 2.6%.
Suburbs with a large number of apartments led the charge, with Parramatta, Sydney Inner City, Strathfield-Burwood-Ashfield, Auburn, and Eastern Suburbs-South all recording substantial falls in estimated vacant rentals.
"This could reflect a shift of renters to areas that had seen more substantial declines in asking rents, the repopulation of our inner-city areas, or some investors opting to sell," Dr Powell said.
Melbourne's vacancy rate has fallen 1.8 percentage points in the last six months, with the areas recording the largest falls in rental listings around the inner city and around university campuses.
The largest declines were seen in Melbourne City, Monash, Stonnington West, Boroondara, and Yarra.
"Vacancy rates remain elevated in these areas, but it signals conditions are improving for landlords; tenants should utilise current conditions to negotiate while they can," Dr Powell said.
Photo by Chris Robert on Unsplash
---
---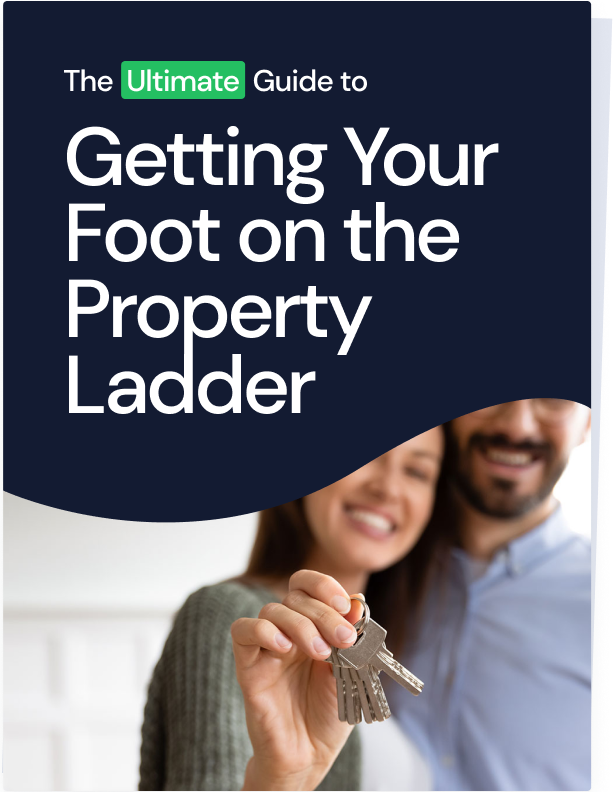 Ready, Set, Buy!

Learn everything you need to know about buying property – from choosing the right property and home loan, to the purchasing process, tips to save money and more!

With bonus Q&A sheet and Crossword!