Despite the fact a whopping 96% of Australian households are worried about their rising energy bill, only 15% believe their home is extremely energy efficient.
A further 20% of Aussies have a habit of leaving their air-con running when no one is home to keep the house cool, while 22% admitted to leaving windows open while running air-con.
Those are the findings from Mitsubishi Electric, which has today released its annual Australian Home Trends Report.
The survey of 1,063 Australians found while 69% of us believe air conditioners are the biggest contributor to high energy usage, many of us admit to forgetting to switch them off or leaving the windows open while they're running.
This could lead to a nasty surprise when your energy bill arrives.
According to figures by energyrating.gov.au, leaving a medium-sized air-con unit running all day can cost more than $10 a day, racking up a $300 energy bill each month. Over a hot summer season (3 months) that could lead to an unnecessary spend of nearly $1,000 on wasted electricity.
However, the survey results show Australians are making an effort to change their behaviours to reduce energy consumption or select products that are more energy-efficient.
Almost three quarters (74%) of Australians say they use a clothesline instead of a dryer to lower their energy bills, while 63% use cold rather than hot water to wash their clothes. Over half (64%) use energy-saving light bulbs, while 59% switch off electrical goods at the powerpoint.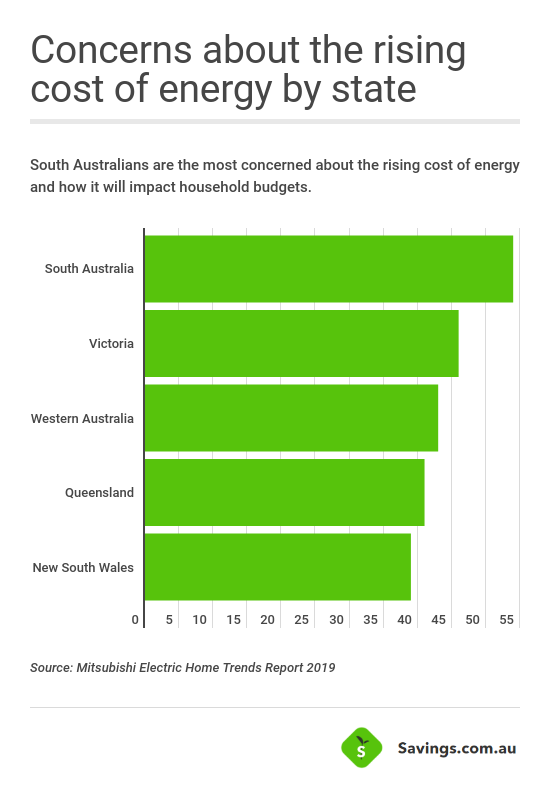 Jeremy Needham, Executive Director of Mitsubishi Electric Australia said it's encouraging to see consumers making a conscious effort to change their behaviours.
"Overall, the survey found that Australians are very conscious of their homes' eco-footprint and how much of the household budget is spent on energy bills. This insight is positive as it suggests that we, as consumers, possess the awareness needed to lead to improved behaviours," Mr Needham said.
He added that demand for energy-efficiency is only going to increase as consumers become more aware of the effect their energy consumption has on the environment.
"Since our last national study in 2018, Australian consumers continue to focus heavily on energy consumption. With our collective environmental consciousness becoming ever more socially important, attitudes towards energy efficiency and sustainability are stronger than ever before.
"Year on year we are seeing variations of new and emerging trends as generations change, new technologies and innovations take hold and society evolves."
Unsurprisingly, the younger generation is the most open to new, energy-efficient technology. Only a third (33%) of Baby Boomers said they would look at installing smart appliances into their homes within the next 12 months, compared with over half (52%) of millennials.
Currently, less than half (42%) of us have smart products connected: smart lights (21%), smart air conditioners (19%), and smart washing machines (19%).
Most consumers surveyed said they are more invested in energy efficiency over automation, but said LED lighting (61%) and sophisticated insulation (53%) would contribute most to an energy-efficient home of the future.