Much speculation has been made about the potential impact of JobKeeper's official expiry on 28 March (this Sunday), but now there is a strong estimate from the Treasury itself.
Speaking at a Senate Estimates hearing on Wednesday, Secretary to the Treasury Dr Steven Kennedy said the conclusion of one of the largest fiscal support program's in Australia's history could cost between 100,000 and 150,000 jobs.
However, he also said there is "a wide band of uncertainty" around this estimate, which is similar to the predictions made by the likes of Commbank (110,000 jobs) and at least 125,000 by labour market economist Jeff Borland,
"This does not mean that there will be a commensurate increase in unemployment, Dr Kennedy said.
"It is important to consider labour market disruptions at the end of JobKeeper in the context of the normal flows into and out of employment."
Dr Kennedy explained that the flow of people out of JobKeeper is "within the normal flows of employment that we regularly observe".
"In a given month during the years leading up to the pandemic, around 400,000 people moved into and out of employment, with a small net increase on average. Most of the people moving out of employment tend to leave the labour force altogether, rather than become unemployed," he said.
"In summary, JobKeeper has played a crucial role in supporting the economy and driving the recovery. In our view it is appropriate for the program to end as other support measures take effect and to allow the economy to continue adjusting."
Australia's most recent recovery figures show a 3.1% GDP increase last quarter and a fall in the unemployment rate to 5.8%.
The underemployment rate (8.5%) sits at around its pre-COVID level again, while there has been a 94% recovery in the fall in hours worked over the pandemic.
There are still around 1.1 million people on the JobKeeper payment, although this is a much lower amount than the 3.8 million peak seen last year.
"Our view is that the adjustment away from JobKeeper will be manageable, and that employment will continue to increase over the course of this year, although the unemployment rate could rise a little over coming months before resuming its downward trajectory," Dr Kennedy concluded.
"In the years ahead we will further evaluate the program to ensure governments can benefit from these learnings."
Related: Healthcare and social workers have best job prospects over next 5 years
Decision to end JobKeeper "staggering"
Chief economist of the Australia Institute Dr Richard Dennis said removing JobKeeper after these job loss estimates were revealed is not a 'bump' to unemployment, but a shoulder charge.
"It is staggering to believe the Government would even consider implementing a policy change that would cost up to 150,000 people their jobs, especially in the middle of a recession," Dr Dennis said.
"There is no doubt that a big boost in government spending last year helped prop up the economy and keep unemployment down, and Treasury's advice today makes clear big cuts in government spending will drive economic growth down and unemployment up.
"For a government that says it's all about 'jobs, jobs, jobs' it is inconceivable they would pursue such a policy."
The Australia Institute's analysis shows the fall in unemployment since the peak in 2020 (202,700) would almost be wiped out by these new job losses.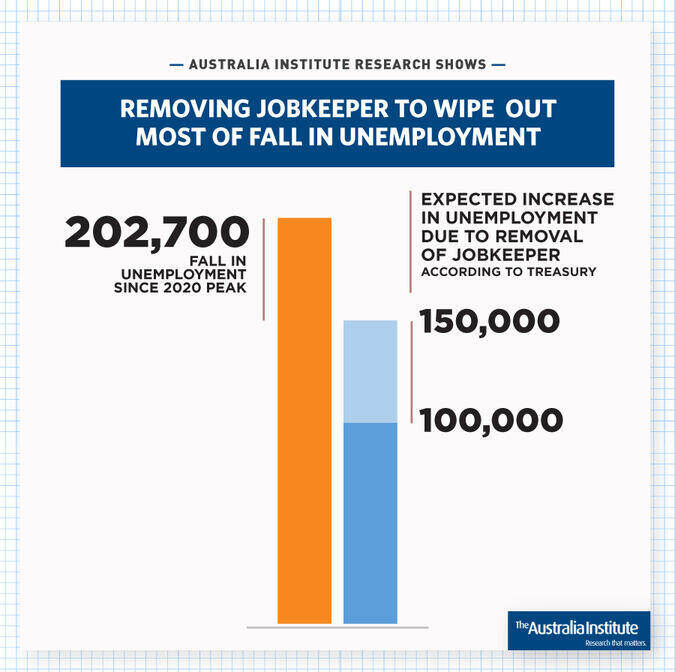 Source: The Australia Institute (Twitter)
Shadow Treasurer Jim Chalmers meanwhile was also critical of the decision, and criticised the decision by the government to end the scheme while allowing profitable companies to keep their JobKeeper income and even use it to pay for executive bonuses.
"If they hadn't wasted hundreds of millions on companies which didn't need JobKeeper, there'd be room to support those which still do," Dr Chalmers said on Twitter.
BREAKING: Treasury expects 100,000 - 150,000 Australians will lose their jobs after Morrison & Frydenberg cut #JobKeeper this weekend. If they hadn't wasted hundreds of millions on companies which didn't need JobKeeper, there'd be room to support those which still do. #auspol pic.twitter.com/f6dkU7JOSD

— Jim Chalmers MP (@JEChalmers) March 23, 2021
Image source: Treasury