This change will be rolled out to more than 1,700 Armaguard 'atmx' cash points in the coming weeks, including more than 500 regional, rural and remote locations.
Westpac personal and business transaction customers as well subsidiaries including St.George, BankSA and Bank of Melbourne are all eligible to receive fee-free access.
Westpac Chief Executive Consumer and Business Banking Chris de Bruin noted the new partnership builds on Westpac's strategy to offer customers more ways to do their banking.
"While the way Australians are banking is changing, access to cash remains important for some consumers," Mr de Bruin said.
"Through our agreement with Armaguard, we're providing a significant increase in the number of locations where our customers can withdraw cash fee free and check their balances to help them stay in control of their spending, including in locations where we do not have a physical presence."
Westpac's agreement with Armaguard sees the bank now offer the largest combined fleet of fee-free ATMs across Australia's four major banks at 7,000 locations nationwide.
This comes as RBA March data revealed Aussies continue to withdraw higher denomination banknotes as a precaution or store of wealth, as well as macroeconomic factors.
While ATM withdrawal numbers are generally at historic lows, the average value of withdrawals has risen sharply since Covid, as seen in the graph below.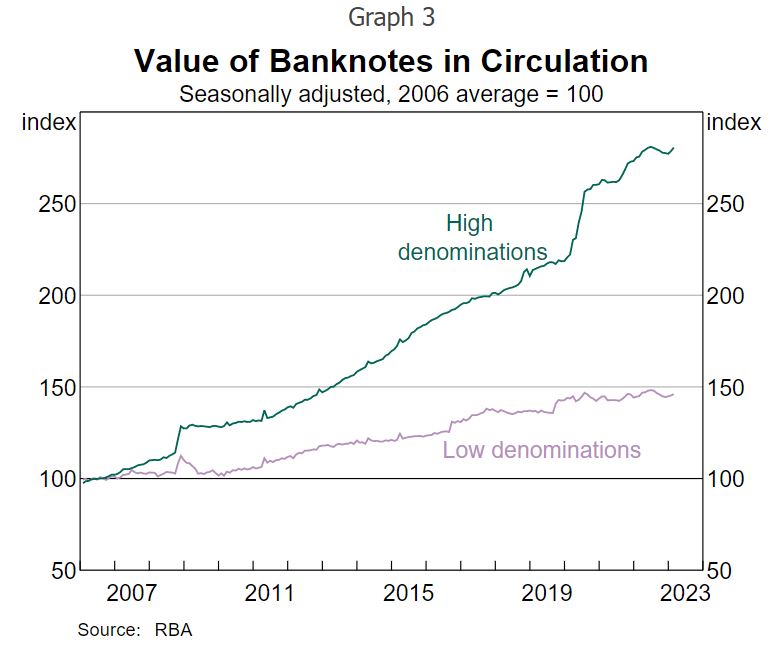 Where can Westpac customers make fee-free cash withdrawals and balance enquiries?
Westpac Group personal and business transaction account customers can make fee free cash withdrawals and balance enquiries in Australia at the following ATM locations:
On-site Westpac, St.George, BankSA and Bank of Melbourne bank ATMs.

atmx branded ATMs.

Precinct branded ATMs.

Any CBA, NAB or ANZ ATM.



---
Advertisement
Need somewhere to store cash and earn interest? The table below features savings accounts with some of the highest interest rates on the market.
Provider

---

4

0

0

0

$product[$field["value"]]

$product[$field["value"]]

$product[$field["value"]]

More details

FEATURED

High Interest Savings Account (< $250k)

Bonus rate for the first 4 months from account opening
No account keeping fees
No minimum balance

0

2000

0

$product[$field["value"]]

$product[$field["value"]]

$product[$field["value"]]

More details

HomeME Savings Account ($0 - $100,000)

0

200

1

$product[$field["value"]]

$product[$field["value"]]

$product[$field["value"]]

More details

1000

0

$product[$field["value"]]

$product[$field["value"]]

$product[$field["value"]]

More details

0

1000

0

$product[$field["value"]]

$product[$field["value"]]

$product[$field["value"]]

More details

For customers aged 14-35 years

Future Saver Account ( < $50k)

0

1000

0

$product[$field["value"]]

$product[$field["value"]]

$product[$field["value"]]

More details

FEATURED

Savings Maximiser (<$100k)

Deposit at least $1,000 + each month from an external source
Make 5 or more eligible transactions
Grow your savings balance each month

Savings Maximiser (<$100k)

Deposit at least $1,000 + each month from an external source
Make 5 or more eligible transactions
Grow your savings balance each month

4

0

0

0

$product[$field["value"]]

$product[$field["value"]]

$product[$field["value"]]

More details

Savings Account (Amounts < $250k)

A high-interest online savings account with no monthly fees, easy withdrawals and award-winning digital banking
A great base interest rate of 4.75%

Savings Account (Amounts < $250k)

A high-interest online savings account with no monthly fees, easy withdrawals and award-winning digital banking
A great base interest rate of 4.75%

0

500

1

$product[$field["value"]]

$product[$field["value"]]

$product[$field["value"]]

More details

Goal Saver

Maximum Age - 24
$0 monthly account fee
Earn bonus interest

Goal Saver

Maximum Age - 24
$0 monthly account fee
Earn bonus interest

0

200

0

$product[$field["value"]]

$product[$field["value"]]

$product[$field["value"]]

More details

No monthly fees

Save Account

Download the App to open your account
Get better visibility of your spending within App!
Deposit $200 per month to activate bonus interest

Save Account

Download the App to open your account
Get better visibility of your spending within App!
Deposit $200 per month to activate bonus interest
Important Information and Comparison Rate Warning
Image by Linfox via Armaguard