Continuing a downward trend for 2022, the Westpac-Melbourne Institute Consumer Confidence Index fell for the fourth-consecutive month to reach 95.8.
The 0.9% drop from 96.6 recorded in March marks the lowest point in the index since September 2020.
A score over 100 generally implies Australian consumers remain confident about the economy and the outlook on their finances.
Westpac Chief Economist Bill Evans said the modest decline may have been positively moderated by the Federal Budget, further strength in the labour market and a significant fall in petrol prices.
"Last month's detail pointed to geopolitics, floods, inflation, and interest rates as the key explanations for the sharp fall in the Index," Mr Evans said.
"There is further evidence that interest rates, inflation and weather continued to unnerve consumers in the current survey."
With all major banks now forecasting a June RBA rate hike Mr Evans noted confidence amongst respondents with a mortgage fell by 9.2% in April.
"Notably, the prospect of interest rate rises may have buoyed sentiment across some sub-groups that stand to benefit," he said.
"Confidence posted significant gains amongst those aged over 65, increasing 7%, and amongst freehold homeowners, increasing 5.5%.
"These are segments without large mortgage debts that are also more likely to depend on interest incomes."
With inflation continuing to loom large, the 'time to buy a major household item' index continued its fall, decreasing 5.3% from March.
This index is now 22% below its long-term average and has fallen by 10.7% in the last six months, driven by the rising price of goods.
Further, the 'finances compared to a year ago' sub-index showed the most significant weakening, down 4.8% in the month to 79.3, well below the long run average of 89 and the weakest read since the pandemic.
The Westpac-Melbourne Institute Consumer Confidence Index noted high prices, rising fixed mortgage rates and the expectation of rises in variable mortgage rates continue to weigh on affordability and confidence in the housing sector.
The 'time to buy a dwelling' index nudged 0.5% higher but was coming off a 14-year low in the previous month and around 40% below its most recent peak in November 2020.
"Most consumers still expect [house] prices to rise over the next 12 months but the view is becoming less widespread," Mr Evans said.
CoreLogic's research director Tim Lawless said that while the monthly rate of growth was up in some cities and regions, there is mounting evidence that housing growth rates are losing momentum.
"Virtually every capital city and major rest-of-state region has moved through a peak in the trend rate of growth some time last year or earlier this year," Mr Lawless said.
Young Aussies still reeling from financial impacts of COVID
New research from ANZ revealed Generation Z is taking longer to recover from the financial impacts of COVID than all other age groups.
The quarterly ANZ Roy Morgan Financial Wellbeing Indicator found young Australians were the hardest hit by the pandemic, due to almost one-quarter (23.4%) employed in industries including hospitality and retail that were heavily impacted by lockdowns.
The ANZ Roy Morgan Financial Wellbeing Indicator is based on a Roy Morgan Single Source survey of approximately 65,000 Australians, assessing financial behaviours and the psychological, social and economic factors that contribute to financial wellbeing.
The data revealed the lack of recovery in financial wellbeing amongst Gen Z Aussies is evident in their current financial attitudes with younger Australians showing greater financial caution based on their experiences during the pandemic.
Gen Z Aussies were also less likely to feel financially stable and less confident about managing their finances than other respondents, despite all other age groups recording increases in financial wellbeing between March and December 2021.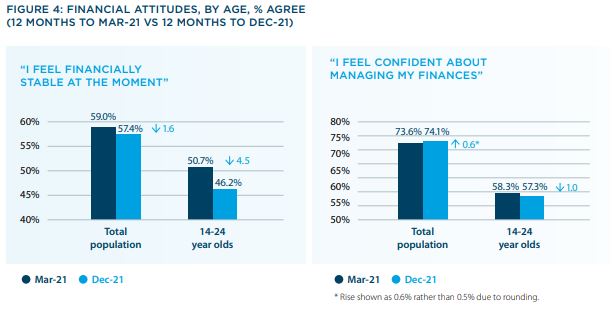 Source: ANZ Roy Morgan Financial Wellbeing Indicator Report - April 2022
ANZ Social Impact Research & Reporting Lead Natalie Paine said there are many reasons younger Australians are taking longer to recover financially from the pandemic.
"Many have lost confidence in managing their money and are more likely to say they would have difficulty coping with a demanding job, compared to the general population," Ms Paine said.
The 2021 ANZ Financial Wellbeing Survey published in December, highlighted physical and mental health had the largest socioeconomic influence on financial wellbeing for those aged 14-24, over individual saving and spending behaviours.
See Also: Bank of Queensland launches 2% savings account for Gen Z, Millennials
Image by Yan Krukov via Pexels