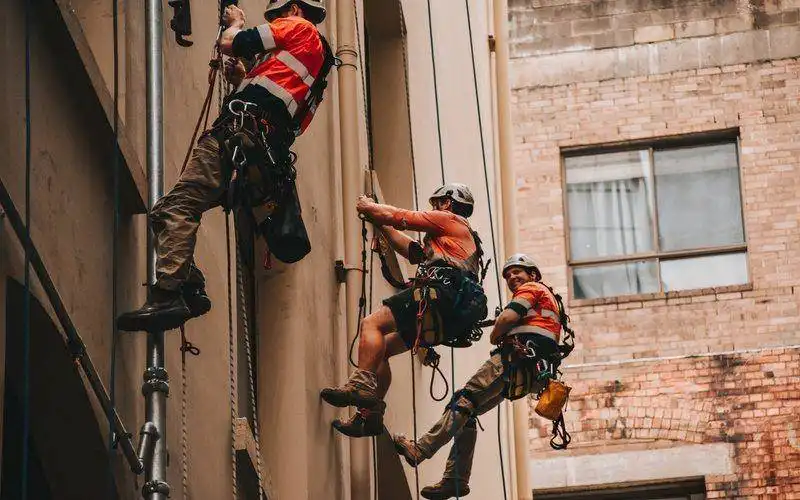 Photo by Dean Bennett on Unsplash
Australia's unemployment rate increased in May to 7.1% from 6.4% in April, seasonally adjusted.
The Australian Bureau of Statistics (ABS) figures are well above the market prediction of a rise to 6.9%, with 227,000 people losing their job between April and May.
ABS Chief Economist Bjorn Davis said more than 800,000 people had lost their jobs since the start of the pandemic.
"The drop in employment, of close to a quarter of a million people, added to the 600,000 in April, brings the total fall to 835,000 people since March," Mr Davis said.
"In two months, the percentage of people aged 15 and over employed in Australia decreased from around 62.5% to around 58.7%."
Need somewhere to store cash and earn interest? The table below features introductory savings accounts with some of the highest interest rates on the market.
Lender

---

4

0

0

0

$product[$field["value"]]

$product[$field["value"]]

$product[$field["value"]]

More details

FEATURED

Online Saver (Amounts < $499999)

0

200

0

$product[$field["value"]]

$product[$field["value"]]

$product[$field["value"]]

More details

PremiumSaver (Amounts < $250k)

3

0

0

0

$product[$field["value"]]

$product[$field["value"]]

$product[$field["value"]]

More details

0

10

0

$product[$field["value"]]

$product[$field["value"]]

$product[$field["value"]]

More details

4

0

0

1

$product[$field["value"]]

$product[$field["value"]]

$product[$field["value"]]

More details

WebSavings Account (New Customer) ($2,000+)
Rates based on a savings balance of $10,000. Sorted by total interest rate. Refer to providers' websites for bonus rate conditions. Note that the base rate will apply once the introductory term has passed. Rates correct as of June 25, 2022. View disclaimer.
The unemployment rate would have seen a far larger increase if it hadn't been for a larger than normal amount of people leaving the labour force, as was the case in April.
This was reflected in a further fall in the participation rate, down 0.7 percentage points to 62.9%.
This is the lowest participation rate in almost 20 years, with the rate not dropping below 63% since January 2001.
Prime Minister Scott Morrison said as dismal as the figures were, they were expected.
"As heartbreaking as all of these stories are that are represented in these numbers, the sad truth is these numbers are not surprising in these circumstances," Mr Morrison said.
"Our expectations, the Treasurer and I, together with our government, is getting these Australians back into work, to getting business doors open, to continue to give Australians the hope and confidence of the road back that we are charting together, as a government, together with other governments around the country."
Treasurer Josh Frydenberg labelled the figures as devastating.
"In the last two months, over 835,000 jobs have been lost," Mr Frydenberg said.
"These are not just numbers. These are our friends, family members, workmates and neighbours."
Monthly changes in key populations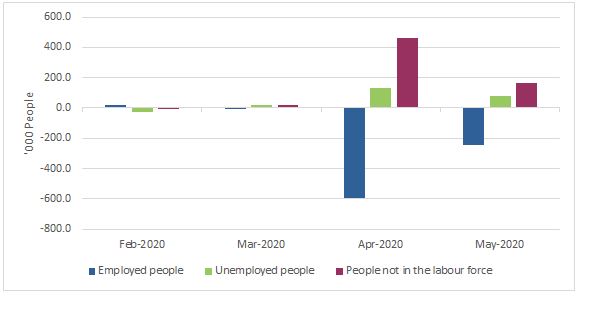 Source: ABS.
Monthly hours worked fell 0.7% in May, to be down 10.2% since March.
"The ABS estimates that a combined group of around 2.3 million people - around 1 in 5 employed people - were affected by either job loss between April and May or had less hours than usual for economic reasons in May," Mr Jarvis said.
IFM economist Alex Joiner wrote on Twitter if the participation rate was still at its January high, unemployment would currently sit at 11.6%
The participation rate is down 3.2pp since January & sits at 62.85% a low last seen in late 2000. If the PR had stayed at January's high of 66.1% the unemployment rate would sit at 11.6% - arguably a truer reflection of the labour market dislocation currently occurring #ausbiz https://t.co/m926w71yxR

— Alex Joiner (@IFM_Economist) June 18, 2020
The underemployment rate decreased by 0.7 percentage points in May, to 13.1%, but remained 4.3 points above March's underemployment level.

The underutilisation rate, which combines the unemployment and underemployment rates, rose to a new record high of 20.2%.

"Women continued to be more adversely affected by the labour market deterioration than men," Mr Jarvis said.
"Younger workers have also been particularly impacted."
In May all states and territories recorded decreases in employment.
The largest decreases in employment were recorded in Victoria (down 70,800 people), New South Wales (down 43,900 people), Western Australia (down 30,200 people), and Queensland (down 28,100 people).
Despite the abysmal figures, Mr Morrison said the government was committed to reviewing the JobKeeper and JobSeeker schemes in July.
"We put our supports in place, income support, Jobkeeper and Jobseeker, and we put that in for six months so we would have that time to properly move for the next step, to change gears again, because anyone can tell you they know exactly what is going to happen in September, in this COVID-19 crisis, is having a loan of you," he said.
Westpac economist Justin Smirk said although the figures were worst than expected, the worst may now have passed.
"Looking forward it appears we may be past the worst for job losses and while it is unlikely we will see a significant improvement in employment any time soon, without a rise in participation it will be hard to get the unemployment rate as high as 8% in June," Mr Smirk said.
---
Latest Articles