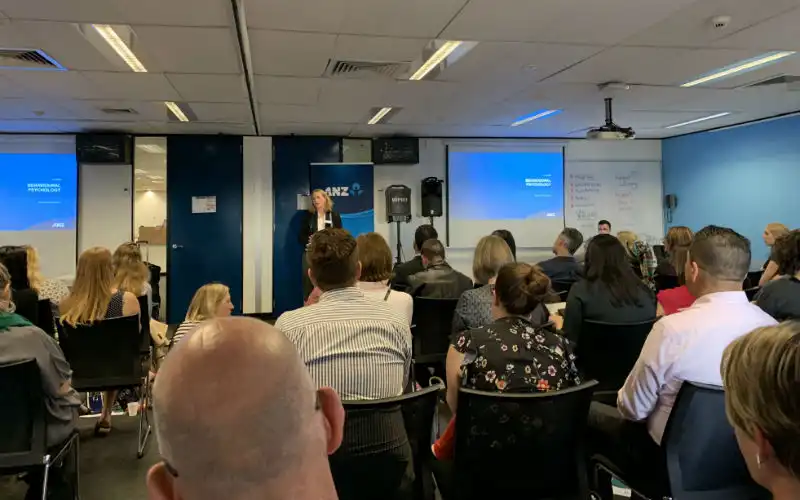 Photo source: ANZ
The long-running, ANZ-part-funded program Saver Plus offers up to $500 in matched savings to those who are perhaps struggling to save money on a regular basis.
Saver Plus is a free 10-month savings program run by a number of institutions, most notably ANZ and the Brotherhood of St Laurence, and supported by the Australian Government.
The longest-running matched-savings program in the world, the Saver Plus program has attracted more than 40,000 participants who've saved more than $23 million since its inception in 2003.
The program provides financial education, budgeting and savings tips to people looking to meet a savings goal.
The vast majority of participants in the Saver Plus program are those who are struggling financially, and according to the Brotherhood of St Laurence's Senior Manager of Financial Inclusion Claire Lindsay-Johns, programs such as Savers Plus that encourage regular savings lead to better outcomes in people's lives.
"One of the key impacts of Saver Plus is that it leads to a range of secondary outcomes for participants, such as: increased confidence and motivation to achieve goals; reduced stress levels; expanded social networks; enhanced education experiences; and increased employment opportunities," Ms Lindsay Johns told Savings.com.au.
"We know that 87% of people are saving the same amount or more three-seven years after they complete Saver Plus while 78% of people were better able to make ends meet."
RMIT University surveyed a sample of the program's participants enrolled from 2009 to 2016, finding that:
80% felt Saver Plus helped them gain more control of their finances
86% now shopped around more when buying products and services after participating in Saver plus
59% changed bank accounts to better suit their needs after completing the program
100% experienced increases in life, financial and employment satisfaction after Saver Plus
To qualify, participants have to open an ANZ Progress Saver account and make regular deposits while completing the eight-step Money Minded financial education program.
If a goal is reached at the end of the 10 months, participants receive up to $500 from ANZ in matched savings for education costs for their children or for themselves.
Lender

---

0

0

0

$product[$field["value"]]

$product[$field["value"]]

$product[$field["value"]]

More details

0

10

10

$product[$field["value"]]

$product[$field["value"]]

$product[$field["value"]]

More details

0

1

0

$product[$field["value"]]

$product[$field["value"]]

$product[$field["value"]]

More details

5

0

0

0

$product[$field["value"]]

$product[$field["value"]]

$product[$field["value"]]

More details
Rates based on a savings balance of $10,000. Introductory bonus interest rate products not included. Sorted by total interest rates. Refer to providers' websites for bonus rate conditions. Rates correct as of June 30, 2022. View disclaimer.
But how does the program help?
The Saver Plus program itself isn't particularly revolutionary – according to ANZ's Head of Financial inclusion Michelle Commandeur, it helps people by encouraging active saving and learning resilience in the face of adversity.
"Concerns about money can vary significantly, and there are many reasons why people might be struggling from time to time. Having confidence and resilience through those times is really important," Ms Commdnauer told Savings.com.au.
"We have learned through our research that Financial Wellbeing is not all about knowledge and information (financial literacy), or even income!
"We can significantly improve our financial wellbeing through key behaviours like active saving and not borrowing for everyday expenses."
According to Ms Commandeur, Saver Plus seeks to support the development of these key behaviours, particularly towards building a savings buffer.
"Of course, having the capacity to save in the first place is really important," she said.
"That can be a real barrier for many people, but there are many whom, with a little bit of the right support, can achieve their savings goals, build a buffer and maintain a savings habit for life."
The Saver Plus savings tips
Most of the advice parroted in the media is centred around things like 'cut out daily coffees' which may not be all that useful to someone who's struggling financially, as there's a good chance they already forgo such things.
According to Ms Lindsay-Johns, cutting out coffee might be one way of saving money, but for the kind of people they talk to in their programs, the best approach is to review your spending as a whole and understand where the money is going.
"Savings tips and budgeting can seem overwhelming but it doesn't have to be," she told Savings.com.au.
"Small changes do really add up in this instance!"
Here are her six tips on sticking to a savings goal for people who are struggling:
Start small
"Track and review your spending and identify any 'spending leaks' – i.e. what are small savings you can make each day /week/month to free up a small amount of money that can be redirected to savings."
"This might be buying a coffee or two less per week, cooking dinner instead of having takeaway, shopping on days that shops have their specials available, buying and cook and freeze meals in bulk."
Pay down high-interest debts first
"Pay down high-interest debt such as credit cards and shop around for better deals on utilities and other services you use."
The strategy of paying off the debts with the highest interest rate first is known as the avalanche strategy.
Another useful strategy – the snowball method – involves paying off the smallest debts first to help build momentum.
Put a budget in place
"There are many apps and great tools that can help you. Have a look at ASIC's moneysmart.com.au."
Some of Australia's most popular budgeting and savings apps include the likes of Pocketbook, Frollo, Moneytree and Raiz, which is also a micro-investing app.
Set small, specific and achievable goals
"Start with something small and keep reassessing those goals as you achieve them!"
Do the eight activities at moneyminded.com.au
"These will help you learn easy and practical strategies to manage your money including budgeting, debt reduction and saving for the future."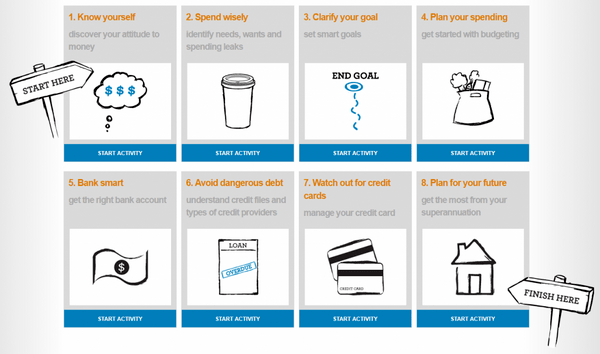 MoneyMinded is ANZ's financial literacy program. Source: moneyminded.com.au.
Get help
"There are lots of organisations out there who can assist depending on what you need assistance with."
"These include community legal centres and financial counsellors through to programs such as MoneyMinded, Saver Plus, NILS and Step Up."
---
Latest Articles