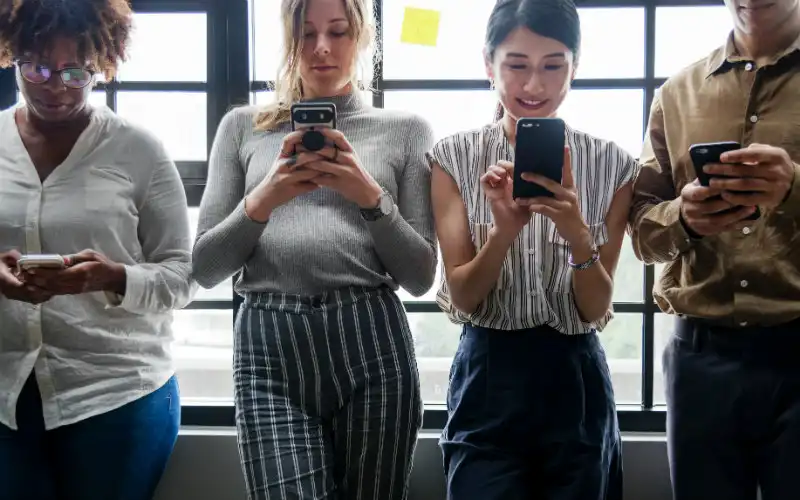 Here is Savings.com.au's list of some of the most popular budgeting and savings apps available right now.
There are many ways you can save, like getting a lower rate on your home loan, going for a used car over a new one, cutting down on credit card interest and more. It sounds simple enough, but in reality, actually identifying what your problems are and finding practical ways to improve them can be challenging.
Back in the day, people would pour through receipts on a Sunday night and write all their expenditure down. With the rise of personal computers, digital spreadsheets then became the go-to, until now.
As smartphones fuse themselves into our palms, thousands of personal finance apps continue to spawn, including a large number of budgeting and saving apps which many people now use for their personal fiscal management.
So if you want to finally put your phone to good use instead of aimlessly scrolling through Facebook at work (don't kid yourself), here are, in no particular order, some of the most popular budgeting and savings apps available to Australians.
Spending tracker apps
Expense tracking apps are all the rage at the moment, with people downloading them by the tens of thousands. Each of these apps offer various levels of functionality, either syncing with your bank accounts or requiring a slightly more manual approach, but their end goal is the same: to give you a categorical breakdown of your monthly spending so you can decide how and where to make cutbacks.
1. Raiz
Availability: iOS and Google Play.
Formerly known as 'Acorns Australia', Raiz is a micro-investing app that allows users to invest in a portfolio of ETFs (exchange-traded funds) through spare change 'roundups', recurring investments, rewards and lump sum deposits.
Although it's primarily an investment app, it also has features that are helpful for saving. Not only can you utilise the micro-investing or recurring deposit features as a tool to save via investments, but it also has a free 'My Finance' feature within the app that provides personalised insights into your spending. This feature can categorise your spending into things like food or utilities and breaks it down on a month-to-month basis.
The investment platform of Raiz might come with fees ($2.50/month for accounts under $10,000 and 0.275% per year for accounts $10,000 or more) but it costs nothing to simply use the savings feature.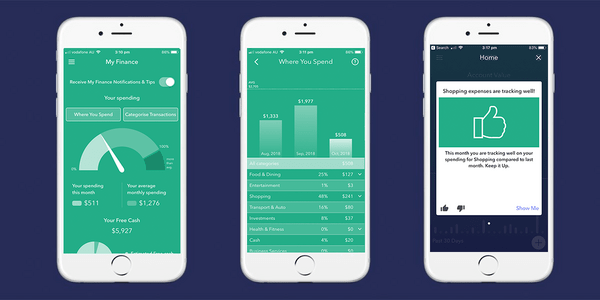 With more than a million downloads across all of Australia, Raiz is one of the more popular budgeting and savings apps out there.
Key features of Raiz:
Roundup technology, allowing you to either save or invest every time you spend through your linked transaction account/s.
Lump-sum and recurring investment options, easily allowing you to invest more money at the touch of a button
Your money can be invested in one of six diversified ETF (exchange-traded fund) portfolios.
Cashback options are available after spending money with linked brands
Personalised insights into your spending, including categorisation
Savings tips sent via push notification, based on machine learning that can also predict your future spending
A chatbot is available for you to ask questions like "how much did I save last month?"
Bank-level security to protect your information and money
2. Pocketbook
Availability: iOS and Google Play.
Pocketbook syncs with your bank account (as long as you give it permission to do so), listing every spend you make and sorting it into categories. The sort function isn't perfect and you might end up with a few 'unclassified' spends, but you can easily go into the app and allocate these purchases to categories yourself, and it will then allocate every similar transaction accordingly.
With your daily spending sorted into categories, you can easily see where most of your money goes, and what you might need to cut back on. With over 350,000 downloads and a 4.3 rating from the Apple App Store, this app has proven extremely popular with Aussie savers.
Key features of Pocketbook:
Sync to Australian bank accounts
Automatic categorisation for more than 80% of all transactions
An easy to use interface with weekly, monthly and six-monthly overviews
Views of your recent transactions, incomes and upcoming bills
The ability to set safety spend limits
Push notifications for when you spend too much or get too close to your limits
Bank-level security and encryption
Source: getpocketbook.
3. MoneyBrilliant
Availability: iOS and Google Play.
MoneyBrilliant is a very similar app to Pocketbook – it connects to more than 200 financial institutions in Australia and syncs your spending to categories. What it also offers that Pocketbook doesn't is that it syncs ALL your money, including superannuation and investment portfolios. MoneyBrilliant also has a tax deductions function, finding potentially tax-deductible expenses based on your occupation.
Unlike Pocketbook however, MoneyBrilliant is not free – it costs $9.90 per month after a 30-day trial period. But this hasn't stopped it being downloaded more than 50,000 times from Google Play and earning a 4.5-star rating on the Apple App Store from more than 3,000 reviews.
Key features of MoneyBrilliant:
Sync to Australian bank accounts – including superannuation and investments
Automatic categorisation for transactions
Automatically finding the cheapest gas and electricity deals based on your usage data
Set savings goals, budgets and track progress
Track tax-deductible expenses
Push notifications and personal insights
Bank-level security and encryption
Source: MoneyBrilliant.
4. Frollo
Availability: iOS and Google Play.
Frollo is also very similar to MoneyBrilliant and Pocketbook, yet is newer and not quite as popular: estimated downloads are at 1,000+ according to Google Play but there are no official figures. Frollo offers free and secure synchronisation with your bank accounts, credit cards, loans, superannuation and investments into an aesthetically pleasing interface that allows you to monitor your spending. Frollo also lets you take daily, weekly and monthly challenges to try and save money.
In April 2019, Frollo also released the 'Frollo Score" feature, which gives users a score from 1 to 1,000 that tells them how they're doing financially, based on their spending habits, debts and how much they save.
Key features of Frollo:
Sync from Australian bank accounts – including superannuation and investments
Automatic categorisation for transactions
Set savings goals and challenges
Push notifications and personal insights
Bank-level security and encryption
Track tax-deductible expenses
Push notifications and personal insights
Bank-level security and encryption
Budgeting apps
While the spending tracker apps go into the fine details of every cent you spend, these budgeting apps can give you a broader overview of your financial health.
5. Goodbudget
Availability: iOS and Google Play.
An American app that's also available down under, Goodbudget labels itself as a 'budget tracker for the modern age', yet it uses the old-fashioned 'envelope'; method of saving: you set yourself limits for certain categories of spending and it limits you to only spending what you have.
For example, you can set monthly limits for groceries, coffee, shopping etc. To help make budgeting a bit sexier, Goodbudget presents all of your spending in cool-looking pie charts, and of course, it links to your bank accounts.
Globally this app has more than one million downloads and has a 4.4-star rating from more than 18,000 user ratings. It is a paid app but the free version still lets you use up to 10 'envelopes'.
Key features of Goodbudget:
Sync to bank accounts & expense tracking
Export data to Microsoft Excel
View your spending by category – a proven method
Reports, such as an income vs spending report
Schedule transactions and automatic envelope fills
6. Get Reminded
Availability: iOS and Google Play
GetReminded is a new free-to-use mobile app that claims it can help households save thousands per year by reminding them when household contracts and bills are set to expire (such as utility bills, car insurance and registration, subscriptions etc.) and reminding them to compare new ones. As GetReminded co-founder David Wareing told Savings.com.au, it can also show you a cheaper policy.
"They're [the suggestions] obligation-free, but they're really just there to help consumers to commence the shopping around process and not leave everything into the last minute," he said.
GetReminded is a new app, only launching in 2020, but has already attracted more than 60,000 downloads and an average rating of 4.4 on the App store.
Key features of GetReminded
Set reminders in multiple categories across all household costs (insurance, health, personal expenses etc.)

Annual cost summaries for household contracts

Simple, easy to use interface

Free to use

Multiple automated reminders ahead of time and when you need them

Can recommend cheaper policies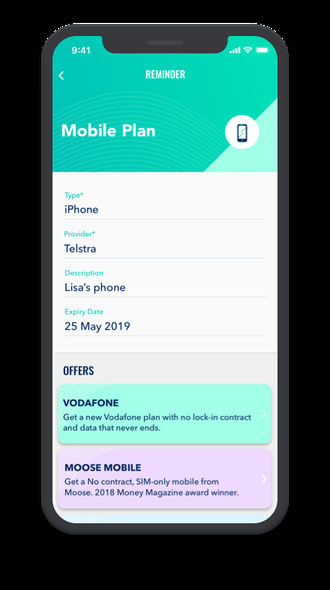 Source: GetReminded
7. WeMoney
Availability: iOS and Google Play.
Recently launched, WeMoney has already reached over 30,000 downloads since September 2020, and with an average app store rating of 4.4, it's already shaping up to be one of the fastest-growing financial apps of 2021. It's a 'smart money app' that allows users to gain a full picture of their overall financial health by connecting all of a person's financial accounts into one convenient place, such as:
Savings and transaction accounts

Credit cards and buy now, pay later

Home loans and personal loans

Share trading accounts

And superannuation funds
As well as tracking a person's net worth, WeMoney also allows users to:
Track their credit score
Create budgets within the app
Receive upcoming bill reminders
Connect with other users in the community to receive tips
WeMoney is also a free app to use, doesn't sell your data to third-parties, and comes with Fingerprint, FaceID, and PIN logins.
Source: GetWeMoney
Tax time
If you're looking to save money on your taxes, there are plenty of apps you can use. But given the importance of a correct tax return, there's only one app we've included in here.
8. ATO app
Availability: iOS and Google Play.
According to the Australian Taxation Office:
"The ATO app puts tax and super help in your hand, making it easier for you to conduct your tax and super affairs on the go."
Essentially, it lets you check for deductions and other tax-related information as well as a range of tools and calculators to ensure you get the correct tax return. This app is extremely popular, with more than 500,000 downloads from Google Play, but has a fairly average rating of 3.4 stars from over 1,000 reviews.
Only the official Apple App Store and Google Play links should be used to download this app since there is no shortage of non-genuine apps from scammers.
Key features of the ATO app:
Voice login
Record and manage work-related expenses
Upload your myDeductions records to your tax return
Calculate how much tax to withhold from salary and wage payments
Search for any Australian Business Number (ABN)
Set key reminders for important dates
Do a financial health checkup on your business
Other ways to save
A lot of these apps so far have been pretty similar – sync with your bank, categorise your spending, blah blah blah. Here are a few popular mobile apps that can help you save in ways that are a little different…
9. ShopBack
Availability: iOS and Google Play.
If you like to do shopping online, ShopBack can help you save money in the form of cashback deals from over 500 stores. Using the mobile or web app gives you access to the latest coupon codes and deals from popular brands like Woolworths, eBay, The Iconic, Uber Eats and more.
It has had more than one million downloads from Google Play and has attracted an average rating of 4.7-stars from more than 26,000 reviews.
Key features of ShopBack:
Up to 30% cashback on online purchases
Partnerships with more than 500 stores
Cashback in your bank account within 48 hours
Push notifications for offers relevant to you
Source: ShopBack.
10. Quit That!
Availability: iOS only.
If you have a bad habit you feel is costing you money, like eating too much junk food or drinking too much alcohol, you can record how much you spend on these habits in Quit That! and see how much you save after giving it up. It has a live counter showing your progress and is 100% ad-free, although you can make a donation to the creator with the money you've saved.
Quit That! has been downloaded more than two million times from the Apple App Store and has an average rating of 4.7-stars from over 500 reviews.
Key features of Quit That!:
No ads with an easy-to-use interface
Live counters showing your savings progress
Timers on how long it's been since you quit
No limit on habits you can break
Honourable mention: Sipora
Availability: iOS and Google Play
Another app to use the 'roundup' feature, but in a different way, is the recently released Sipora. Sipora aims to take on buy now, pay later debt culture by encouraging people to use roundups on everyday purchases to save for the things they really want to purchase, instead of relying on debt.
Co-founder Jonathon Despinidic told Savings.com.au that too many people are using buy now, pay later schemes because they want the instant gratification of purchasing something they can't immediately afford.
"Sipora offers consumers a way to save for something they want in a relatively short period of time, without relying on credit or buy now, pay later debt," Mr Despinidic said.
"We developed Sipora to help alleviate this growing consumer debt by encouraging shoppers to save easily and spend guilt-free."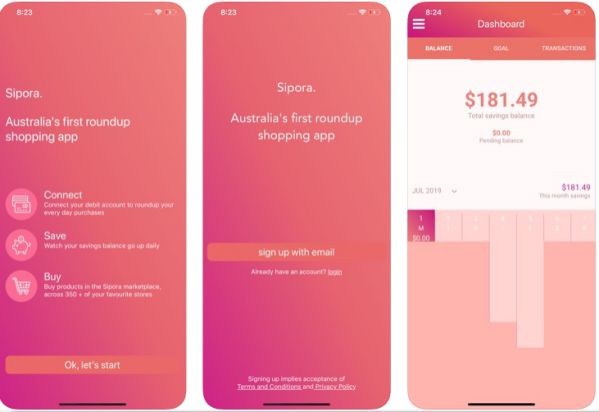 Sipora is currently connected to more than 300 retailers including popular ones like Lululemon, The Good Guys, The Athletes Foot and more. Consumers can use the savings they've accumulated from roundups towards purchasing products they want from Sipora's list of retailers, which is continually growing.
Sipora is still a fairly new app so we can't really call it 'popular' yet, but we thought it was worth an honourable mention here: According to ASIC figures, Aussies have racked up around $1 billion in buy now, pay later debt. With more and more buy now, pay later schemes popping up, apps like Sipora could provide a valuable service.
Key features of Sipora:
Rounds up card purchases to the nearest $1, $2 or $5
You can set savings goals to reach via roundups
You can build wishlists for products you want to buy and save towards them
You can make purchases through the app
Connects to over 300 retailers
Free to use
Multi-factor authentication and data encryption
Your bank might have a good savings app too
Depending on which bank you're with, you may not even need any of these apps. More and more of them are starting to roll out helpful features in their mobile banking apps to help customers save, including the big banks. Some of the more recent banks to have launched like Up Bank or 86 400 have apps that come with budgeting features such as expense tracking or net wealth tools.
A common feature being rolled out by financial institutions now is the 'roundup' feature, which can round up every debit card transaction to the nearest dollar and directs these 'roundups' (usually a few cents) to your savings account. This kind of passive saving can really give your savings a boost without even realising it.
While these apps won't work for everyone, have a play around with some of them for a while to see if they help you. A simple download might end up changing your life completely.
---
Latest Articles