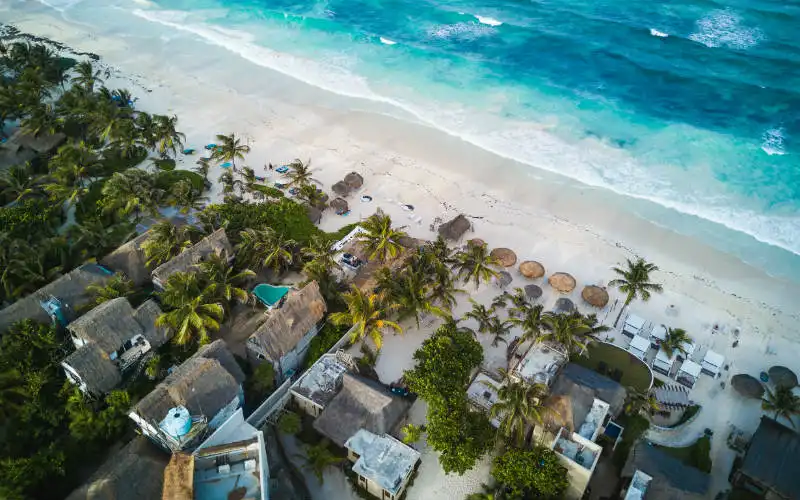 Photo by Spencer Watson on Unsplash
New data has revealed the holiday intentions of Australians have declined from a year ago.
The Roy Morgan Holiday Travel Intention Report found as of June 2019, 66.4% of Australians intended on taking a holiday in the next year, compared with 68.4% the year before – a 2% drop.
Roy Morgan CEO, Michele Levine attributed this decline to political uncertainty but believes a bounce back is possible.
"These latest travel intention figures may reflect sagging consumer confidence that impacted the early months of 2019 in the lead-up to the Federal Election," Ms Levine said.
"It will be interesting to monitor these figures in coming months as interest rate cuts by the RBA and the Federal Government's income tax cuts are expected to provide a boost to confidence over the next few months."
Looking at the intention to travel in the next year by generation, Gen Y (those born between 1976 and 1990) were the most likely to be planning a holiday (73.2%).
This was followed by Generation X (70.5%), Baby Boomers (66.4%), and Generation Z (62.5%), while fewer than half (47.7%) of Pre-Boomers intend on taking a holiday in the next twelve months.
The main cause of the drop in holiday intentions came from those intending on taking a domestic holiday, which fell from 52.9% a year ago to 50.7% as of June 2019.
International holiday intentions also marginally declined, from 11.5% to 11.1% over the same period.
Gen Y aren't just the most likely to be planning a holiday, they're also the largest generation based on a cohort of travellers at 25.3%.
This was closely followed by Generation X (25.2%), Baby Boomers (22.6%), Generation Z (20.4%) and Pre-Boomers (6.5%).
Proportion of total holiday seekers that belong to each generation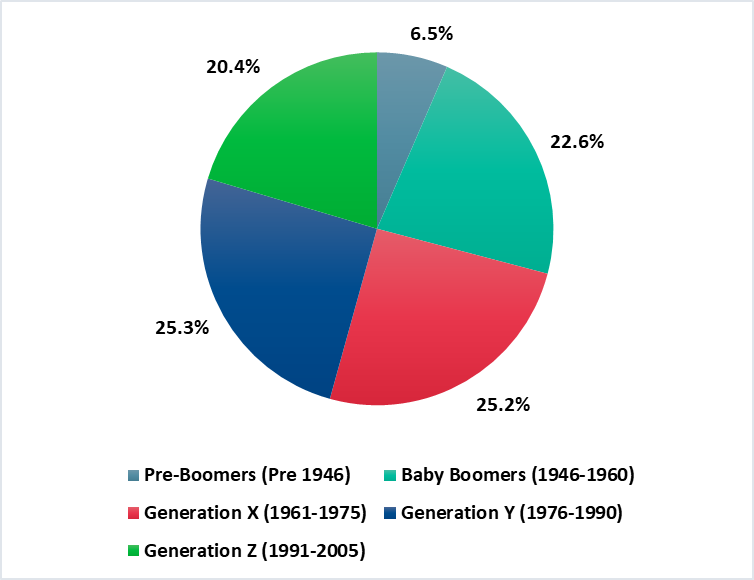 Source: Roy Morgan
Ms Levine said it's important the tourism industry takes advantage of keen Gen X and Y travellers.
"With over half of Australians intending to take a holiday belonging to these two generations (aged between 28-58 years old), it's vital for businesses invested in the tourism sector including airlines, hotels, resorts and travel companies to finely tailor their marketing and advertising to provide the most compelling product offering they can."
What do we know about Gen Y's looking to take a holiday?
The quintessential Gen Y holiday seeker is most likely to be a woman from Victoria and is 50% more likely to have a diploma or degree than the average Australian.
Her average income is $65,220, with an average household income of $126,100.
Nearly half of Gen Y holiday-makers are classed as 'big spenders' in relation to their discretionary expenditure.
Some other key statistics of the Gen Y traveller are:
believes a percentage of everyone's income should go to charities
loves to do as many sports as possible
more likely to be optimistic about the future
more likely to worry about skin cancer
more likely to book and arrange travel details themselves
enjoys experiencing local culture
The findings from Roy Morgan's Holiday Travel Intention report are derived from face-to-face interviews of over 50,000 Australians over the year.
New Zealand the leading holiday destination for Aussies
Data from the Australian Bureau of Statistics (ABS) found the three most popular destinations for Australians in July 2019 were:
New Zealand (119,800 trips)
Indonesia (115,200)
USA (88,900)
The month saw a 0.3% increase in residents returning from an overseas trip from the previous month and 2.4% increase from the same time last year.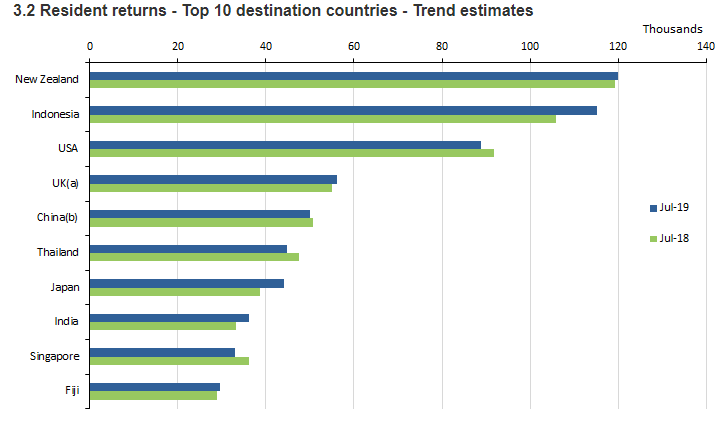 Source: ABS
Among the top ten destination countries, the highest annual increases recorded were for:
Japan (13.8%)
Indonesia (8.9%)
India (8.2%)
Meanwhile, the highest annual decreases were recorded for:
Singapore (-8.9%)
Thailand (-5.9%)
USA (-3.1%)
China remains the highest source country for visitor arrivals to Australia in July with 123,000 trips, followed by New Zealand (117,300) and the USA (70,100).
---
Latest Articles