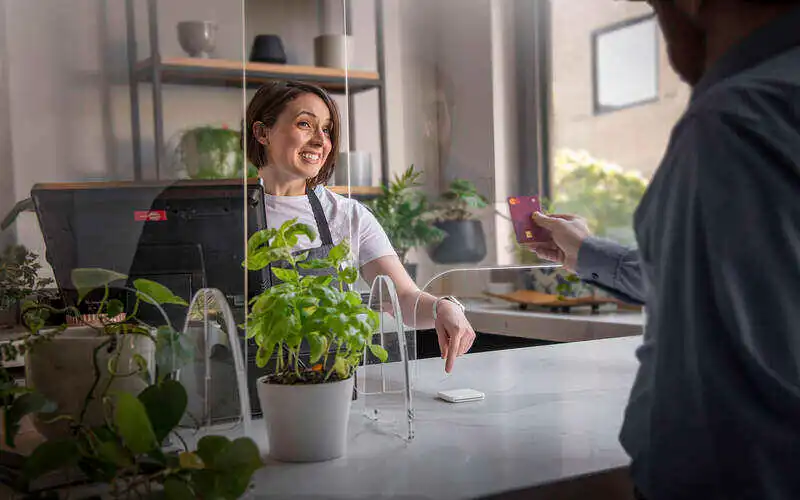 Tax preparation firm H&R Block has today launched its financial management platform MoneyHub, free for H&R Block customers.
Partnering with credit reporting agency illion, H&R Block's new MoneyHub is intended to be a 'free personal finance management dashboard'.
Using this web platform (not yet available on smartphone apps), H&R Block customers will be able to:
Track and view their credit score
Link an unlimited number of bank accounts and credit cards
View a dashboard showing a view of their income, savings and spending habits
Tag potentially tax-deductible transactions and download these deductions come tax-time
See also: 10 popular mobile apps for budgeting and saving
According to H&R Block, the platform also makes money via "commissions for referrals from a range of providers, including financial services and telcos, when you visit and click on offers displayed on the MoneyHub website and in MoneyHub's communication to you."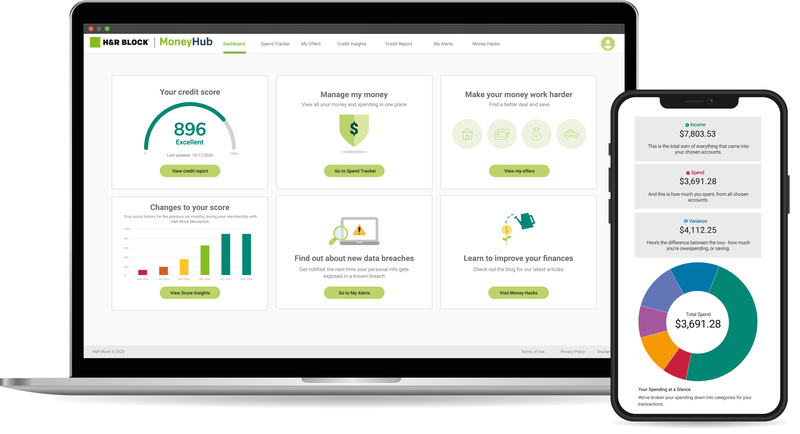 Image via H&R Block.
According to H&R Block Australia CEO Brodie Dixon, finances are the most common source of stress among both men and women, and this platform has been introduced in order to help customers manage their cash flow and obtain financial freedom.
"Managing that stress can have real benefits for a person's health," Mr Dixon said.
"For many of our clients, we represent the only meaningful financial discussion they have all year with a professional. MoneyHub seeks to extend this support throughout the year and help meet a broader range of financial needs.
"By offering Aussies transparency and allowing them to see all bank accounts and cards in the one platform, with some smart tools, they can get a better handle on their spending and budgeting, helping to reduce debt and increase savings.
"They can also identify transactions that may be tax deductible, and share these with their Tax Agent, ensuring they get the maximum refund possible at tax time."
Mr Dixon said the platform was developed to help connect with younger demographics using emerging payment services such as buy now, pay later (BNPL).
"What many young people don't realise is that defaults on these payments may affect their credit score," he said.
"This can have lasting effects on their ability to be approved for loans in the future.
"MoneyHub aims to provide transparency and the tools to help monitor any changes to their credit score and improve it over time."
---
Advertisement
Need somewhere to store cash and earn interest? The table below features savings accounts with some of the highest interest rates on the market.
Lender

---

4

0

0

0

$product[$field["value"]]

$product[$field["value"]]

$product[$field["value"]]

More details

FEATURED

Online Saver (Amounts < $499999)

4

0

0

0

$product[$field["value"]]

$product[$field["value"]]

$product[$field["value"]]

More details

High Interest Savings Account (< $250k)

4

0

0

1

$product[$field["value"]]

$product[$field["value"]]

$product[$field["value"]]

More details

0

50

0

$product[$field["value"]]

$product[$field["value"]]

$product[$field["value"]]

More details

0

0

0

$product[$field["value"]]

$product[$field["value"]]

$product[$field["value"]]

More details
Rates based on a savings balance of $10,000. Sorted by total interest rates. Refer to providers' websites for bonus rate conditions and for any applicable fees and charges. Rates correct as of June 25, 2022. View disclaimer.
The tax office will be closely monitoring work-from-home claims
With as many as half of the Australian workforce sent home to avoid the virus in 2020, tax deductions on work-related expenses soared last year.
About 8.5 million people claimed nearly $19.4 billion in work-related expenses in their 2020 tax returns, according to Australian Taxation Office (ATO) data, and the number claiming a working-from-home deduction rose from 3.1 million to 4.4 million.
Anticipating this increase, the ATO made it easier for workers to make work-related claims last year, introducing a 'shortcut method' which enabled claims of 80 cents per hour worked from home.
New research from Officeworks also reveals 74% of those working from home over the past year have made purchases for their at-home office, and 67% of Australians will be making additional claims in their 2020-21 tax returns.
"Many of the purchases made in early 2020 were temporary solutions, but with working from home and flexible working arrangements now being implemented by many businesses, we have seen customers set up more permanent workstations in their homes," Officeworks Chief Operating Officer Michael Howard said.
"We have seen increased sales in technology and home office products such as home printers, monitors, computer accessories, cables and sit-stand desks, products that help our customers work remotely which could be tax deductible."
See also: Think-tank calls for automatic $3,000 tax deduction each year
But with Officeworks also finding 56% of those Australians admitted to 'minimal' knowledge of claiming items on their tax returns, the ATO has warned people it will be paying extra attention to work-related expenses this year.
"We know many people started working from home during COVID-19, so a jump in these claims is expected," ATO Assistant Commissioner Tim Loh said.
"But, if you are working at home, we would not expect to see claims for travelling between worksites, laundering uniforms or business trips."
According to Mr Loh, 'copy/pasting' claims from last year is a big no-no.
"While it's good to see most people have been doing the right thing, our data analytics will be on the lookout for unusually high claims this tax time. Particularly where someone's deductions are much higher than others with a similar job and income," he said.
"We will also look closely at anyone with significant working from home expenses, that maintains or increases their claims for things like car, travel or clothing expenses.
"But we know some of these unusual claims may be legitimate. So, if you explain your claim with evidence, you have nothing to fear."
Related: How much does a home office cost to build?
---
Image via Officeworks