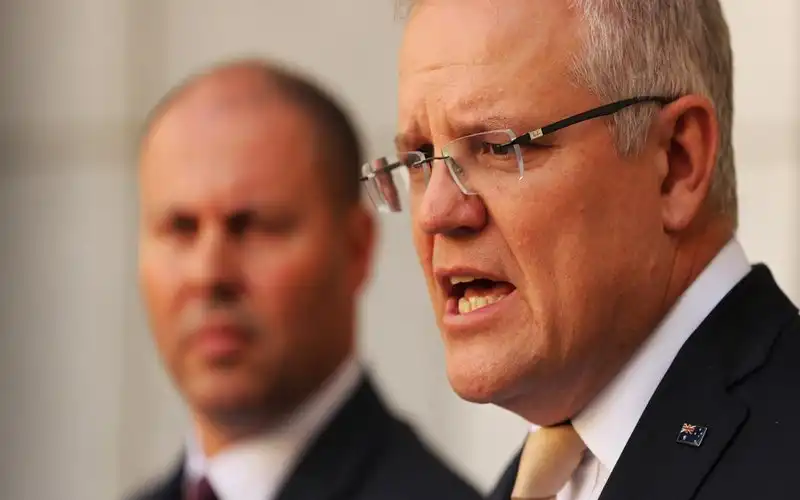 Source: Twitter
In the wake of devastating job figures, the unemployment benefit looks set to be increased permanently.
Sources at the ABC understand the JobSeeker payment is unlikely to return to the $40 per-day level it was pre-COVID-19 and will instead be increased.
It's currently unknown whether this will come in the form of a rise to the payment or an additional supplement.
The move is thought to be confirmed when Treasurer Josh Frydenberg outlines the next phase of the Government's stimulus response to COVID-19 on July 27, in addition to whether JobKeeper will be rolled back.
Consumer groups and national advocates are campaigning for a base rate increase of between $185 to $275 per week.
Need somewhere to store cash and earn interest? The table below features introductory savings accounts with some of the highest interest rates on the market.
Provider
Total
interest
rate p.a.
Intro
interest
rate p.a.
Intro
term
Base
interest
rate p.a.
*Data accurate as at 21 September 2020. Rates based on a savings balance of $10,000. Sorted by total interest rate. Refer to providers' websites for bonus rate conditions. Note that the base rate will apply once the introductory term has passed.
As the COVID-19 pandemic ramped up, the Government announced in March the $550 fortnightly JobSeeker payment, formerly Newstart, would be doubled.
Consumer groups had long advocated for the payment to be increased, citing concerns that $40 a day was simply not enough for those without a job to live on.
But the Government has been steadfast in its promise that JobSeeker and JobKeeper would end on September 27, with speculation rising in the last month they could end earlier, as the Prime Minister refused to rule this out.
But unemployment figures released on Thursday have painted a dismal picture of Australia's working population.
The Australian Bureau of Statistics found the unemployment rate increased to 7.1% in May, up from 6.4% in April, seasonally adjusted.
Around 227,000 people lost their jobs over the month, almost triple the amount previously forecasted.
The participation rate is the lowest it's been in 20 years, as people on JobSeeker are temporarily not counted as unemployed.
If the participation rate sat at its January high, the unemployment rate would currently sit at 11.6%, which many economists argue is a far truer reflection of the state of the economy.
Young people have been the most affected, with youth unemployment (15-24 years old) hitting 16.1% in May, the highest level since 1997.
However, if every young Australian who lost their job since March was counted as officially unemployed, the youth unemployment rate would be 26.5%.
Prime Minister Scott Morrison labelled the figures expected but heartbreaking.
"As heartbreaking as all of these stories are that are represented in these numbers, the sad truth is these numbers are not surprising in these circumstances," Mr Morrison said.
ACOSS welcomes proposed JobSeeker increase
The Australian Council of Social Service (ACOSS) chief executive Dr Cassandra Goldie said she was encouraged by the report to increase JobSeeker and urged the Federal Government to engage with key stakeholders.
"In this precarious economic environment, it is more important than ever that we have a robust safety net for the 1.6 million people who are now locked out of enough paid work, and the projected more than 2 million people needing income support in September," Dr Goldie said.
"The reality is that doubling the previous unemployment rate to $550 per week has put people just above the poverty line.
"We hear from people every day that they are spending the higher payments on desperately needed essentials like fresh fruit and vegetables, utility bills and warm winter clothes for their children.
"This has transformed lives, and provided a lifeline to a flagging economy."
ACOSS is preparing a submission to the Government, outlining a base rate increase to JobSeeker of between $185 to $275 per week.
Dr Goldie said cutting income support back to $40 a day would have devastating consequences for the economy.
"If we want to boost employment, we must ensure everyone has enough to cover the basics like food, housing and transport," she said.
"The Government took swift and decisive action to lift people's incomes during the crisis.
"We now have the opportunity to convert that temporary relief into enduring reform with enormous social and economic benefits."
A study released at the end of May found the majority of Australians were against lowering JobSeeker payments once the economy starts to improve.
---
Latest Articles