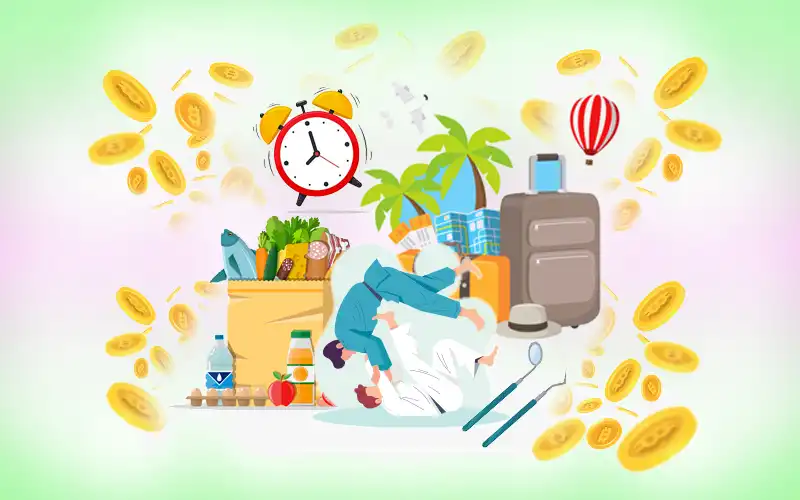 This week: A 25-year-old living in North Bondi who's recently started investing in crypto.
Have you ever wanted to find out how a total stranger spends their money? Same. Savings.com.au's money diaries asks Australians to record a week in the life of their bank account. We want to know exactly what you spend your money on, how much you earn, save, if you invest and what your money goals are.
Industry: Graphic Design company – Sales & Marketing
Salary: $60,000
Age: 25-years-old
Where do you live? North Bondi, Sydney
Housing: A small two-bedroom apartment with my girlfriend
Debt: I have a HECS debt of about $20,000 from my TAFE courses which I hope to pay off in a few years' time.
Assets: I have a small but growing share portfolio from investing in traditional markets like American companies and ETFs, but I've recently started getting into cryptocurrency using the Bamboo app which has been easier than I imagined.
Regular monthly expenses (per month): $960 rent, $60 internet, $45 mobile, $100 Jiu-Jitsu, groceries $400.
---
Save
How much of your income do you save and what are you saving for?
On average, I aim to save around 20% of my monthly income, but that can change month to month!
Last year, I was saving up to go on a four-month holiday through South-East Asia with my girlfriend, but obviously, those plans are on hold as we have no idea when we'll be able to travel internationally again!
How do you budget?
To be honest, I don't really think about it a lot. I just try and enjoy life and not spend too much! You know, go with the flow - but responsibly!
What money habits are you especially proud of? 
My parents used to give me about 50 cents a week for pocket money when I was a kid, which I would immediately put into my piggy bank. It's funny how things have come full circle with micro-investment apps investing daily spare change. Nowadays, whenever I buy a coffee or spend money on something small, Bamboo automatically rounds up my spare change and invests it into a crypto portfolio for me. I'm proud that I'm investing so regularly this way.
Growing up, did your parents have conversations with you about money? Did your parents/guardians teach you about money?
Growing up, my parents always used to tell me that I should save up my money to buy a house as soon as possible because it was a good investment, but that's impossible with housing prices in Sydney today! However, they did teach me to think about the long-term and to invest wisely for my future which I'm very grateful for.
---
Spend
What do you spend most of your money on? 
Probably on food, like the weekly groceries and going out with my mates or girlfriend to the pub or a restaurant on the weekend.
Do you make spending decisions carefully or are you a bit loose with the purse strings?   
I try to have a good balance of both - I go through phases where I like to spend up, usually after I get paid from work. Then, by the end of the month, I get a bit more frugal and reign my spending in.
Do you have any money habits you aren't especially proud of? 
Not really. I'm still young, so I want to enjoy myself while I can! If I had to say one bad habit, maybe it would be buying too many PS4 games… but I really enjoy playing them so it's worth it in my mind!
What's your favourite thing to spend money on?  
It would have to be PS4 games. I recently bought the new Last of Us (Part II) game which is incredible. The graphics are amazing, and the storyline is excellent. Seriously, I could play that game for days and days, but my girlfriend gets annoyed if I try.
---
Invest
How do you invest?   
I'm always on the lookout for where things are going, and I love to keep up to date with American companies. Also, as I mentioned before, I've recently started investing in cryptocurrencies like Bitcoin and Ethereum using Bamboo after my old school friend got me on to. I set it up so I make a weekly deposit of $25 and then the round-ups go in on top of that. So, I guess the more I spend the more I invest too.
What has been your best/worst investment?
Bitcoin and Ethereum are shaping up to be my best investment so far. And getting in on GameStop at the wrong time and selling after a big dip easily tops the list for worst investment.
How much is sitting in your super and do you regularly contribute to it?  
There's about $24,000 in there at the moment from my work contributions, but I don't make any personal contributions at the moment. Maybe in the future when I've paid off my student loan I can ramp up how much I'm putting in.
---
A week in the life of my bank account
Monday - Day One 
Missed my alarm! Usually, I make coffee at home but since I woke up late, I headed to my local café and picked up an almond milk flat white ($5) on my way to the office. I also didn't have time to make lunch, so I headed to a sushi train near work for some katsu chicken curry ($7.50) - delish! On the way home, I stopped off at the shops to buy toilet paper, bananas, and lettuce for a salad ($10.50).
Daily spend: $23.00
Tuesday - Day Two
Had an early morning dental appointment, so I took the bus into the city and topped up my travel card ($20). The dentist cleaned my teeth and took an X-ray ($280). After work, I had a quick beer with my colleague at the pub before heading home ($12).
Daily spend: $312.00
Wednesday - Day Three
Had a pretty thrifty day! Bought an orange juice on the way to work ($2.50). Then, after work I stopped off at the supermarket to do grocery shopping ($45).
Daily spend: $47.50
Thursday - Day Four
Bit of a blowout today, unfortunately. I was a super boyfriend and took my girlfriend out for a romantic dinner to celebrate our three-year anniversary. We enjoyed an eight-course degustation with paired wines. I paid, of course ($320.00). We caught an Uber there and back ($35).
Daily spend: $355.00
Friday - Day Five
Felt pretty tired this morning after the anniversary dinner, so I slept in a bit and bought a bacon and egg roll with a coffee on the way to the office ($7.50). Had another sushi train lunch but didn't eat too much, just two small plates ($5.50).
Daily spend: $13.00
Saturday - Day Six 
Went to the weekend organic food market and strolled around for a bit. Bought a big bag of coffee beans ($50) and some organic veggies ($25). Also, bought a scented candle for my girlfriend because she likes the smell ($15). Later that day, we went to meet up with a group of friends for a picnic in the park. We brought along a bottle of white wine ($20).
Daily spend: $110.00
Sunday - Day Seven 
Took it nice and easy. Stayed home, did some housework, cooked at home and did some prep for work. Didn't spend a cent! But I did take some time to research more American companies, and made a $50 contribution to my Bamboo account.
Daily spend: $50
Weekly spend: $910.50
---
Latest Articles