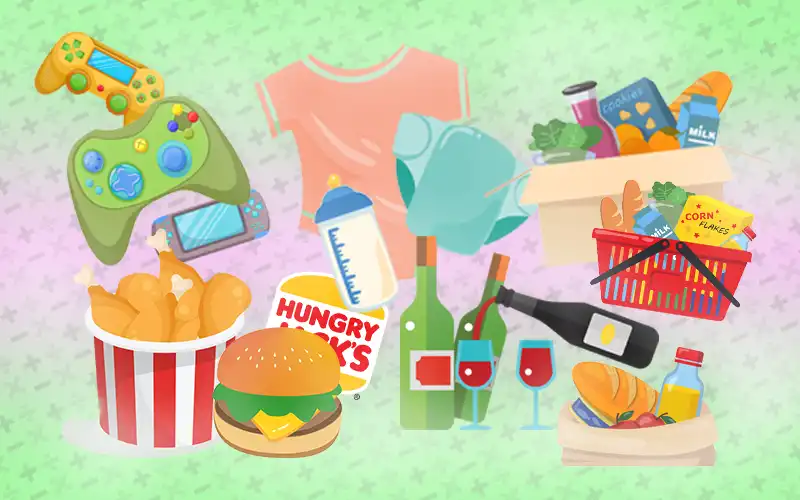 This week we take a look at how a mum and dad with three kids renting on one income spend their salary in a week.
Have you ever wanted to find out how a total stranger spends their money? Same. Savings.com.au's money diaries asks Australians to record a week in the life of their bank account. We want to know exactly what you spend your money on, how much you earn, save, if you invest and what your money goals are.
Industry: My partner works in mining as a heavy machine operator and I work from home running a business directory that supports women across Australia. I do not draw an income though at this stage.
Salary: $1,680.00 per week after tax
Age: My partner is 33 and I'm 35
Where do you live? Rockingham, Western Australia
Housing: Renting
Debt: Car loan $28,000 and we have $1,500 owing on Zip
Assets: Nil - only household items
Regular weekly expenses:
Power - $45.00
Gym - $34 per week for the both of us
Rent - $320
Gas - $30
Water usage - $10
NBN - $23
Mobiles - $69
Child support - $399, for two children under 13
Trailer rego - $12
Contents insurance - $34
Car loan - $118
Car insurance - $17.50
Business investing - $50
Car rego - $19
Dog food - $40 for two large dogs
Dog flea/worm treatment - $23
Food/nappies/formula etc $200
Fuel $100
Vape $10
Mice for our pet snake - $5
---
Need somewhere to store cash and earn interest? The table below features savings accounts with some of the highest interest rates on the market
Lender

---

4

0

0

0

$product[$field["value"]]

$product[$field["value"]]

$product[$field["value"]]

More details

FEATURED

Savings Account (Amounts < $24k)

4

0

0

0

$product[$field["value"]]

$product[$field["value"]]

$product[$field["value"]]

More details

High Interest Savings Account (< $250k)

4

0

0

1

$product[$field["value"]]

$product[$field["value"]]

$product[$field["value"]]

More details

0

50

0

$product[$field["value"]]

$product[$field["value"]]

$product[$field["value"]]

More details

0

0

0

$product[$field["value"]]

$product[$field["value"]]

$product[$field["value"]]

More details
Rates based on a savings balance of $10,000. Sorted by total interest rates. Refer to providers' websites for bonus rate conditions and for any applicable fees and charges. Rates correct as of May 29, 2022. View disclaimer.
---
Save
How much of your income do you save and what are you saving for?
We save $50 per week and we're currently saving for a house.
Do you have a budget?
Yes, I use excel spreadsheets to budget.
What money habits are you especially proud of?
Supporting three children financially and being able to keep my small business going.
---
Spend
What do you spend most of your money on?
Most of our money goes towards child support and rent. We only just manage to get by and have one car to share between us after paying the child support and rent.
Do you make spending decisions carefully or are you a bit loose with the purse strings?
Very carefully, we have no room for error.
Do you have any money habits you aren't especially proud of?
Smoking but my partner has nearly kicked that one in the butt.
What's your favourite thing to spend money on?
Dining out together and having quality time with the kids. We would love to buy a boat.
---
Invest
How do you invest?
I invest into my business, this was my side hustle when I was working full-time. I invested a lot of time and money into it before I became a full-time mum.
Now I'm still doing as much as I can and I hope to grow the business to earn an income. I love seeing women grow and fulfill their dreams!
How much is sitting in your super and do you regularly contribute to it?
We do not contribute to superannuation. This has recently been split and the majority given to my partners ex wife. We also used some of our superannuation to get through COVID as my new job fell through.
Related: How to catch up if you withdrew your super early due to COVID
How did you learn about money and investing?
I manage our finances, my mum was a bookkeeper and she did Excel spreadsheets and business studies at TAFE, and a lot of her family worked in real estate.
We are close to being able to buy a house again. Both me and my partner had a house each when we met and sold them both in early 2020 so we can buy a house together.
---
A week in the life of my bank account
This is what we have spent in one week outside our weekly budget, we pay our bills monthly, this was not one of those weeks.
Monday - Day One
We have a three-month-old and we want to refresh our first aid skills, so we spent $220 on an infant and children's first aid course for both of us. We're doing the course this Friday at my cousin's place with ten other people.
Daily spend: $220
Tuesday - Day Two
Spent a bit of cash on diesel for our Nissan Patrol, our fortnightly top-up, main tank and sub tank. We always keep an eye on Fuel Watch to see where has the cheapest diesel.
Daily spend: $128.77
Wednesday - Day Three
My partner flies home today so we spend $23.90 on KFC for lunch on our way home from the airport.
Spend $39.95 on kids clothes from Big W for all three kids because we're heading into winter so we stock up on jumpers and trackies, just from the cheap tables.
Need some groceries for dinner tonight so I pop into Woolworths and spend $22.28.
Daily Spend: $86.13
Thursday - Day Four
My monthly gym and creche membership comes out of my account today which sets me back $109.50.
Daily spend: 109.50
Friday - Day Five
Time for our weekly grocery shop which sets us back $172.14.
Then we spend $17.60 at Hungry Jacks on two dinner meals. We then take this to the local beach car park and enjoy the view before going home and unpacking the groceries.
Daily spend: $189.74
Saturday - Day Six
It's finally the weekend, so I pick up two bottles of wine ($25) from BWS to relax at home with tonight. Also needed to pick up some more groceries for tonight's dinner ($14). Luckily my partner is a better cook than me as he has chef qualifications so he's in charge of dinner!
It's our eldest child's birthday (turning 7!) so we let the two other boys pick out a new Xbox game each as a present. End up spending $80 at EB Games. We only get the kids every third weekend.
Daily spend: $119.99
Sunday - Day Seven
Spend $20 on mice for our pet snake, he only needs feeding once a month, so we feed him four mice in one sitting.
Daily spend: $20
Weekly spend: $745.36
Do you want to record a week in your financial life (anonymously of course)? Send in your submissions to emma.duffy@savings.com.au
---
Latest Articles