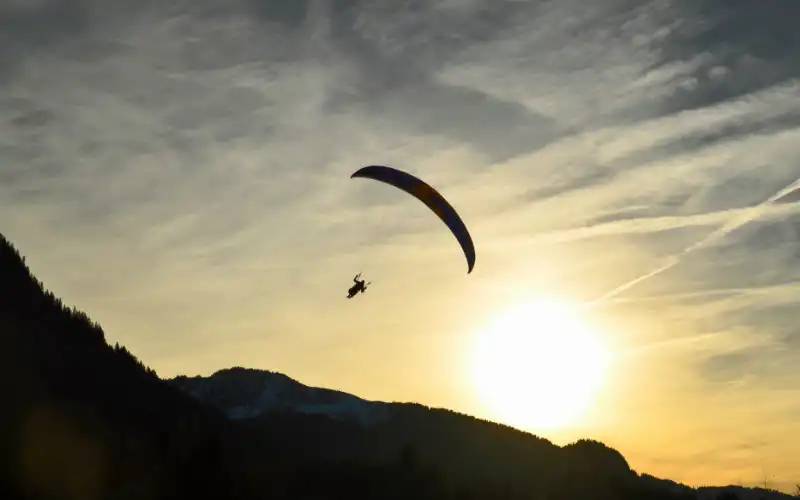 Photo by Alex Lehner on Unsplash
Gross superannuation fees have decreased for the first time since 2013, down to $32 billion.
That's according to the 2019 Rainmaker Information super fund fee study, which analysed fees charged by more than 500 super funds and 50 self-managed super fund administrators.
Super fund members in Australia are now paying 1.1% in fees on average, down from the 1.2% they paid in 2018.
The study comes eight months after the Federal Government approved recommendations into reforms into the superannuation sector handed down by the Banking Royal Commission.
Head of superannuation at Rainmaker Information, Jason Ross, said super funds were capitalising on their growth in assets under management, achieving greater economies of scale and reducing costs for their members.
"Super fund fees are approaching an average of 1%. These reductions show an industry shifting towards a greater commitment to improving super for the members," Mr Ross said.
"Australia's 13.5 million super fund members still pay $2,400 on average each year in fees, the equivalent of the average household energy bill."
Of the 1.1% paid in average fees by members, 0.7% accounted for investment fees, while the remaining 0.4% accounted for administration and product-related fees.
Who's charging what?
The study from the financial services information company found that members paid different fees, based on their product type:
Workplace funds, those used by employers, charged an average of 1.24%.
Personal funds, that members can join as individuals, charged an average of 1.49%.
Retirement funds, for members who have retired, charged an average 1.33%.
Small self-managed super funds (SMSF) charged an average of 0.80%
Rainmaker attributed the fall in gross fees to retail funds lowering their fees as a way to remain competitive in the face of members moving to cheaper not-for-profit (NFP) funds.
In 2015 the average retail MySuper product charged 0.24% more than NFP MySuper products.
This gap has now narrowed to just 0.04%.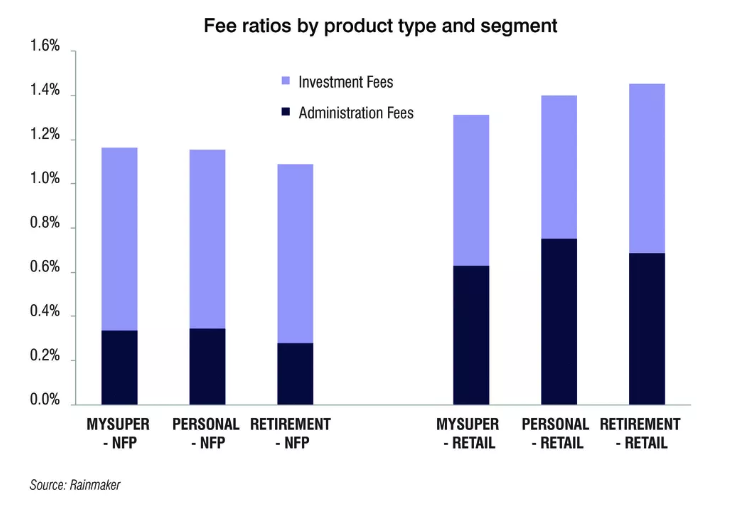 AMP proved to have the biggest reduction in their MySuper Total Expense Ratio (TER), with the AMP Super Direct for Business product decreasing by 0.97% from last year.
AMP made up four of the top five best for reduced TER, with all of the top five being retail funds.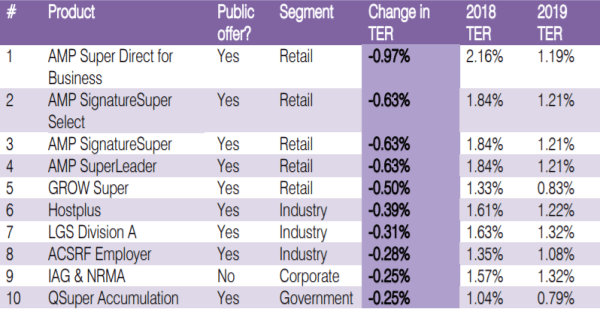 Source: Rainmaker
Royal Commission sparks reform
February of this year saw the Morrison Government approve all nine recommendations into the superannuation sector that the Banking Royal Commission handed down.
Several of these recommendations prohibited and limited the deduction of any advice fees from super accounts.
Mr Ross said members are finally starting to see the results of the recommendations.
"After ten years of the regulators failing to make considerable impacts on the super landscape, last year's Productivity Commission and Royal Commission have already started to prove their effectiveness."
Superannuation reforms were some of the first recommendations to be approved when Treasurer Josh Frydenberg announced the Government's response to the Royal Commission.
In August of this year, he announced an 'implementation road map' regarding the remaining 54 recommendations, which would see the majority implemented by mid-2020.
Treasurer @JoshFrydenberg outlines Government's proposed reforms to the superannuation system in response to #BankingRC pic.twitter.com/On7DncybfA

— ABC News (@abcnews) February 4, 2019
---
Latest Articles