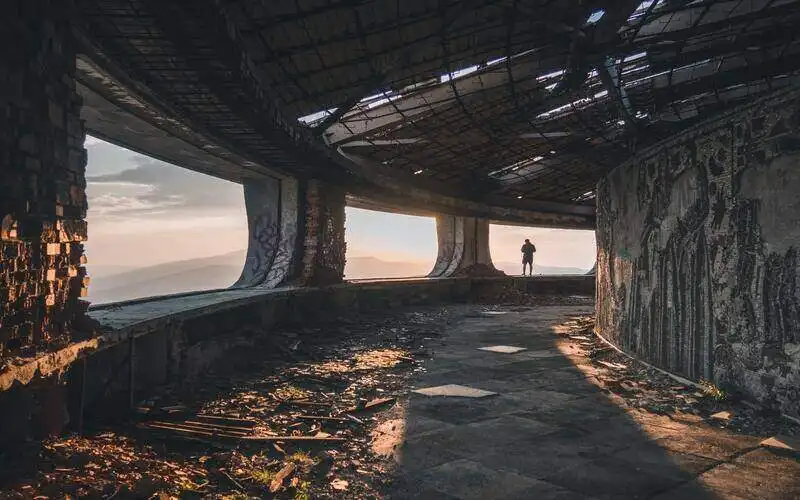 Photo by Natalya Letunova on Unsplash
UBank has announced it will reduce the maximum interest rate on its popular USave account by 15 basis points on Friday.
The NAB-owned digital bank will lower the base variable interest rate on the account from 0.40% p.a. to 0.25% p.a., taking the maximum interest rate down to 1.31% p.a.
According to UBank, the conditions to earn the bonus interest of 1.06% p.a remains unchanged, requiring customers to:
Open a USave savings account;

Link a USpend transaction account; and

Deposit at least

$200/mth

from a non-UBank account
Need somewhere to store cash and earn interest? The table below features savings accounts with some of the highest interest rates on the market.
Lender

---

4

0

0

0

$product[$field["value"]]

$product[$field["value"]]

$product[$field["value"]]

More details

FEATURED

Online Saver (Amounts < $499999)

4

0

0

0

$product[$field["value"]]

$product[$field["value"]]

$product[$field["value"]]

More details

High Interest Savings Account (< $250k)

4

0

0

1

$product[$field["value"]]

$product[$field["value"]]

$product[$field["value"]]

More details

0

50

0

$product[$field["value"]]

$product[$field["value"]]

$product[$field["value"]]

More details

0

0

0

$product[$field["value"]]

$product[$field["value"]]

$product[$field["value"]]

More details
Rates based on a savings balance of $10,000. Sorted by total interest rates. Refer to providers' websites for bonus rate conditions and for any applicable fees and charges. Rates correct as of June 27, 2022. View disclaimer.
The cut coincided with UBank's decision to also pass on the 15 basis point cut to variable home loan customers, something few lenders opted to do.
"Recently, the RBA cash rate has been cut by 0.15% to 0.10% and the rates that UBank receives for deposits have also continued to decline due to market movements," UBank said.
"We've adjusted our rates accordingly while still ensuring they are competitive for customers."
The USave's interest rate was last cut back in October, when its maximum rate was reduced from 1.60% p.a to 1.46% p.a following the RBA's 25 basis point cut that month.
UBank isn't the only bank cutting savings account rates - yesterday, ING said it would be cutting the maximum rate on its Savings Maximiser Account by 15 basis points to 1.35% p.a.
And prior to the RBA's rate cut decision, each of the big four banks had also cut savings account interest rates, as did popular neobanks like Xinja, Up and 86 400.
Savings accounts now little more than 'parking accounts'
With yet another cash rate cut and a slew of savings rate cuts occurring, Aussies are hard-pressed to find a decent rate of interest with cash at the moment.
It's not just savings accounts either.
Savings.com.au's analysis of big four bank data last week found roughly half of deposits (including term deposits) with the big banks are earning below 0.25% p.a in interest.
Over one fifth (22%) of NAB's deposits earn less than 0.01% p.a - basically nothing.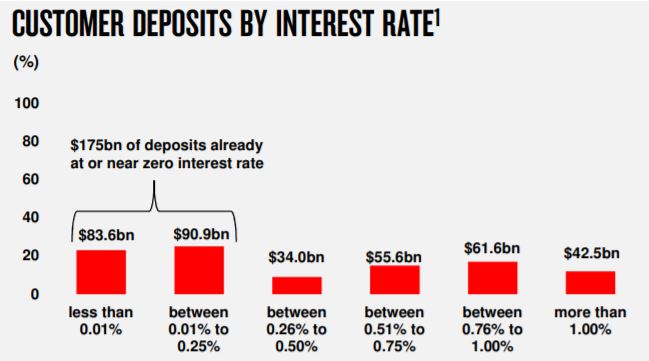 Source: NAB
The Reserve Bank has hinted multiple times that the cash rate may stay unchanged for the next three years, meaning deposit rates are set to stay at these ultra-low levels for the foreseeable future as well.
Raiz Founder and CEO George Lucas said rates are so low that savers may struggle to beat inflation.
"To put it simply, inflation may be low, but interest rates are in many cases even lower," Mr Lucas said.
"This has led commentators to label savings accounts as 'parking accounts', where savers may be going backwards as they're not being compensated for the decrease in purchasing power of their savings, due to inflation."
According to Raiz, as many as 85% of Australians aren't even aware of the interest rate they're earning on their bank savings account, mainly due to how they're advertised.
Many customers take out savings accounts with an 'introductory rate' that is higher for a few months, before reverting to a much lower rate at the conclusion of the introductory period.
"This is why a micro-investing app like Raiz may be a good alternative for Aussies to get automated saving features and the potential of higher returns than bank interest," Mr Lucas said.
Should you consider micro-investing or ETFs?
Acknowledging that savers have it tough at the moment, Reserve Bank Governor Philip Lowe said those hardest-hit needed to carry a "heavy share of the burden for the collective good".
"In reaching today's decision, the Board also considered the effects on medium-term financial and macro stability as well as the impact on savers," Mr Lowe said.
"The Board recognises that low rates can encourage some additional risk-taking, as investors search for yield. It also recognises that low deposit rates can create difficulties for some people.
"Lower rates will help support spending and ultimately will create jobs, so the broader community will benefit from today's decision."
But there are other options out there for people who want to earn a return on their money, albeit ones that carry a significantly higher risk factor.
One such option is micro-investing apps such as Raiz, which allows users to automatically invest their spare change in a selected mix of exchange-traded funds (ETFs), choosing from six different diversified portfolios with varying risk portfolios:
Conservative;

Moderately Conservative;

Moderate;

Moderately Aggressive;

Aggressive; and

Emerald, an ethical portfolio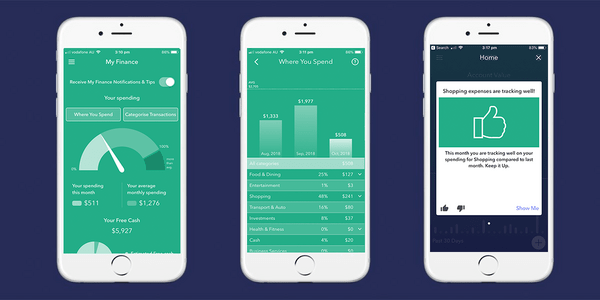 Source: Raiz
"It (Raiz) provides people access to a range of investment portfolios designed to suit differing investors and their goals," Mr Lucas said.
"For example, the conservative portfolio may suit an investor who is not willing to accept a high risk of losing money, but still wants the potential to make higher returns than the interest rates at a bank."
Such a conservative portfolio could perhaps suit older investors who might prefer cash for their retirement savings but are willing to consider an investment with a lower level of risk.
As it stands, in a tough year for share trading, Raiz's conservative portfolio returned 1.41% p.a, above the Chant West benchmark of 1.00% p.a, while the ethical portfolio massively outperformed the benchmark at 4.33% p.a to -0.50% p.a
Over two-years, the annualised investment performance of Raiz's portfolios has greatly outperformed what you can now get on a savings account or term deposit.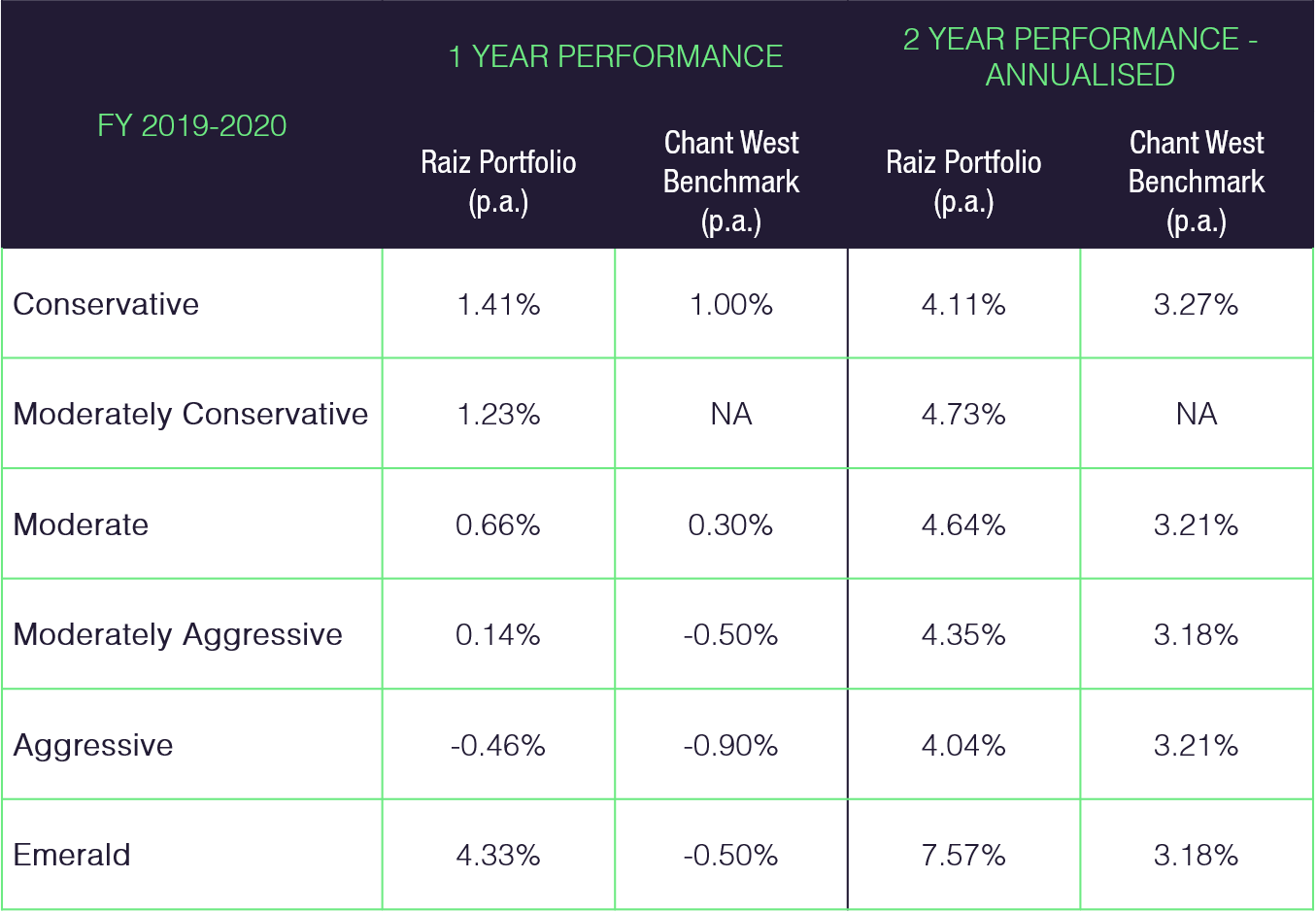 Source: Raiz. Past performance is not a guarantee of future performance.
"The rate of return varies, so future returns may differ from past ones, and they could even be negative. That's why it always pays for Aussies to consider their investment goals and circumstances before investing," Mr Lucas said.
"But taking more active control of their finances will ensure more people are proactive in doing what is best for them, and not the institutions who hold their cash."
Other investment options for people looking for an alternative to low-rate savings accounts include the likes of ETFs and managed funds (compared here) or lower-risk fixed-income options like bonds.
It is worth remembering when comparing term deposits and savings accounts with investments like ETFs, managed funds or micro-investing apps that it is not an apples to apples comparison, as they are quite different.
Savings accounts at the moment are unlikely to compete with the average returns generated by many ETFs and managed funds, but offer both security and some useful features, depending on the bank.
Savings accounts and term deposits are covered by the Australian Government's Financial Claims Scheme (FCS), which provides a government guarantee for amounts held up to $250,000.
Investments don't provide this safety net, and also have the potential to generate losses, which cash does not.
But investments do offer a greater degree of freedom and flexibility, and the possibility for much higher returns in exchange for elevated risk.
---
Latest Articles