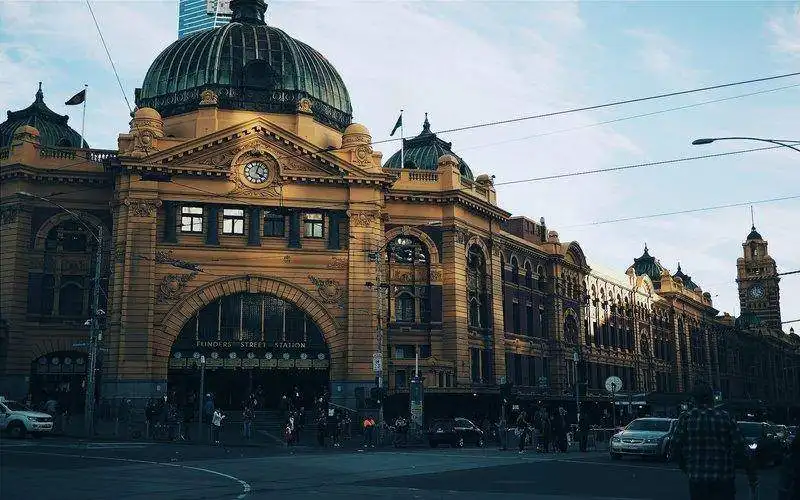 Photo by Fabian Mardi on Unsplash
Card spending in Victoria is lagging behind the rest of the nation as a result of their virus outbreak.
Commonwealth Bank (CBA) revealed household card spending over last week eased to be 7.2% higher than a year ago.
Online spending was down the most for the week after a strong lift in the previous, and growth in spending on both goods and services also fell.
Need somewhere to store cash and earn interest? The table below features introductory savings accounts with some of the highest interest rates on the market.
CBA senior economist Kristina Clifton said the spike in COVID-19 cases in Victoria was negatively affecting overall card spending.
"The reimposition of restrictions in some parts of Victoria is impacting the headline numbers," Ms Clifton said.
"Spending momentum in Victoria has turned negative as the number of COVID-19 cases lifts sharply and restrictions are reimposed."
Only the Northern Territory saw an uptick in card spending, with the Victorian pandemic outbreak potentially dampening sentiment in the rest of the nation.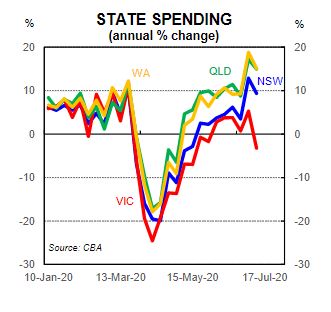 Ms Clifton said spending in Victoria was lagging behind the national average for some of the categories most affected by restrictions and lockdowns.
"Spending on clothing and personal care is weaker in Victoria. Many businesses providing beauty and personal care services are required to close again in this state," she said.
"Victoria is also lagging behind on spending on recreation. Many entertainment venues have been forced to close again as stage 3 restrictions are reimposed.
"Transport spending in Victoria is also lagging behind the national average. No doubt the tighter restrictions and lockdowns are having an impact on transport spend."
CBA found education spending had been weak across the country, especially in Victoria, with the decision to delay the start of Term 3 meaning households may not have yet paid school fees.
Spending on food was growing at a similar pace nationwide, despite cafes and restaurants back to takeaway only in Victoria.
Victoria saw 177 new cases of COVID-19 yesterday, bringing the state's total to 3,967.
Concerns have mounted over a second wave in New South Wales (NSW) and Queensland, after 21 cases were linked to the Crossroads Hotel at Casula.
The number of patrons allowed in pubs across in NSW is expected to be slashed, with bookings of more than 10 restricted, and larger venues limited to no more than 300 patrons.
Queensland Premier Annastacia Palaszczuk this morning declared parts of New South Wales to be coronavirus hotspots.
BREAKING: From midday, New South Wales local government areas of Liverpool and Campbelltown will be declared COVID-19 hotspots. @StevenJMiles #COVID19Aus pic.twitter.com/uW9EiVWy4R

— Annastacia Palaszczuk (@AnnastaciaMP) July 13, 2020
---
Latest Articles