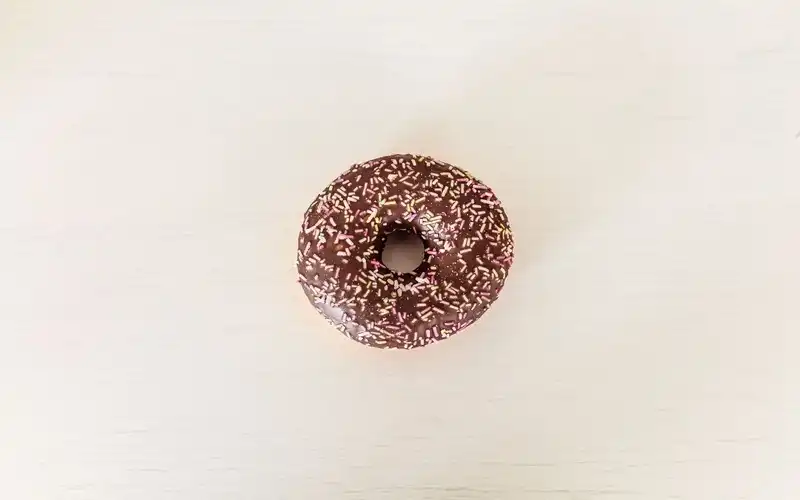 Photo by Kenny Timmer on Unsplash
Nearly half of NAB bank deposits are earning at or near 0% in interest, according to its latest figures.
The major bank's full-year results released today revealed $175 billion out of $369 billion in bank deposits - that's transaction accounts, term deposits and savings accounts - are earning less than 0.25% p.a in interest.
That's up significantly from a quarter of NAB's deposits last year.
Want to earn a fixed interest rate on your cash? The table below features term deposits with some of the highest interest rates on the market for a six-month term.
Over one fifth (22%) of NAB's deposits earn less than 0.01% p.a - basically nothing - while 25% earns between 0.01% and 0.25%.
Only $42.5 billion, or 11.5%, earns above 1% p.a, something that would have seemed unfathomable just a few years ago.
As of September 2020, $121 billion of these deposits are in transaction accounts, which historically tend to earn little to no interest, but a further $217 billion is deposited in either savings accounts or term deposits, which do earn interest.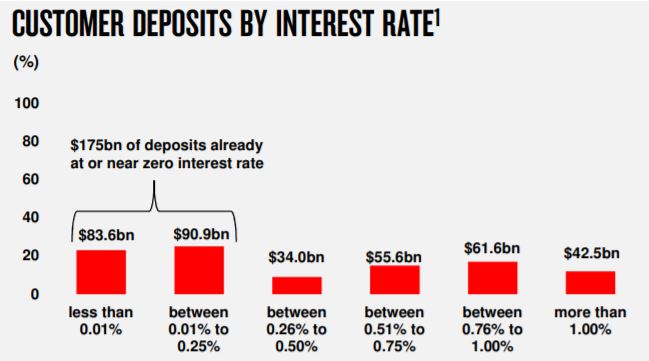 Source: NAB
NAB's figures sum up a dismal deposit market
NAB's showcase of its deposits earning little to no interest could be emblematic of the market as a whole, as NAB has the third-most customer deposits in the entire market according to regulator monthly banking statistics.
The second biggest, Westpac, revealed it has $550 billion in deposits in its own full-year results as at September 2020.
According to Westpac, 41% of these deposits are earning below 0.25% p.a, down from 33% in late March.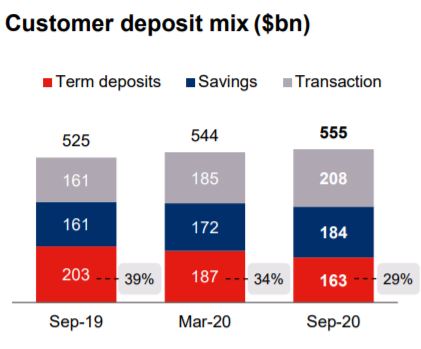 Source: Westpac
ANZ meanwhile, the fourth biggest bank in terms of deposits, reported $179 billion worth of <0.25% p.a deposits in its full-year results, a near 20% increase from March to September 2020 and a more than 60% increase from September 2019.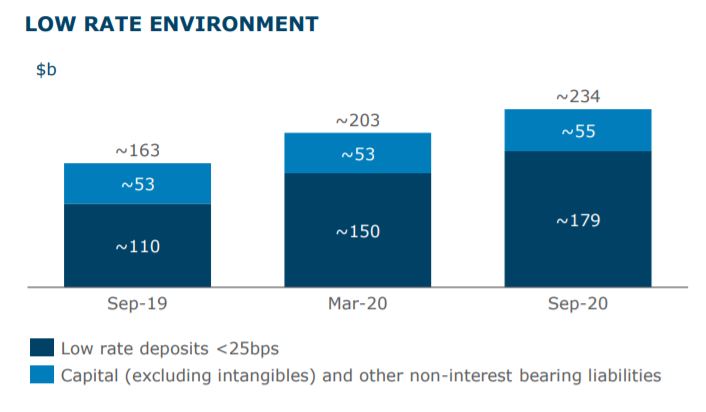 Source: ANZ
Australia's largest bank by deposit size, Commonwealth Bank, did not reveal an interest rate breakdown in its full-year results, but did say its deposit funding has increased from 69% in 2019 to 74% in 2020, now having more than $580 million in deposits as of September.
Deposits overall have increased among every major bank over the last several years, as well as across most other banks.
The COVID-19 pandemic exacerbated this trend. From March to June, when pandemic fears were at its peak, household deposits rose by 6.4%, or $64 billion, indicating a stockpiling of cash.
The household savings rate meanwhile increased immensely over the June quarter, rising from 2.5% of income to 19.8%.
This is a huge problem for those who rely on these deposits to earn an income, as deposit interest rates have plunged over the past year.
Prior to the June 2019's cash rate cut - the first in several years - the average term deposit rate across all terms offered on the market for a $10,000 deposit was around 2.30% p.a.
Now, after comparing the market again, the average term deposit rate across all terms sits at roughly 0.75% p.a.
After this week's 15 basis point cut, the cash rate now sits at an unprecedented 0.10%.
This has made things even harder for savers, and Reserve Bank Governor Philip Lowe said those hardest-hit needed to carry a "heavy share of the burden for the collective good".
"In reaching today's decision, the Board also considered the effects on medium-term financial and macro stability as well as the impact on savers," Mr Lowe said.
"The Board recognises that low rates can encourage some additional risk-taking, as investors search for yield. It also recognises that low deposit rates can create difficulties for some people.
"Lower rates will help support spending and ultimately will create jobs, so the broader community will benefit from today's decision."
Need somewhere to store cash and earn interest? The table below features savings accounts with some of the highest non-introductory interest rates on the market.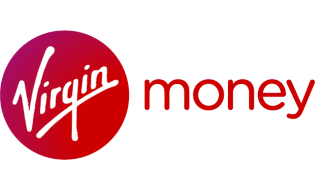 Advertisement
Boost Saver - Savings Account
Highest
variable rate
1.50%†
Base
variable rate p.a.
0.10%
BOOST YOUR SAVINGS with up to 1.5% for the first 3 months
Product Features
Red Hot Intro Rate of up to 1.5% for the first 3 months
Enjoy up to 1.2% thereafter
Bundled with the Virgin Money Go transaction account
---
Latest Articles