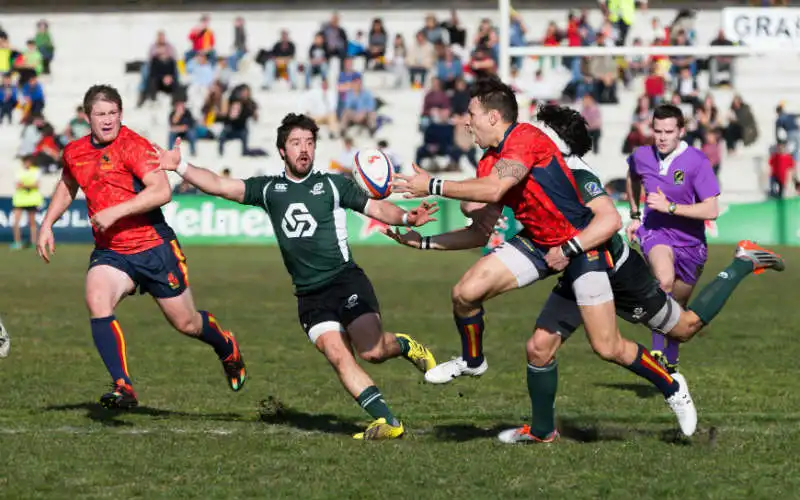 With Australia's central bank cutting interest rates this week, much of the focus has been on home loan rates – but plenty of institutions have been quietly moving term deposit rates too, and not all of them have been cuts either.
Since Tuesday's RBA decision, more than a dozen different institutions have changed interest rates on their term deposit products.
Many more had cut rates before Tuesday, with just under 50 doing so in anticipation of the widely-anticipated rate cut.
Each of the big four banks made changes to their term deposit rates, either in the days before or after Tuesday's announcement:
ANZ has cut various term deposit interest rates by up to 60 basis points on its Advance Notice product. But it also raised the interest rate on its 11-month term deposit by 80 basis points to 2.35% p.a.
Commonwealth Bank has lowered interest rates on select term deposits by as much as 50 basis points but has raised others by up to 40
Westpac, the only big bank to not make any changes last month, has since slashed various term deposit rates by up to 50 basis points while raising one by 25
NAB has not made any changes to its term deposits since the rate cut announcement but had previously slashed rates by as much as 40 basis points the previous week
ANZ's cuts to term deposit rates added more fuel to the fire of criticism over its decision not to pass on the full 25 basis point rate cut to its home loan customers.
The Federal Government has berated big banks Westpac and ANZ, for not passing on the interest rate cut - but it has not told you about another failed cut. It's a key rate of its own, affecting the pensions of around two-million Australian seniors. @Ross_Greenwood #9News pic.twitter.com/UcwpkTembd

— Nine News Sydney (@9NewsSyd) June 6, 2019
In a statement regarding the sole 80 basis point increase made to ANZ's 11-month Advance Notice product, Australia Retail & Commercial Group Executive Mark Hand said ANZ recognised it has not been an easy environment for savers.
"In making this decision we have sought to get the balance right to provide a highly competitive rate for savers over an 11-month term on the back of yesterday's announcement to cut home loan rates," he said.
"We're making an effort to provide an attractive option for savers and retirees who rely on interest income."
In May, RBA data showed the average term deposit rate between the big five (ANZ, CommBank, NAB, Westpac and Macquarie Bank) was 1.90% across all terms.
Following this month's RBA cut, Savings.com.au can calculate that the average is now approximately 1.65%.
At the time of writing, the maximum rate on offer from the big five belongs to ANZ's aforementioned 11-month advance notice term deposit at 2.35% p.a.
At this rate, $100,000 would return over $1,000 in interest at maturity, while the average rate would give about $750.
Summary of post-rate cut term deposit changes
The table below shows the term deposit providers who've changed their interest rates following the cash rate announcement on 4 June 2019.
| Institution | Biggest decrease (basis points) | Biggest increase (basis points) | Highest available rate |
| --- | --- | --- | --- |
| People's Choice Credit Union | -25 | N/A | 2.62% (five years) |
| Northern Inland CU | -30 | N/A | 2.20% (three months) |
| ING | -25 | N/A | 2.25% (one, two years) |
| Commonwealth Bank | -50 | +40 | 1.90% (12 months) |
| Heritage Bank | -30 | N/A | 2.25% (three months) |
| Bank of Sydney | -50 | N/A | 2.10% (four months) |
| Citi | -1 | N/A | 2.70% (three months, minimum $250,000) |
| The Mutual | -40 | +10 | 2.30% (six, nine months) |
| St. George Bank | -50 | +25 | 2.05% (12 months) |
| Endeavour Mutual Bank | -20 | N/A | 2.00% (two years) |
| BankSA | -50 | +25 | 2.05% (12 months) |
| Bank of Melbourne | -50 | +25 | 2.05% (12 months) |
| Auswide Bank | -25 | N/A | 2.25% (four months) |
| ANZ | -60 | +80 | 2.35% (11 months) |
The only term deposit product currently offering 3.00% or higher is Qudos Bank, while the average across all terms from the majority of providers is just 2.08% (it was 2.23% in March).
With at least one more interest cut expected before the new year, savings and deposit rates could fall even further.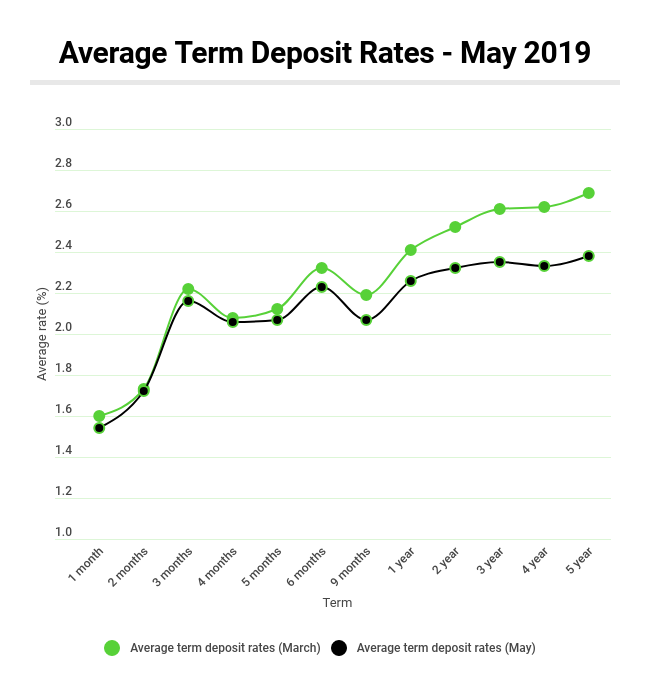 ---
Latest Articles