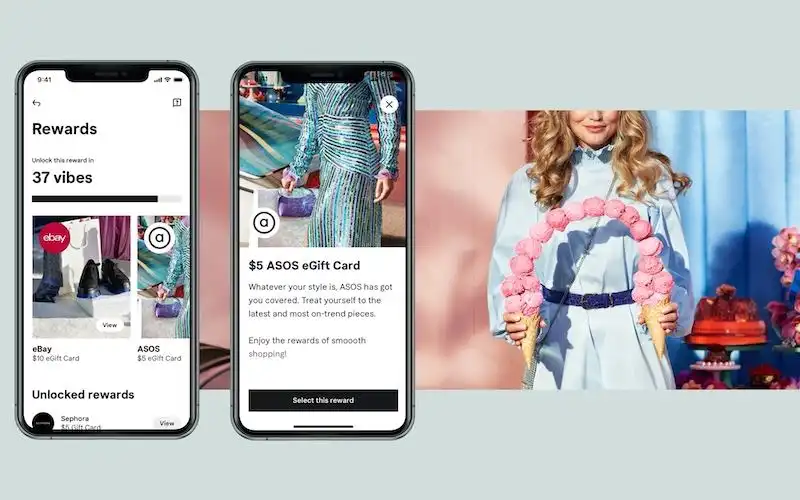 Source: Klarna
Buy now, pay later platform Klarna has launched its loyalty program in Australia today, which earns one 'vibe' point for every dollar spent.
The platform was originally launched to US customers in June, taking four months to go Down Under.
The new system also allows shoppers to accrue points through both Klarna and the retailer they are shopping with when used with the Klarna app.
It is unclear what 'vibes' can actually purchase as the loyalty program is still being rolled out, but the website says it can unlock 'rewards' from retailers such as Sephora, JB Hi-Fi, Big W, Nike and more.
There are no fees to use the program (other than any fees using Klarna itself), and it can be used at any retailer, not just Klarna-affiliated stores.
Need somewhere to store cash and earn interest? The table below features introductory and ongoing savings accounts with some of the highest interest rates on the market.
Lender

---

4

0

0

0

$product[$field["value"]]

$product[$field["value"]]

$product[$field["value"]]

More details

FEATURED

Savings Account (Amounts < $24k)

4

0

0

0

$product[$field["value"]]

$product[$field["value"]]

$product[$field["value"]]

More details

High Interest Savings Account (< $250k)

4

0

0

1

$product[$field["value"]]

$product[$field["value"]]

$product[$field["value"]]

More details

0

50

0

$product[$field["value"]]

$product[$field["value"]]

$product[$field["value"]]

More details

0

0

0

$product[$field["value"]]

$product[$field["value"]]

$product[$field["value"]]

More details
Rates based on a savings balance of $10,000. Sorted by total interest rates. Refer to providers' websites for bonus rate conditions and for any applicable fees and charges. Rates correct as of May 29, 2022. View disclaimer.
Customers signing up to the 'rewards' club can also earn a one-off $10 eBay shopping voucher after their first purchase and successful repayment.
The loyalty program is offered to Australian customers ahead of European customers, according to head of Klarna ANZ Fran Ereira.
"From a retailer perspective, the great thing about Klarna's rewards club is that it adds value to their existing loyalty program, rather than detracting from it," she said.
"Members continue to participate in the retailer's program - and they earn an extra layer of Klarna vibes on top of that."
The rewards program is designed to deal another blow to the rewards credit card sector, with credit card use declining over the past ten years.
"We developed our approach with direct input from customers, who said they often find traditional credit card loyalty memberships confusing and difficult to navigate and that they wanted more freedom within a rewards program," Ms Ereira said.
Klarna co-founder and CEO Sebastian Siemietkowski said the BNPL offering eliminates "fees and high interest rates often attached when using credit cards and their accompanying loyalty programs".
Klarna's marketing points towards the program being launched 'in-time' for Black Friday sales and Christmas.
Consumer Action Law Centre policy director Katherine Temple, speaking in the context of Afterpay white-labelling Westpac savings accounts, said the "rapid" expansion of BNPL is problematic.
"Australia has a debt problem. Buy now, pay later companies use slick marketing to normalise the use of credit for everyday essentials," she said.
"I am concerned that this industry is setting young people up to fail financially, and that will only be turbocharged with these aggressive expansions.
"Buy now pay later is credit - plain and simple. The rapid expansion of buy now pay later into everyday purchases is simply increasing the risk of people being caught in debt traps."
In March, CommBank spent $300 million to acquire a 50% stake in Klarna's Australia/New Zealand business.
It operates similarly to Afterpay, with four 'interest-free' instalments, but late payments could result in late fees up to $15 per instalment.
The platform also charges a 30c transaction fee and a variable purchase fee up to 5.49% to partner retailers, which is lower than some other BNPL platforms.
See Also: Should BNPL be credit regulated?
---
Latest Articles