The Swedish-based Klarna has more than 85 million customers and 200,000 merchants worldwide.
The Commonwealth Bank (CBA) has invested a total of US$300 million to acquire 50:50 ownership rights to Klarna's Australian and New Zealand business.
Although it will be available to non-CBA customers, those who bank with CBA will be able to quickly register and begin shopping at any online store.
All purchased items will be shown in the Commbank app, and CBA customers will be notified of price drops and out of stock notifications.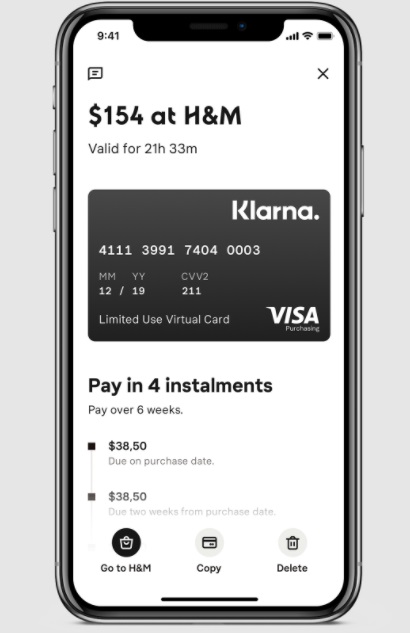 An example of Klarna's 'Ghost card' - a single use, prepaid card in-app. Source: Klarna.
CBA Chief Executive Officer Matt Comyn said the partnership with Klarna will enhance the customer experience in CBAs "leading" banking app, which is Australia's most downloaded in that category.
"In particular, it allows us to build on our leading technology to deliver the very best payment services for our customers and merchants in Australia, on platforms which are safe, secure, and easy to use," Mr Comyn said.
He also said it will let the major bank meet the growing demand for customers for new payment options - Australia already has Afterpay, Zip, Bundll, Humm, Laybuy and Latitude Pay in the space.
"By partnering with Klarna, we are bringing together our market leading digital technology, merchant relationships and strong customer network with Klarna's innovative payments technology and integrated shopping experience for the benefit of CBA customers and many more Australian consumers."
Klarna Group CEO Sebastian Siemiatkowski added it was an exciting day not just for CBA and Klarna, but for Australia.
"We have already developed a strong working relationship with CBA and we look forward to providing even more opportunities together for our customers in the coming months and years," Mr Siemiatkowski said.
"Australian consumers' expectations are evolving, they demand seamless, intuitive and transparent online shopping services that better meet their daily needs. Klarna streamlines this experience from browsing to payment at checkout to post-purchase which allows consumers to take control and shop on their terms all from a single app.
"We believe the future of retail is high tech powering high touch experiences, so regardless of how and when consumers want to shop and pay, we need to be there for them."
Klarna is backed by rapper Snoop Dog, who is also a shareholder. Source: Klarna.
How does Klarna work?
According to Klarna, the platform functions in much the same way rival BNPL providers like Afterpay do.
When making a purchase with Klarna, customers can spread out their payment over four interest-free instalments, which is the same structure as Afterpay. The first of these payments is made at the point of purchase.
So, for example, a $150 purchase would have a $37.50 cost upfront and three more payments of $37.50 every two weeks.
Klarna also has a 'Pay in 30 days' feature, allowing customers to try their order before making their first payment within 30 days.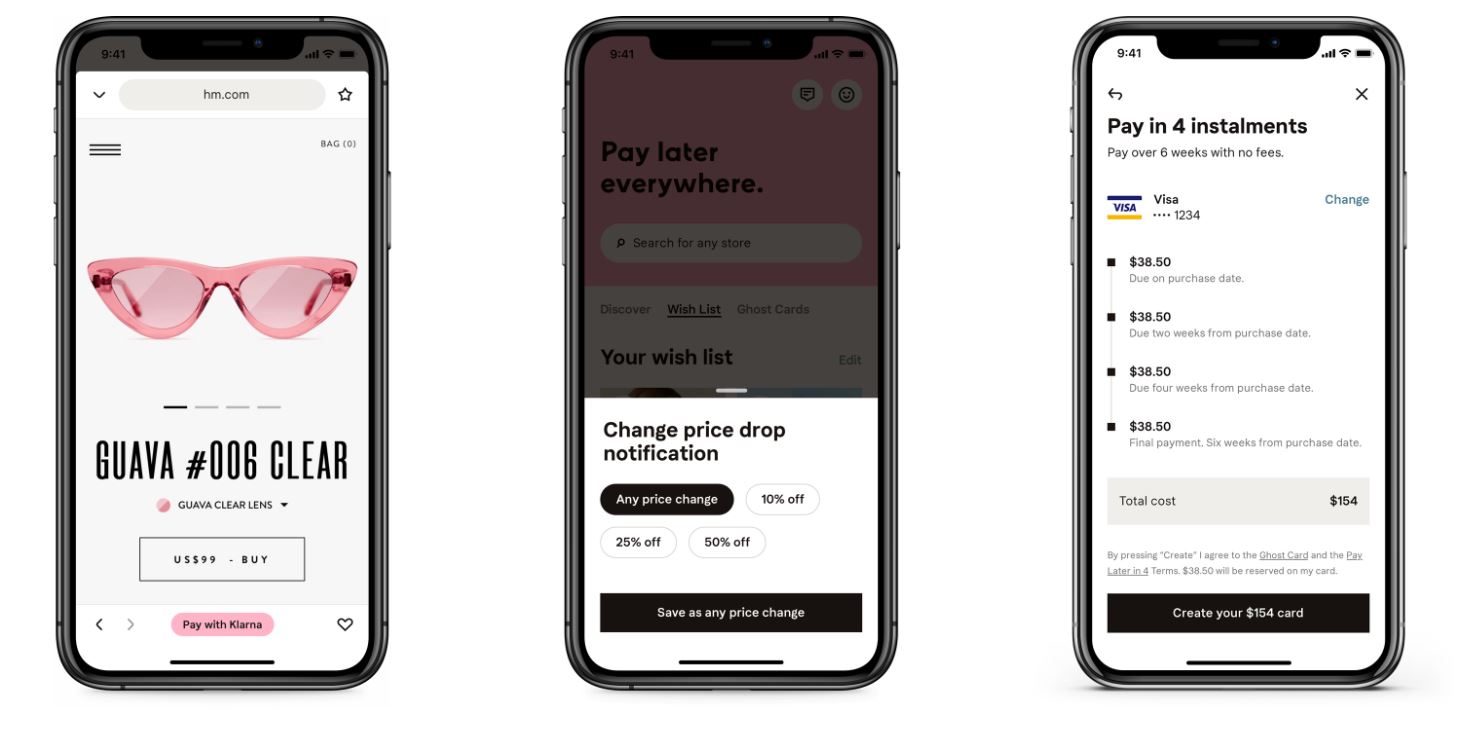 Source: Klarna
Klarna also has a six-36 month financing plan for larger purchases, and does complete a brief credit check that gives instant approval or rejection.
According to Klarna, it also determine's a user's ability to repay at the time of purchase by carrying out spot credit checks.
Key brands currently on-board with Klarna in Australia include the likes of:
H&M
Adidas
IKEA
Expedia Group
Samsung
ASOS
Klarna's Australian website does not yet have details or fees and charges yet, but stay tuned as more updates are expected to occur today. It is also not available to anyone under the age of 18.
Buy now, pay later industry agrees to new standards
Klarna's arrival comes shortly after the announcement of new industry standards for BNPL providers made yesterday by the Australian Financial Industry Association (AFIA), following a Senate inquiry and ASIC review.
Under the terms of the code, due to be implemented on July 1, BNPL providers cannot push customers into positions of financial hardship, such as initiating bankruptcy proceedings, and they also cannot charge late fees to customers who have flagged they're under financial hardship, and late fees must be "fair, reasonable and capped".
The BNPL sector has frequently been accused of recklessly pushing people into high levels of debt, and an ASIC review in 2018 found one in six users had become overdrawn or delayed bill payments in order to meet their repayments.
AFIA CEO Diane Tate said the code is being developed to strengthen consumer protections.
"BNPL providers are not unregulated, they already comply with numerous laws that protect customers," Ms Tate said.
"However, this draft code goes above and beyond existing laws by increasing safeguards for customers, including upfront assessment of customers to ensure the product will be suitable for them, product limitations to ensure customers don't over-commit, and access to AFCA's external dispute resolution scheme."