The week before Christmas is usually the busiest time of year for retailers with people stocking up, but the lure of air conditioned shopping centres may not be enough to entice shoppers into stores.
According to the weekly ANZ-Roy Morgan poll, consumer confidence fell by 0.9% to 108 points - the lowest pre-Christmas reading since December 2008.
Commonwealth Bank's Household Spending Intentions (HSI) series didn't fare much better, with consumers' views on whether it's a 'good time to buy a major household item' falling a near decade low.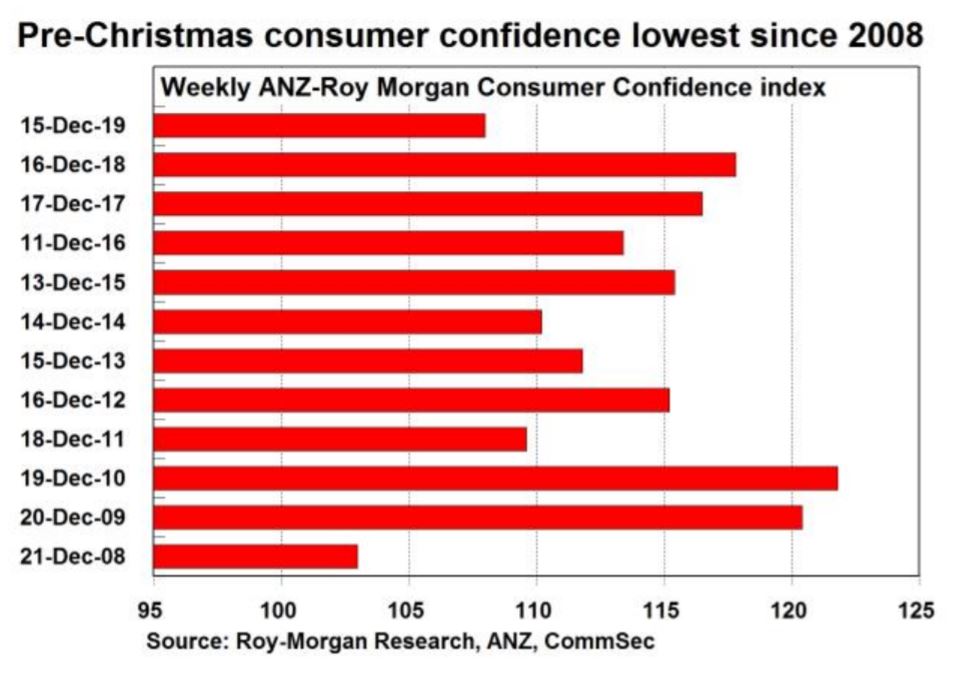 Source: CommSec
"Aussie consumers don't appear to be getting into the festive spirit," said CommSec Senior Economist Ryan Felsman.
According to Commonwealth Bank and Google trends searches data, Aussies are less likely to spend money on 'goods' but are still keen to spend money on 'experiences' with HSI readings lifting into positive territory, especially for entertainment.
"More generally, the persistently low growth in household incomes continued to be a source of concern for the consumption outlook. The recent recovery in the established housing market was expected to be positive for consumption growth in the period ahead," Mr Felsman said.
Aussies shop with savings in mind at Christmas
Just over a quarter of shoppers will be looking for deals and discounts to keep costs down this Christmas, according to research commissioned by Commonwealth Bank.
Millennials are the most likely generation to hunt for a bargain compared to Baby Boomers, who prefer to take a more chilled out approach and fit their Christmas shopping around their regular shop. They're also the generation least likely to hunt for a bargain.
If you're guilty of leaving your Christmas shop until the last minute, you're in the company of over two million Aussies who do the same thing. The biggest spending days predicted for this Christmas are Thursday 19, Friday 20 and Saturday 21, according to CBA's latest transaction forecasts.
CBA EGM of Everyday Banking Kate Crous said leaving your Christmas shopping until the last minute could thwart your bargain hunting.
"Christmas can be an expensive time of year for many Aussies It's clear that most of us are on the lookout for deals and discounts to keep the costs down but discretionary and non-discretionary items still have a way of creeping up on us, especially as many of us do our shopping last minute."
CBA's 2018 spending data also revealed Christmas Eve was the biggest spending day, even in comparison to Boxing Day. On Christmas Eve last year, credit and debit card spend totalled $571 million, dropping to $429 million on Boxing Day.
Unsurprisingly, last minute food and beverage supplies were the biggest area of spending ($30m), with alcohol trailing behind ($10m).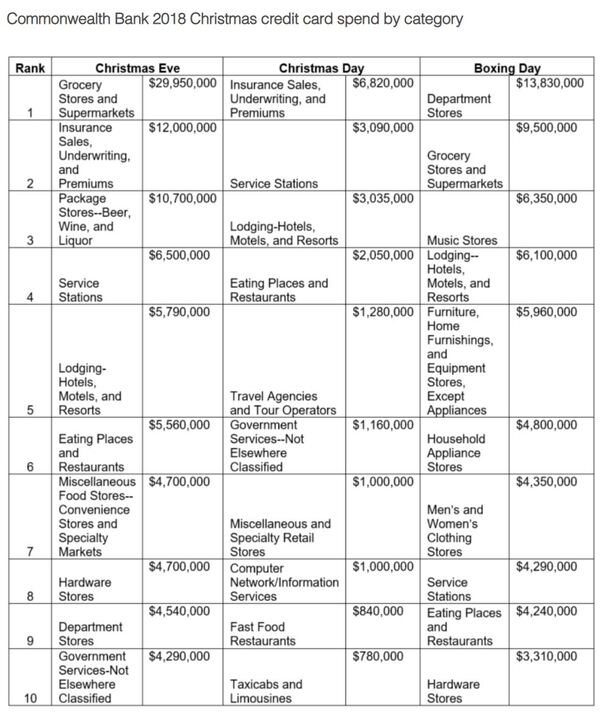 Source: Commonwealth Bank
It seems not all of us are thrifty at Christmas, according to a report by listings site Gumtree. One in six Aussies choose to wing it at Christmas and not plan their spending, ending up broke come December.
One in four Australians made Santa's nice list by saving all year round to make sure they've got enough money for Christmas. Other approaches Aussies take involve increasing their available finances by either working more in the lead up to Christmas (11%) or by selling their unwanted items (7%).
Millennials were the most likely generation to work more and sell items from around the home to increase their funds compared to Baby Boomers.