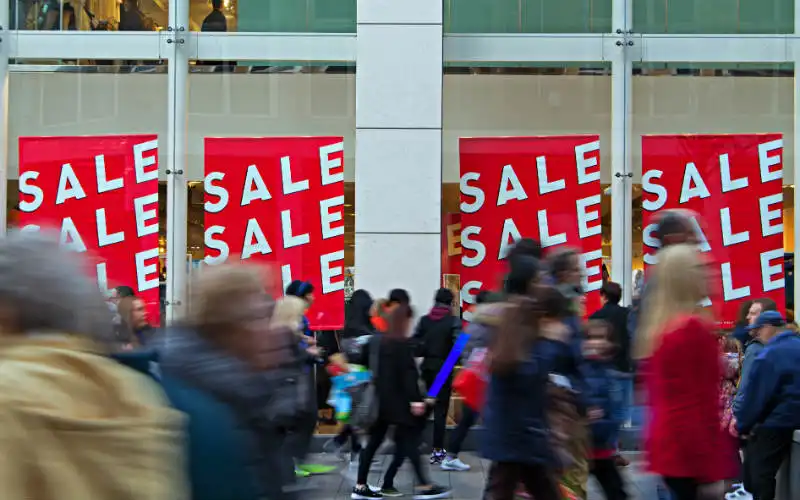 Image source: Adobe
Buy now pay later service Afterpay has boasted record sales on the back of Black Friday and Cyber Monday.
The much-hyped Black Friday sales on 29 November saw Afterpay hit $1 billion in underlying sales across the globe in November - the platform's highest-ever monthly sales performance.
This record haul takes Afterpay's total underlying sales for the first five months of the 2020 financial year up to $3.7 billion.
Across both the Black Friday and Cyber Monday (2 December) trading periods - underlying sales on the platform were over $160 million, which is a 160% rise on the same days last year.
Afterpay's data shows the average customer spent roughly $150 on Black Friday sales, purchasing an average of 3.5 items each.
Department stores, gaming and online fashion were the biggest sellers.
The busy shopping period also appeared to drive more consumers to use Afterpay.
Over November, an average of over 22,000 customers per day signed up to the platform, taking it up to 6.6 million active customers by the end of the month.
Across Black Friday and Cyber Monday alone, Afterpay's customer base grew by over 140,000 customers.
Black Friday and Cyber Monday was a huge period for retail in general, with Commonwealth Bank reporting an 87% increase in retail expenditure according to spend on Commonwealth Bank credit cards.
"Retail goods spending across the weekend following Black Friday and on Cyber Monday was also well above average November sales," Commbank Senior Economist Kristina Clifton said on Friday.
"We have seen spikes in spending at time of the Black Friday sales in the previous years but they have been much smaller in size, averaging around 28%."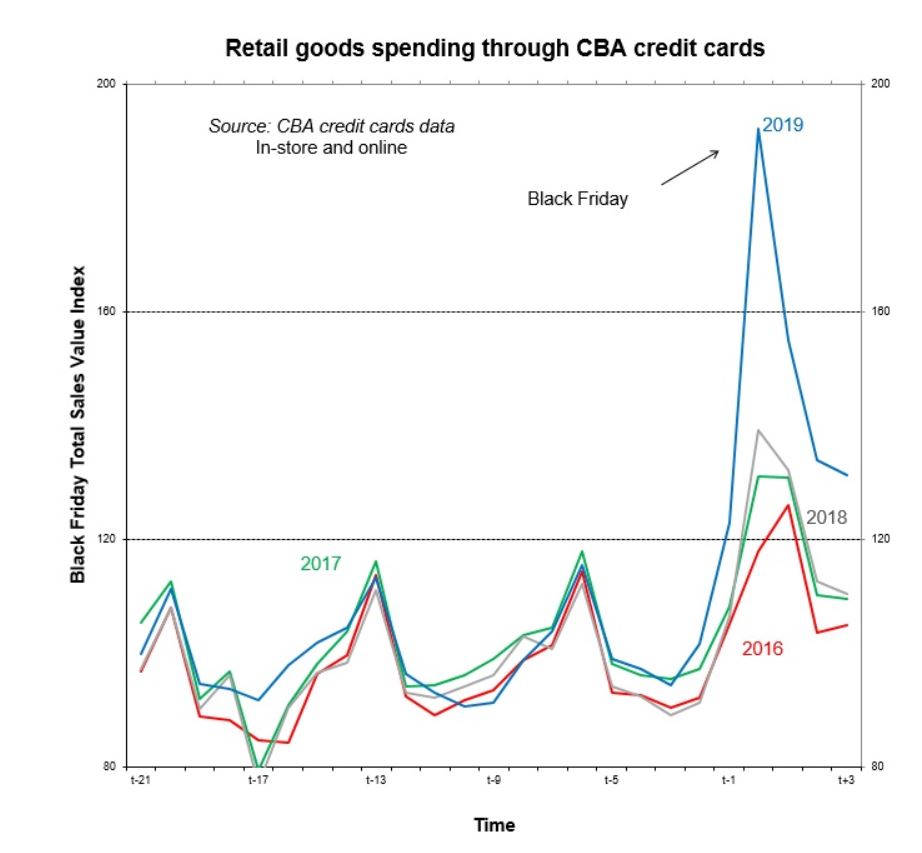 Source: CBA.
The popularity of buy now, pay later platforms has been soaring in recent years.
The findings from the Roy Morgan 'Digital Payment Solutions Currency Report' September 2019 found 1.95 million Australians have now used services like Afterpay or Zip in the last 12 months, up more than 600,000 from the previous 12 months.
Those aged 25-34 are nearly twice as likely to be using a buy-now, pay-later scheme as the average across the whole population, while Aussies over 50, who make up more than 40% of the population, only account for 14.2% of those who use these schemes.
Over Black Friday, over 50% of active Afterpay customers were between 23 and 36, with the average customer being a 33-year-old female.
Buy-now, pay-later usage in last 12 months: Market composition by age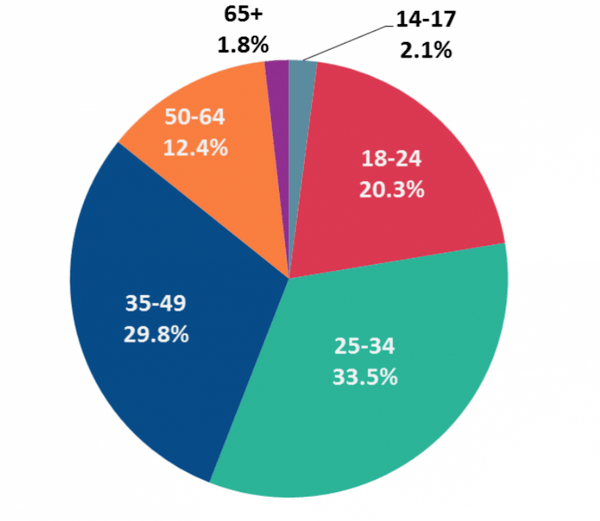 Roy Morgan CEO Michele Levine has previously said buy-now, pay-later schemes would continue to grow in popularity, but a report last week by UBS said such rapid growth might not be such a good thing for Afterpay.
"In our view, somewhat paradoxically, the more successful Afterpay is, the more likely it will attract regulatory scrutiny," the UBS report said.
Afterpay is not currently listed as a credit provider, as "there is no cost to the consumer for the Afterpay credit product, and it does not impose any
charge for the ability to pay the original purchase price (and no more) in fortnightly instalments".
Not being classed as a credit provider is considered to be one the key factors behind Afterpay's rapid growth - since it doesn't require credit checks, customers can simply sign up at the point-of-purchase (such as the counter or online) and make a payment in instalments.
With over 140,000 new customers on Black Friday and Cyber Monday, it's not unreasonable to assume many people choose to use Afterpay thanks to its ease of use.
Teach your kids about money this Christmas
With Christmas being a time for both giving and spending large amounts of money, 28% of Australians won't have enough money to cover their Christmas costs, and will instead turn to methods such as buy now, pay later (BNPL) services, credit cards and personal loans to fund their purchases.
Michelle Rowcliff, General Manager of Zenith Payments, says not actually seeing physical money being spent on items for Christmas could potentially have a negative effect on how young people perceive money.
"When it comes to spending habits, especially over the festive holiday, setting a good example can be tough. But with children often mimicking parents, exhibiting mindful spending at home will start to help kids understand the value of money, leading to good habits later in life," Ms Rowcliff told Savings.com.au.
"Not seeing the exchange of physical notes and coins at purchase point may lead to kids thinking 'invisible' money is an unlimited resource. Our increasingly cashless society and movement away from traditional financial education is making children unaware of the value of money," she said.
"Arguably, it is therefore more important now than ever before to effectively teach our younger generation the importance and value of their Aussie dollar."
The Roy Morgan report on BNPL services shows kids aged 14-17 account for 2.1% of their market composition (despite the services' 18+ restrictions), while those aged 14-34 account for just under 56% of total users.
"How parents choose to educate their children is a personal choice, however, Christmas can be used as a prime time to start these conversations," Ms Rowcliff said.
Products such as ZAAP - a prepaid Mastercard initiative recently launched by Zenith that combines pocket money and financial literacy skills - is one such tool that can help parents do this.
Designed with both young Aussies and parents in mind, it enables parents to teach kids important money management skills and empowers them to take control of their finances in a safe environment
"Real-life situations can be used to teach needs from wants, helping kids to understand that money isn't an endless resource. It can bring freedom, choice and opportunity but also challenges if not used responsibly," Ms Rowcliff said.
"When money's value is understood early, these skills are embedded into young adulthood.
"Today's fintech revolution is focused on helping young Australians develop their financial literacy skills. Many up and coming companies have set themselves on the mission to introduce children to the concept of saving, earning and spending - an essential for financial success."
---
Latest Articles