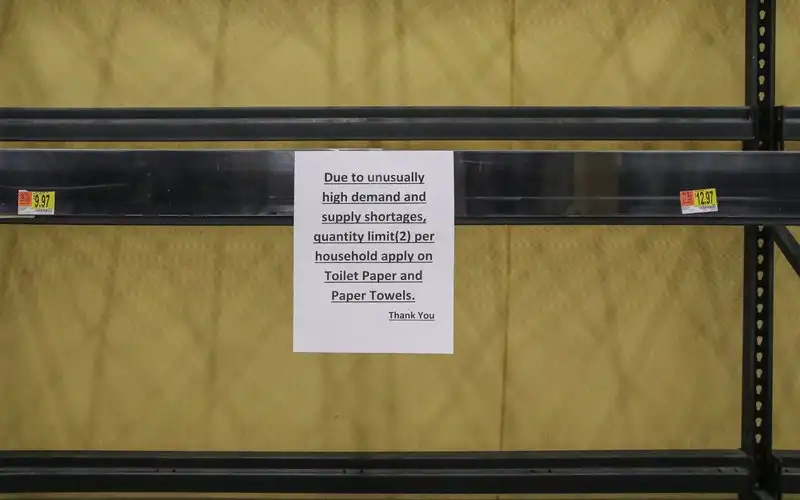 Photo by Mick Haupt on Unsplash
Commonwealth Bank credit card data shows just how much coronavirus (COVID-19) has already affected our spending habits.
Credit card spending in grocery stores and supermarkets over the past week is up 74% from this time last year as customers rush to stock up on food and toilet paper as we progressively become more and more confined to our homes.
#BREAKING: A scuffle broke out at a Woolworths in Chullora this morning with patrons coming to blows over toilet paper, forcing employees to intervene. Bankstown police attended the scene and no charges have been laid. #9News pic.twitter.com/9TmDAStb9D

— Nine News Australia (@9NewsAUS) March 7, 2020
Food spending over the past week is up 49.7% on the same week a year ago, while spending on alcohol has risen 20.4%, likely due to fears that people would be stuck in their homes without booze (don't worry: Liquor stores are deemed essential services and will remain open!).
"The incredible lift in expenditure in particular at supermarkets and grocery stores may be sufficient in size to see total household consumption in positive territory in the March quarter," Commonwealth Bank Senior Economist Gareth Aird said.
However, spending in restaurants and cafes has fallen 1.3% after averaging around 20% annual growth last year.
Such spending could be set to plummet much more than this once the recent enforced closures of such venues are reflected in the figures.
Other significant spending trends were:
A 16.4% fall in recreation spending thanks to restrictions on gatherings (likely to fall further due to closures of things like cinemas)
A 7.1% fall in transport spending (due to more people working from home and isolating themselves)
A 25% increase in health services spending, as people flock to pharmacies and doctors' offices
Looking for somewhere to store your cash? The table below displays a snapshot of one-year term deposits with some of the highest interest rates on the market.
Despite the massive surges in some areas of the economy, Mr Aird cautioned that much of this spending is simply due to stockpiling, and positive impacts on the GDP would be negated by falls in business inventories.
Read: CBA considering cutting credit card rates
ANZ reported supermarket spend is up 40% on the same week ended March 16 last year.
ANZ economist Adelaide Timbrell noted that there was also a 35% lift in retail food spending, as well as:
A 60% jump in pharmacy and toiletry spend
A 22% rise in electronic purchases (who wants to be bored stuck at home?)
"We expect household consumption to decline sharply now that tighter social distancing regulation is in place. The moves to close non-essential services could severely reduce household spending," Ms Timbrell said.
"An increase in online shopping could soften the blow, but is unlikely to offset the effects of layoffs, reduced income or low confidence in many households."
ANZ data: supermarket spend up 40% in the week ended March 16 compared to the same week last year. Retail to go up in March. #Panicbuying to ease in coming months, as people become used to the "new normal" of social distancing. @Adelaide__T @DavidPlank12 #ausecon #covid19au pic.twitter.com/2yvI01lioG

— ANZ_Research (@ANZ_Research) March 24, 2020
ANZ's report also found the panic buying trend should ease in the coming months as people get used to "the new normal"of social distancing.
Unemployment to hit 11% by June
A third big bank, Westpac, predicted the rate of unemployment will hit 11% by June, a revised prediction from 7% last week.
This would mean more than 800,000 job losses at a conservative estimate, and economic growth is expected to contract by 3.5% in the June quarter.
"Last week we forecast a peak in the unemployment rate of 7%," said Westpac chief economist Bill Evans.
"Since then we have seen the rollout of more extensive shutdowns than we had originally envisaged. Economic disruptions are set to be larger as the government moves to address the enormous health challenge which the nation now faces."
The ANZ-Roy Morgan Australian Consumer Confidence Index also plunged to a 30-year low, falling by 27.8% in the last week to 72.2.
This is just above the all-time lows recorded in 1990, and 17% below the lowest point seen during the GFC.
"The increasingly negative news about the impact of the coronavirus pandemic in Australia has had a dramatic impact on consumer sentiment, with confidence showing its biggest ever fall since the survey moved to a weekly basis in 2008," ANZ Head of Australian Economics David Plank said.
ANZ-Roy Morgan Australian Consumer Confidence: plunges. All sub-components are well below average and well below the levels of the GFC. Only the 1990-91 recession is comparable. #ausecon #ausretail @roymorganonline @DavidPlank12 pic.twitter.com/2urGojYuae

— ANZ_Research (@ANZ_Research) March 23, 2020
Notable points seen in the data include the 'time to buy a major household item' index falling by 37.2%, while 'current' and 'future' economic conditions fell by 23.9% and 25.8% respectively.
---
Latest Articles