Both major BNPL players released their half-year results on the ASX today, and the total number of customers across Australia and New Zealand (ANZ) is 4.9 million.
Afterpay (ASX:APT) lays claim to 3.1 million of these customers, up 26% from its half-year results the previous year.
Globally, Afterpay has 7.3 million active customers, a 134% increase year-on-year, thanks mainly to its expansion to the USA.
Afterpay CEO and Managing Director Anthony Eisen said these results reflect Afterpay's efforts to accelerate sales growth across its global business.
"We more than doubled our underlying sales and the number of active customers on our platform compared to the same time last year which indicates our differentiated business model continues to resonate with customers and merchants," Mr Eisen said.
"Our global expansion is accelerating with the US and UK growing as a considerably faster rate than what we experienced in ANZ."
Afterpay managed to add nearly 17,000 customers per day globally, with that number rising to nearly 23,000 in November and December due to Black Friday and Cyber Monday.
Zip Co meanwhile (ASX:Z1P) experienced an 80% increase in customers from December 2018 to December 2019, with the total number rising to 1.8 million.
By the end of FY2020, it is targeting 2.5 million.
Zip CEO and Managing Director Larry Diamond said ZIP is ahead of expectations for FY20, and is seeing significant growth opportunities.
"Zip was founded six years ago when we saw a large opportunity to disrupt the broken and unfair world of credit cards and retail finance," Mr Diamond said.
"We wanted to provide a modern alternative and a great experience - and we wanted it to be responsible, transparent, flexible and supportive for customers.
"Our investment in credit technology, big data and strategic choices around upfront customer due diligence, has ensured we continued to build a robust and sustainable platform in the BNPL sector both in AU and now abroad."
BNPL is a rapidly growing category, and Zip Co's half-year report stated there are more than six million BNPL accounts across Australia, based on internal data and market updates from other smaller players, including:
The NAB Online Retail Sales Index sees BNPL as a $320 billion market opportunity in Australia alone, and the growth of BNPL has coincided with the rapid decline in credit card use.
There was a $2 billion decline in credit balances in 2019, according to the Australian Payment Cards report, while balances accruing interest (aka debt) fell by 10% throughout 2019 to $28.5 billion.
One in two BNPL users stopped using their credit cards in 2019, while for the first time, debit card use overtook credit card use in November last year.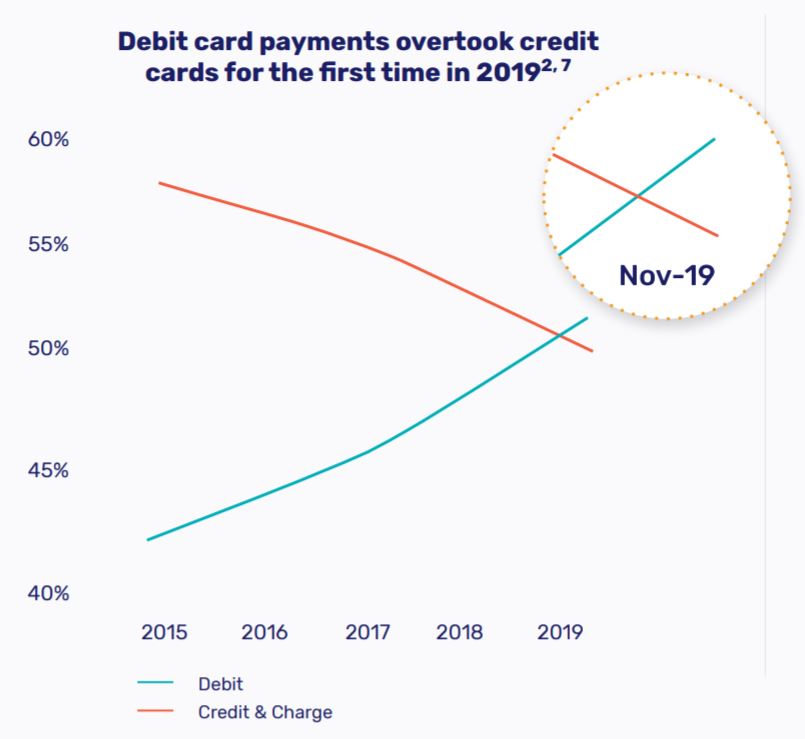 Source: Zip
With BNPL proving extremely popular among millennials and the emerging Gen Z, it has the potential to be a $1.2 trillion industry globally (VISA).
Afterpay profits slide
While it added customers in record numbers, Afterpay's financials didn't make for such promising reading at first glance.
Afterpay's total income for the half ending December 31 surged by 96% to $220 million, with underlying sales more than doubling from a year previous year to $4.8 billion.
However, after tax losses rose 31% to $28.9 million, below expectations.
Afterpay cited "increases in employment, marketing, and other operating expenses" as reasons for the loss, while also urging caution due to increased global expansion.
"Our global expansion is accelerating...and new markets are accelerating at a faster rate," Mr Eisen said.
Afterpay plans to reach 9.5 million customers by the end of FY2020, which includes new customers in Canada.
Co-founder Nick Molnar said during an analysts briefing that "Canada represents a significant opportunity for us as we look to expand beyond our existing regions".